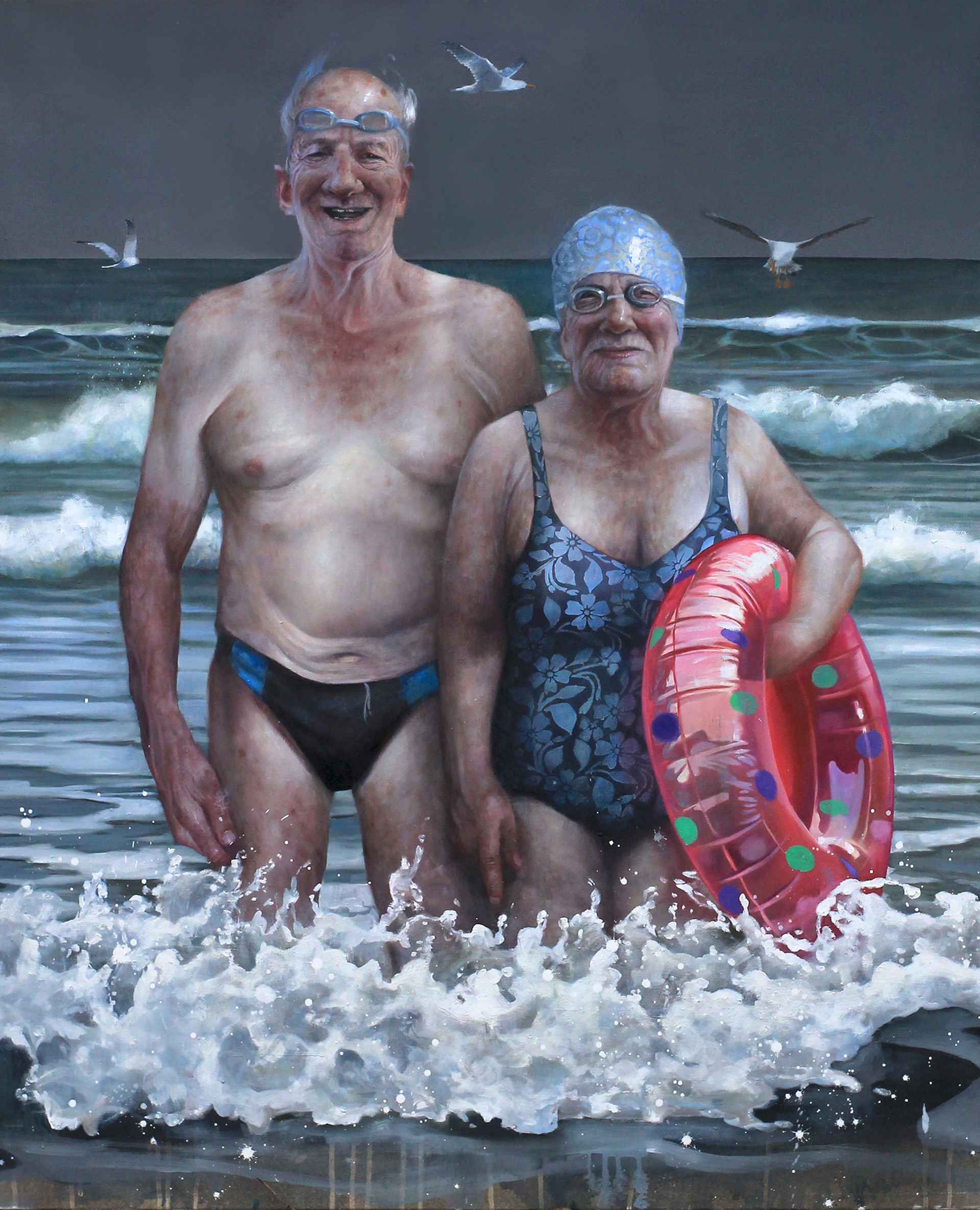 A piece depicting endurance in love, 'The Bathers' by artist Andrew Hunt is a touching piece which shows an elderly couple braving the cold North Sea. Armed with rubber rings and beaming smiles, this is a piece which shows a softness and humanity, and a moment of pure joy and love amongst even the stormiest of skies. It is the perfect image of British culture and endurance.
Media:

oil on canvas

Dimensions:

90

x

110

cm
Price: SOLD
A piece about endurance and love, 'The Bathers' is a figurative oil painting by Sheffield-based artist Andrew Hunt. This piece shows an elderly couple, swimming in the cold North Sea, armed with a rubber ring and beaming smiles. The gloomy skies and harsh sea dominate the background, but they do not determine the tone of the piece. Here, Hunt explores the quintessential elements of the human condition, and the celebration of the joy and gratification shared between this couple. There's a slight humour within the tone of this piece, with the typical grey weather reflecting a sense of British endurance – even during stormy weather and harsh waters, these figures still stand proud and strong. The stoicism of long-married life is evident here – this is a piece which depicts pure and strong love. "Elderly people swim to keep fit as it is kinder to the joints and we recognise this fact when we go to the beach or to the swimming baths, so the image dwells in the familiar. As a figurative painter I was drawn to this narrative of ageing and love" Though hunt is renowned for his hyperreal works, taking inspiration from artists such as Chuck Close, his work is not without its own distinctive style. With an abstract flare and an almost animated style to his oeuvre, his works are full of energy, and the Hockney-esque glow of the figures in his works brings his subjects to life. The splashing waves, layered like collage in the foreground, create a sweeping movement, a snapshot in time – reminding us of the temporality of life and memory. Although we do not know the bathers in the piece, there's a certain style to Hunt's oeuvre that makes his works appear faithfully painted – we trust his perspective and judgement. This piece is a celebration of age, and is an example of work which shows a softness and humanity which is prominent in many of Hunt's other works.
Andrew Hunt is a realist figurative artist based in Sheffield, in the North of England. After graduating with a BA in Illustration from Bath Academy of Art, Hunt began a career in children's book illustration, before discovering that painting was his calling. With now over 25 years' experience as a painter, Hunt boasts an impressive portfolio including his involvement with the BP National Portrait Award and a commission for the BBC's much-loved Peaky Blinders. Hunt is a highly skilled and versatile artist whose works are imbued with narrative, and seek to celebrate the 'Kitchen Sink', mundane themes of the every day. He paints his subjects with the utmost care and honesty – any piece by Andrew Hunt would be a valuable addition to any home, gallery or contemporary art collection.
Other images of The Bathers by Andrew Hunt

The Bathers by Andrew Hunt

The Bathers by Andrew Hunt

The Bathers by Andrew Hunt