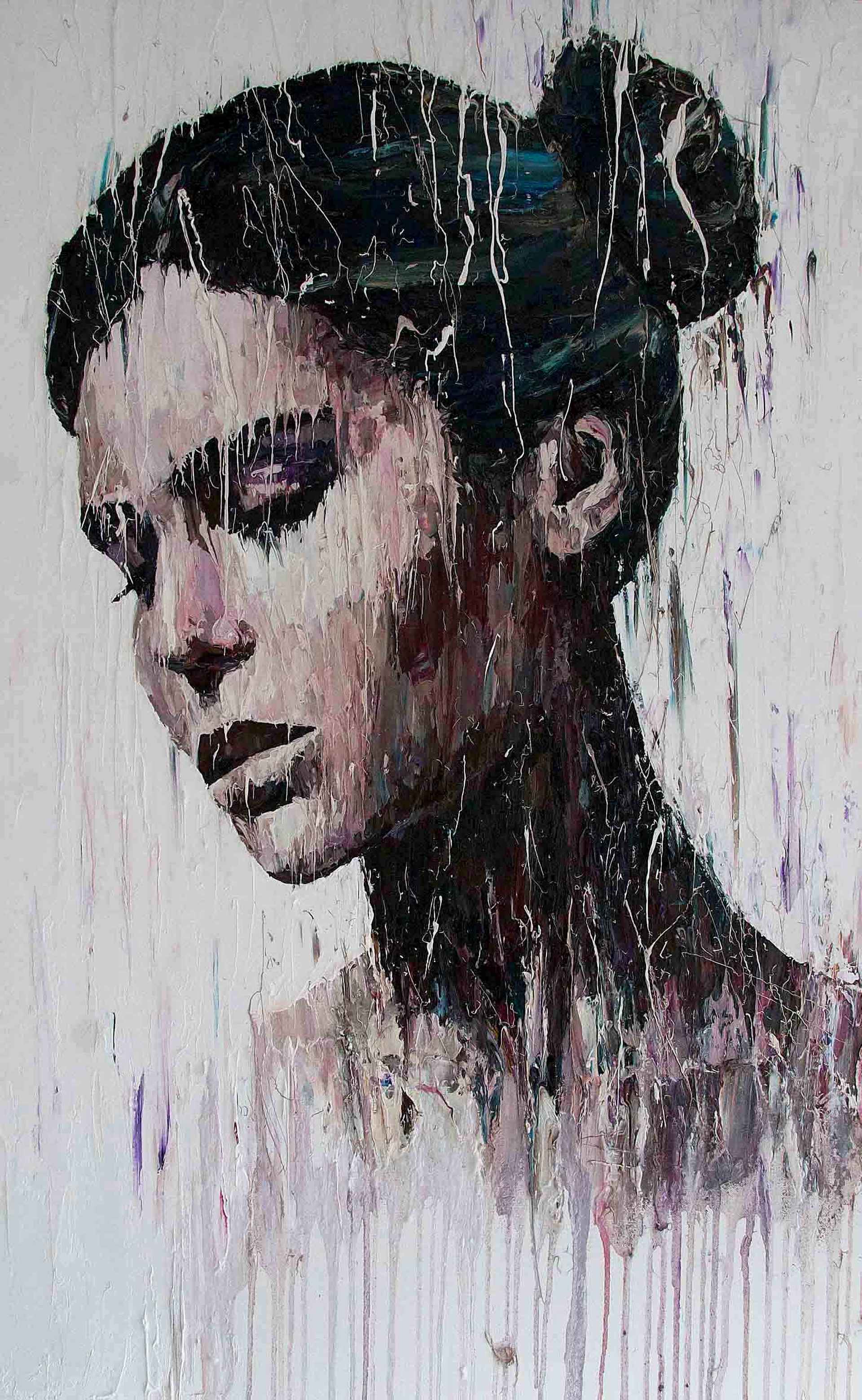 Carl Melegaris' Fallen Angels series sets a new standard in contemporary portraiture. We're transported back to ancient Greek or Rome, our figures heroic, noble but ultimately tragic. Telling us just as much about ourselves as it does about them, we're perhaps given a fascinating glimpse into what mere mortals fear.
Carl Melegari was born in North Wales of Italian parentage and now lives in Bristol, England. The National Library of Wales recently cemented his reputation when they acquired one of his oils for Wales' National Collection.
His contemporary approach to painting explores both the human form and the urban landscape. Melegari primarily focuses on the semi-abstraction within the figure and has become increasingly fascinated by the versatility of oil paint.
Often working from life and models, Melegari explores how the physicality of the paint combined with the density of pigment can give a sense of life radiating from the canvas: as if to evoke the vigour of the human form.
His approach to painting explores the treatment and handling of paint whilst conveying expressionistic nudes and landscapes. His paintings arguably focus just as much on the medium of paint, and how it reacts with the surface, as they do on the subject of the painting. Through the veils of layers, achieved by continuously accumulating and scraping back the paint, a figure emerges as if to suggest how the sitter itself has become enveloped and partly obscured by the energy of the paint.
His work draws from sculptural influences, such as Manuel Neri as well as from colourists, such as Morandi.
Melegari frequently uses a monochromatic palette to generate the idea that he is playing with the reduction of form: often abstracting and delineating parts to create a more non-figurative feel. He often uses this muted palette to replicate a sense of isolation and seclusion. He then applies paint liberally and without reserve: allowing it to drip spontaneously to both literally and symbolically mirror the personality of the sitter.
Carl Melegari, in his own words, describes his unique painting process: "I begin by applying an oil turpentine tonal wash to the figure. I apply various impasto layers of oil paints (I mix an alkyd medium with the oil to enable a better drying process) using brush but predominately palette knifes. I occasionally scrape back layers and then I reapply liberally with vigour and attacking the canvas. This is applied with bold applications of paint fused with thinned paint using either or sometimes a mixture of linseed oil and turpentine. All this allows the paint to interact with my application. I will allow the drips to run in different directions. The drying process can take weeks and quite often I will rework into the painting by peeling away and reworking the layers.
I'm basically exploring the physicality of the paint and how it reacts with the surface - applying the paint liberally allowing it to drip spontaneously too."