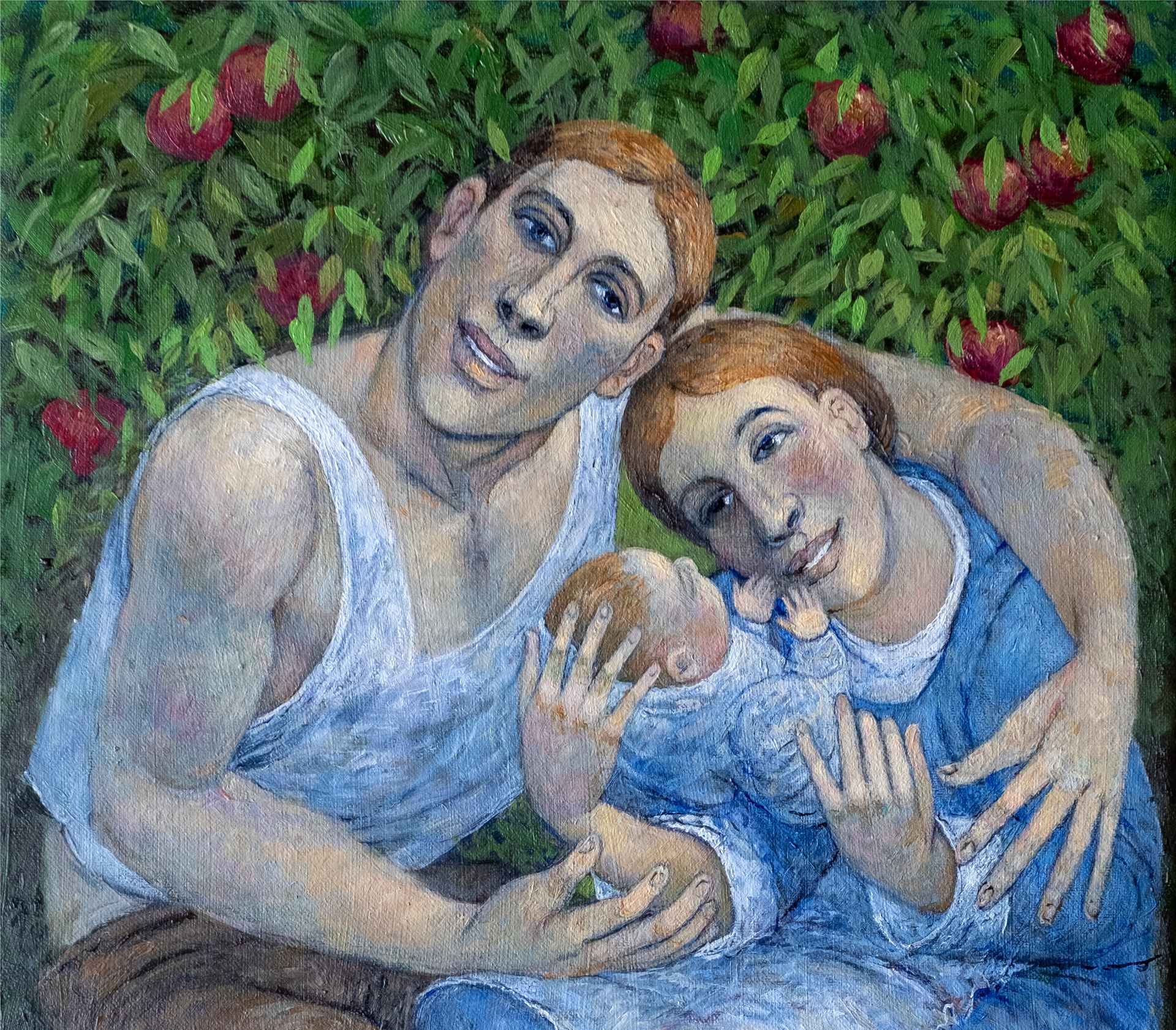 Turn the pages to Market; Roll up for Fairground attractions!
See Apocalyptic Horsemen on Carnival mounts! Wander down avenues of naughty Pucks, seductive in the shrubbery... leaf through chapters of darkly dangerous Harlequins, Narcissi, Angel-winged lcarii, acrobats and Sorcerers!
Richard Wallace's beautifully composed, audaciously contorted figures are etched and chivvied into life on the canvas and imbued with feisty fun! He has a mordant sense of humour, and the technique of conveying it brilliantly!
"l dabbled variously in factory, garage and hotel work, but quickly found within myself a strong disinclination to the regime. Early on I met Mr Brian Sewell, wealthy art dealer, and joined the sybaritic life-style of the well-heeled, helping with a little 'Art Restoration' along the way; only later discovering Brian's 'fame' as an art critic....(I hoped in my later gallery quest to use his acquaintance as an entrée but his waspish tongue had alienated many).
On departing this indolent existence, l enrolled for graphic design studies realising after a couple of years my unsuitability for this also, so started a modestly successful Design Group, before taking an advertising position with one of the Johnson Group of Newspapers: this becoming increasingly difficult after the diagnosis of a Spinal Atrophy condition, which heralded the slow-motion pulling away of life's rug from under one.
l nurtured a nascent painting ability and was eventually rewarded with a Manchester Academy Award followed by countless exhibitions. Various other awards include a Derby City Gallery Residency, 'Silver Palette' & Royal Academy Summer Shows and other prizes: From 2000 onwards l exhibited with various London Galleries and a Dutch gallery. Most recently ARTZU Gallery, Manchester.
Once reviewed as - 'A painter with a mordant sense of humour and the technique for conveying it brilliantly'. A committed painter must be inured to both praise and criticism, not arrogantly so, but to have bullet-proof self-conviction, as the gestation of an idea is extremely frail.
Some paint what they see, my work projects from within and my themes seem hard-wired, impervious to external influence. Trying to overcome this one time, we loaded the car for a trip to paint the dust and donkey's of Morocco, only to return with a car full of gorgeous rugs and ceramics, paint-tubes all unsqueezed. Mine is a life vicariously lived on canvas." Richard Wallace.