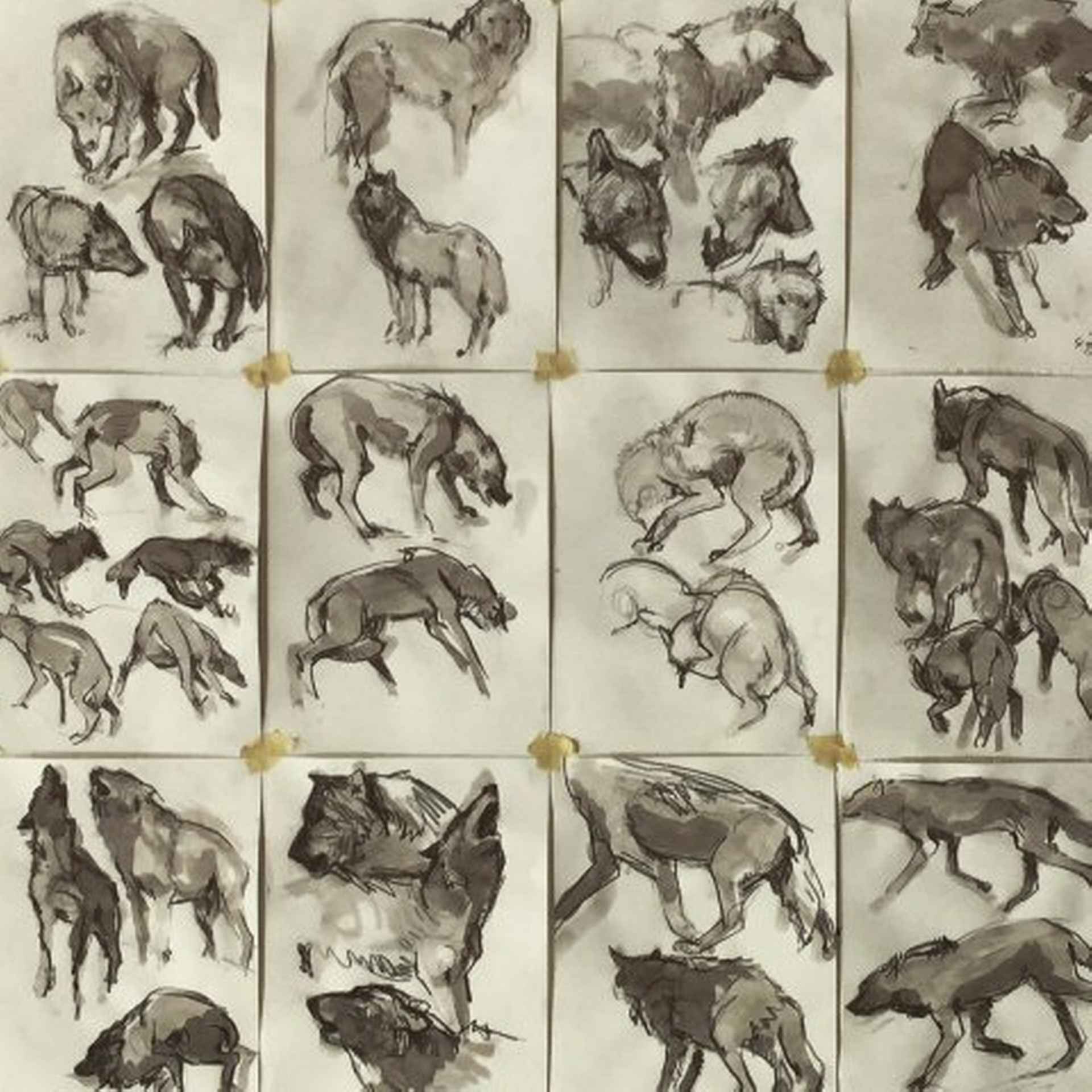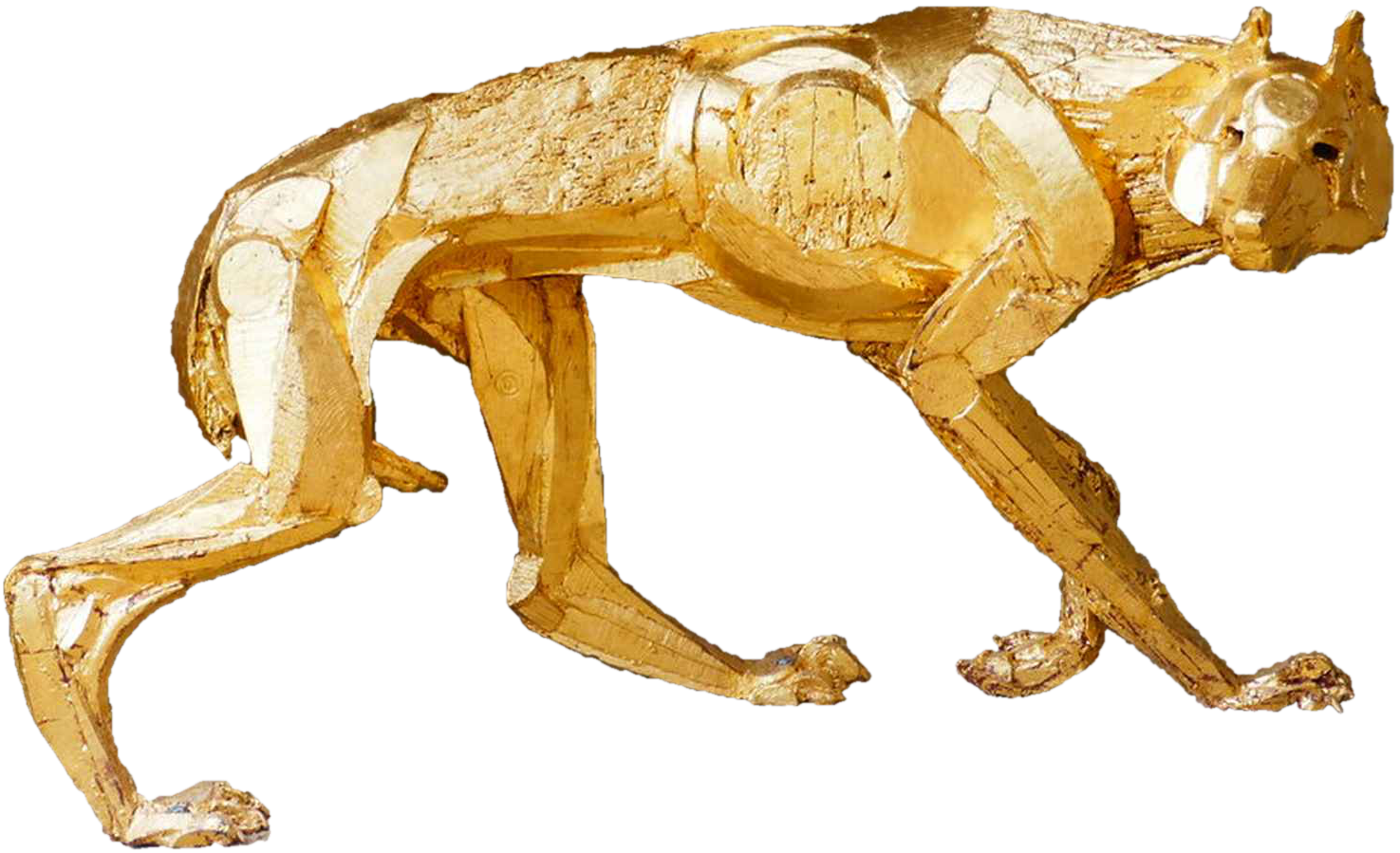 The trouble with sculpture is…
Which sage once said, not wanting to state the bl**ding obvious…"the trouble with sculpture is that it's…well…almost invariably rather static." Oh, it was…me! But that's self-evidently what it is, 'statuesque' by its very nature and takes a real magician of that noble and ancient art to convince you otherwise. Sophie Dickens is one of this rare breed who can apparently transform the inanimate into the animate.
How does she perform the seemingly impossible? Not by the smoke and mirrors deception of the conjuror, rather through long and astute observation of form transposed into motion. This is the result of decades of studying the drawings and paintings of the High Renaissance and developing a unique technique for producing sculpture. Dickens' drawing clearly reflects this classicism. You can see the strong influence that has to this day been rooted in a precise anatomical dissection that reaches back to da Vinci.
Happily ensconced in her new studio overlooking the verdant valleys in the Ligurian hills of north-west Italy, sees a return to Dickens' rural roots, having grown-up in the countryside of south Hampshire. As a child she was always foraging and making things from found objects and the bits of wood that were the cut-offs from Bob's woodwork in her mother's furniture making business. At boarding school Dickens was clearly arty and would organise her House art competitions, though she declined a place she was offered at Farnham Art School.
Undaunted, she went on to study at the Courtauld Institute in a Robert Adam London townhouse in Portman Square in the days before it relocated to the grandeur of Somerset House in 1989. Here she immersed herself in painting murals on the walls of the Common Room, a meticulous study of anatomy and life-drawing classes with models from the Slade School of Fine Art. All of which was to serve her very well as the grounding for her figurative – human and animal – three-dimensional work to follow.
Artists shouldn't worry about tomorrow
Dickens readily admits she never really had any plans after that, in fact she believes artists shouldn't worry about tomorrow, rather live in the moment. Nonetheless she hawked her CV round some of the Bond Street galleries where, the second time of asking, she came across one that offered her a job, seemingly on the strength of being asked what star sign she was. "Leo" came back the answer, and she was in!
She lasted there six months – the only job she's ever professed to have – working behind the scenes as a researcher. This led Dickens to enrol on "a brilliant sculpture course" at the John Cass Art School in Whitechapel. The 3-year, part-time course gave her a solid grounding in welding and the technical side, all with a touch of whimsy, producing models pretending to be chickens. During this time Dickens was researching and writing for the Medici Society, as an art historian in residence, to earn a few bob.
This is a very Japanese thing
It soon became clear that sculpture was to be her chosen path - or maybe it chose her – and she channelled her fascination with 'movement' into that sphere, evident in her revolving sculpture in Minnesota. She thinks public sculpture "quickly becomes invisible" as you get too familiar with it simply being there, which is why she likes to produce multiples of a subject – like 'The Pack of Wolves' and the wild boar in their various poses. The spaces in between change the dynamics of the whole. This is a very Japanese thing – 'ma' - the concept of 'negative space' as a gap or pause between objects, often holding as much importance as the rest of the artwork. It has been described as "an emptiness full of possibilities, like a promise waiting to be fulfilled," which all amounts to quintessential Zen to my mind.
Sophie relishes the idea of the animal kingdom reclaiming their rightful place in a human-dominated world - something we've been experiencing during Covid - in our towns and cities. Like her howling wolf pack returning to stalk the narrow streets of Pieve di Teco, her picturesque medieval village up in the hills. Or the lithe, menacing 'Gilded Wolf' on the prowl relentlessly tracking its prey. She's on a one woman rewilding crusade and has yet more sculptural surprises in store for the tight, winding passageways of the village to redress the balance of nature in our midst.
Winner of the inaugural Founder's Award for figurative sculpture in 2007 for 'The Turning Man', a gravity defying sculpture exhibited at the V&A in London. It was loosely inspired by Michelangelo's Last Judgement in the Sistine Chapel. There are consistent classical references throughout her work- as in 'Hercules & Antaeus' (of Greek mythological fame) - where her classicism informs her modernism with its Braque-like muscular planes, abstracted yet utterly recognisable. At the same time she likes her sculptures to be recognisable, not so complicated as to need to be agonisingly intellectualised over by the viewer. Titles are kept simple, honest and unpretentious.
Circles are optimistic
She professes to have a very good dictionary in her brain of how she wants things to look. A great deal of her work can be described as "gravity defying" as with 'Judo' which is what makes them so compelling. These are recurrent themes, classism and movement, muscularity and circularly. "Circles are optimistic," she expresses. Is this a conscious, or possibly subconscious, desire to find resolution in a seemingly chaotic world through a symbol as timeless as time itself?
'Judo' was commissioned for the London Olympics together with an assemblage of other sporting sculptures, including a huddle of racing cyclists. The whole collection was exhibited in diverse places, including Heathrow Terminal 5, the Ashmolean Museum in Oxford and the Victoria Gallery, before, during and after the 2012 Games. This captivating, judo piece perfectly demonstrates her abiding preoccupation with the themes of 'movement' and 'circularity' captured in the throw. It certainly gained the approval of the British Judo Association and Team GB went on to win a haul of 18 judo medals at the Games. In 'Peloton' you can feel the woosh of the cyclists as they rush past, straining every muscle, fighting for breath to gain position to reach their ultimate goal of Olympic gold.
What the dickens...?
She welcomes having a lot of client input into her work and likes to develop that relationship, as with Similarly the 'Variable Landscape' in four or five segments for the renowned architect, Sir Michael Hopkins, designer of the stunning Velodrome for 2012 Olympics. Similarly Heston Blumenthal's 'Bull'. A rather classical head, four legs firmly planted on the ground, an exposed rib-cage, a chirpy cockerel perched on its rear end with an old-fashioned, car starting handle for a tail. It's a very remarkable, if curious, feat of engineering aside from anything else.
What the dickens is going on here, Heston…is it a case of gastronomy-meats-art within the baron of beef of Merry England? For Sophie it's very important for an artist ''to have a few good, solid collectors to support them.'' In this she's proven successful over the years to have built that patronage with some of these highly significant clients. When you look over her hugely impressive body of work you can see how – and why – this has happened. Not by accident or twist of fate.
She has developed a unique technique for producing her sculptures, resulting in a highly distinctive style, through integrating geometric shapes of carved wood and fixing them to a welded iron frame for casting. Art and craft harmoniously coming together as one. This process owes its origins to Bob, the furniture maker in her mother's workshop back in Hampshire all those years ago. Sophie proudly declares herself to be the owner of three band saws and is especially pleased with the textured effect of bronze grains achieved from using shaped local rotten chestnut wood for the wolves.
For the monumental 'Hercules and The Lion' she used recycled, larch floorboards to achieve the sheer bestial muscularity of beast-on-man. On other occasions she'll use old, oak wine barrels from nearby wineries. Local beeswax also finds its way into the process to fill the gaps between the gaps in the cut wood in preparation for bronze casting, as the Ligurian landscape oozes into her ever-evolving oeuvre.
Simply The Best
Prompted by seeing a friend's post on Instagram, she embarked on preparing for an exhibition in Turin in September, 2021 featuring Tina Turner and her three, female backing vocalists and dancers, the Ikettes, to be titled…'Simply The Best'…what else could it be called?
The extravaganza is being curated with good friend - Gio Gatto - a celebrated designer of luxury packaging with a highly eccentric art gallery in Turin. He loves doing all the graphics and wants music, posters, a lot of flash typesetting, stencils, Tina Turner lookalikes, flashing disco lights and so forth. It'll be taking over an appropriately sumptuous glass, art deco shopping mall - called Galleria Umberto in Turin - a northern Italian city of great distinction with wonderful architecture, culture and brilliant gastronomy. Perhaps better known for being the home of FIAT and Juventus, often referred to as 'the Manchester of Italy' on account of its industrial heritage and textile industry.
''I'm planning drawings, paintings and smallish sculptures based on Tina Turner and the IKettes in the 60's and 70's. Incredible performers, totally joyous and unparalleled performances.
Again it was the movement – and those legs – that drew her in. It will certainly be intriguing to see how she captures the overtly sensual energy of the 1960's and 70's. Since Tina lives in Switzerland organisers are planning she'll pop over the border to open it and, at the same time, celebrate her birthday in Turneresque fashion. Like every true artist, of whatever media, Sophie's never afraid to take a risk…so prepare to be astonished when the incomparable Tina Turner meets the incomparable Sophie Dickens. Sparks will fly on a night to ignite the senses!
Written by Carlos Zagreb.
Discover more of Sophie Dickens's sculpture available for collectors here.
Background image: "Wolf Studies" drawings by Sophie Dickens
"Galleria Umberto I", Image by Guilhem Vellut. Licensed for reuse under (CC BY-SA 2.0)

artzuFocus | Issue 004