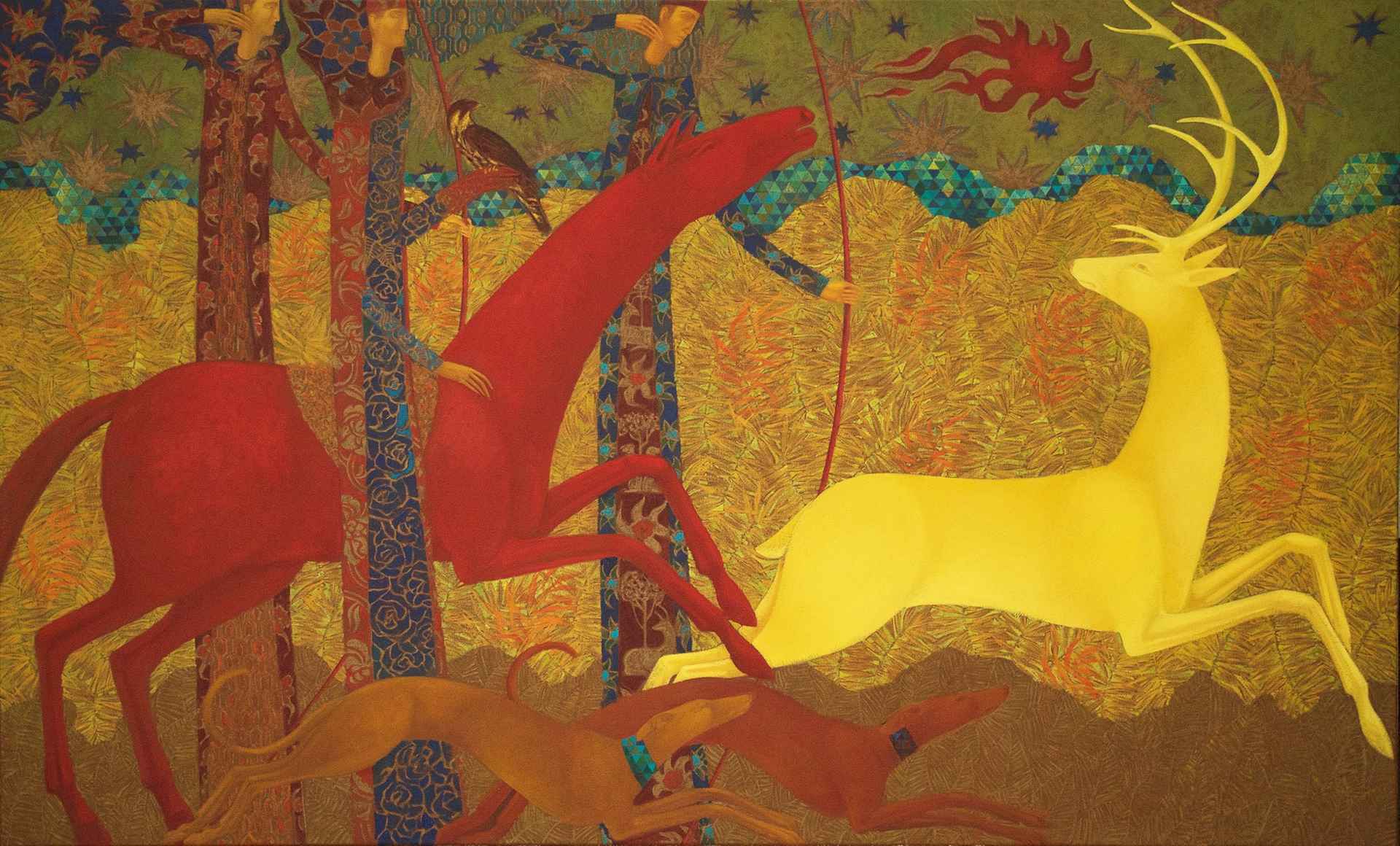 In a warm, inviting palette of golds, reds, and rust, Timur D'Vatz' 'Golden Dear Chase' presents to us a journey, a hunt of some kind. Three slim figures stand tall, as 4 creatures run below them.
Media:

oil on canvas

Dimensions:

165

x

100

cm
Price: SOLD
Price on application
In Timur D'Vatz's 'Golden Dear Chase', we are presented with dynamic scene of the hunting of a deer. Three tall figures tower over the scene, armed with bows and arrows, as a horse and two small dogs chase towards their prey. Who are these figures? Will the deer escape? The patterns are lifted to the foreground of this piece, giving a similar impact to Gustav Klimt's gold leaf compositions, which encapsulate their figures in a blanket of patterns and textures. Each figure emerges subtly amongst these patterns, all with distinctively similar elongated faces, perhaps a nod to medieval styles of painting. A Russian artist, D'Vatz's is renowned for his large scale oil compositions which take inspiration from early Byzantine art, mythology, and medieval tapestries. Although his works look as though they're from another time, there's often modern twists within D'Vatz's works which make them distinctive, such as various symbols and patterns, which establish a contemporary tone within his oeuvre. The warm, often muted colour palette within his works generates an aged appearance, whilst leafy textures are reminiscent of a William Morris wallpaper.
The theme of the hunt is a dynamic and symbolic motif throughout D'Vatz's works; whether it's a quest, a journey or the search for ourselves. Elongated limbs imbue an air of fluidity and movement throughout his works, whilst also emphasising the urgency of the hunt. D'Vatz's works appear almost like historical artefacts; they have a delicate fragility to them that makes them look as though they belong within historic and religious frameworks, only to be admired at arms length. His attention to detail is evident within the intricacy of his patterns, which take inspiration from ancient legends and symbols, re-contextualised within a contemporary setting to create his own mythology of sorts. D'Vatz is an innovative artist and storyteller whose works reflect his ample experience as a painter.