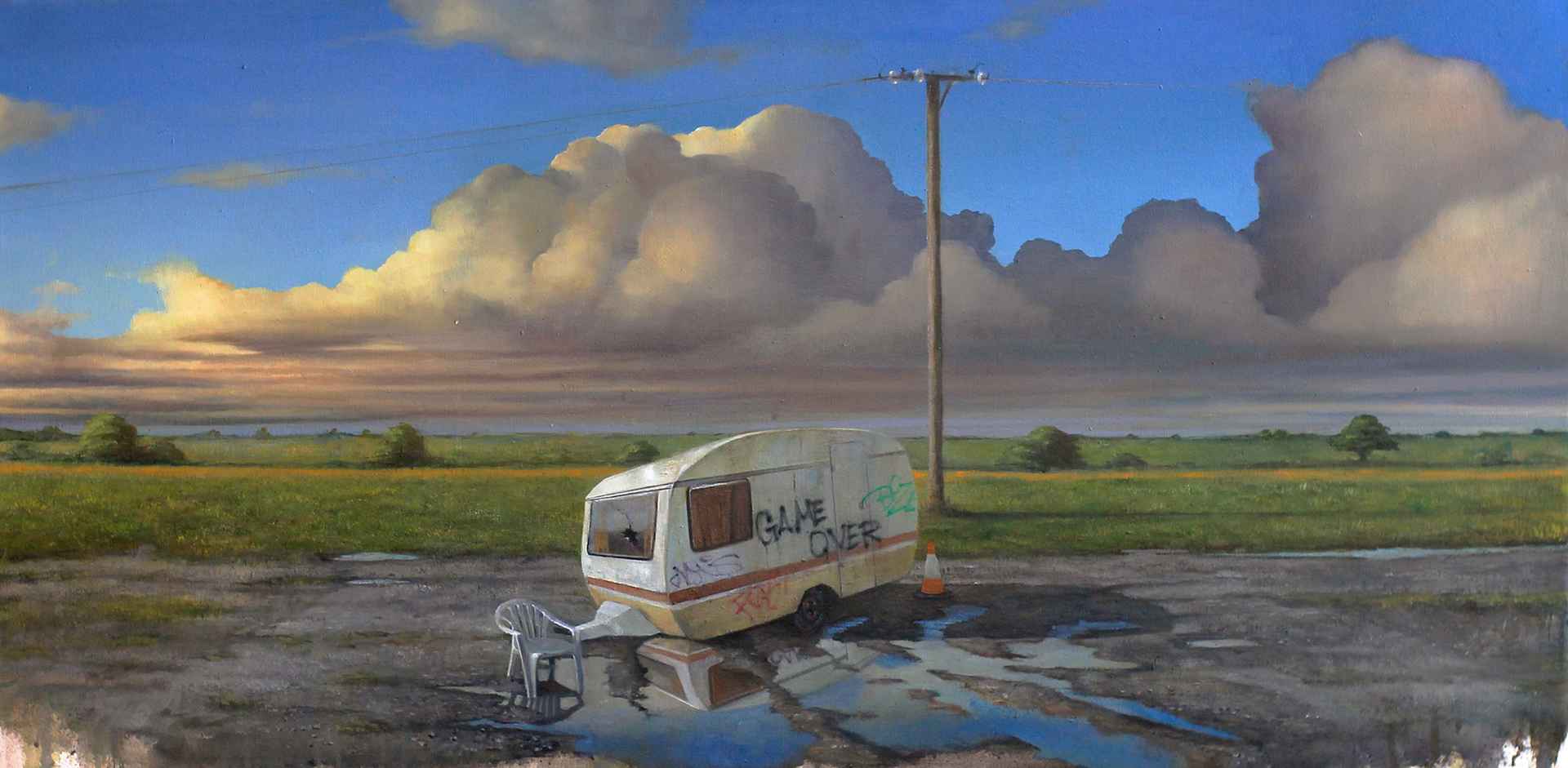 Startlingly photorealistic upon first glance, 'Game Over' by Sheffield-based artist Andrew Hunt gives us a painted glimpse into the everyday British Landscape. Imbued with character and impressively photorealistic, Hunt's works tell a story, and seek to show the "Innate heroism enriched in the everyday".
Media:

framed

oil on canvas

Dimensions:

100

x

50

cm
Price: SOLD
'Game Over' is a landscape oil painting by the predominantly figurative painter, Andrew Hunt. Although his landscape works are generally quieter than his figurative pieces, they are still full of character. Upon first glance, 'Game Over' is a gloomy piece, which could be perceived as the negative space of a human presence. It provides a snapshot of a typical British landscape, though is reminiscent of classic wide-lens American cinematic scenes. Having lived in Sheffield for over 16 years, Hunt is heavily inspired by the Northern English landscape, and it is a prominent theme throughout his oeuvre. In both his figurative and landscape works, Hunt is keen to include a narrative of some kind – this piece being no exception. 'Game Over' takes us to the Lincolnshire landscape, and reflects Hunt's childhood growing up in North Wales in the 1970s and 1980s. Back then, the caravan represented ultimate freedom and travel - this piece abandons this concept, and symbolises how travel has changed today. In 'Game Over', the caravan has become an anachronism for every day life. The caravan is stagnant; it is stuck in muddy grounds and derelict in the landscape. The graffiti and abandoned plastic chair suggest it has been left there a while, leaving us to wonder what the story is. Who did this caravan belong to? Who sat in the chair? "I have endeavoured to celebrate the human condition with warmth and affection, transforming the everyday quirks of life into figurative and landscape art" The caravan in the foreground has been skilfully painted - it's almost hyperreal, a reflection of the artists' astounding eye for detail and 25 years' experience as a fine art painter. This precision contrasts to the slight fuzz of the landscape in the background, and the dark, cinematic clouds appear as though they've been taken straight from a Dali painting. The blue skies are hopeful yet cold, perhaps it is Autumn? The vertical telephone pole and the horizontal pops of green and blue guide the eye and bring balance and symmetry to the slightly tilted caravan in the foreground, creating a visually pleasing composition. The title alludes to the graffiti in the painting, which was inspired by graffiti on a bridge that Hunt spotted on his travels. This phrase generates a certain darkness and pessimism - why is it game over? Hunt's paintings are powerful in their ability to catalyse nostalgia and familiarity, particularly to a Northern audience. 'Game Over' is a prime example of this, and of Hunt's ability to capture and celebrate the everyday, 'Kitchen Sink' quirks and spirit of British life which often go missed.
Andrew Hunt is a realist figurative artist based in Sheffield, in the North of England. After graduating with a BA in Illustration from Bath Academy of Art, Hunt began a career in children's book illustration, before discovering that painting was his calling. With now over 25 years' experience as a painter, Hunt boasts an impressive portfolio including his involvement with the BP National Portrait Award and a commission for the BBC's much-loved Peaky Blinders. Hunt is a highly skilled and versatile artist whose works are imbued with narrative, and seek to celebrate the 'Kitchen Sink', mundane themes of the every day. He paints his subjects with the utmost care and honesty – any piece by Andrew Hunt would be a valuable addition to any home, gallery or contemporary art collection.