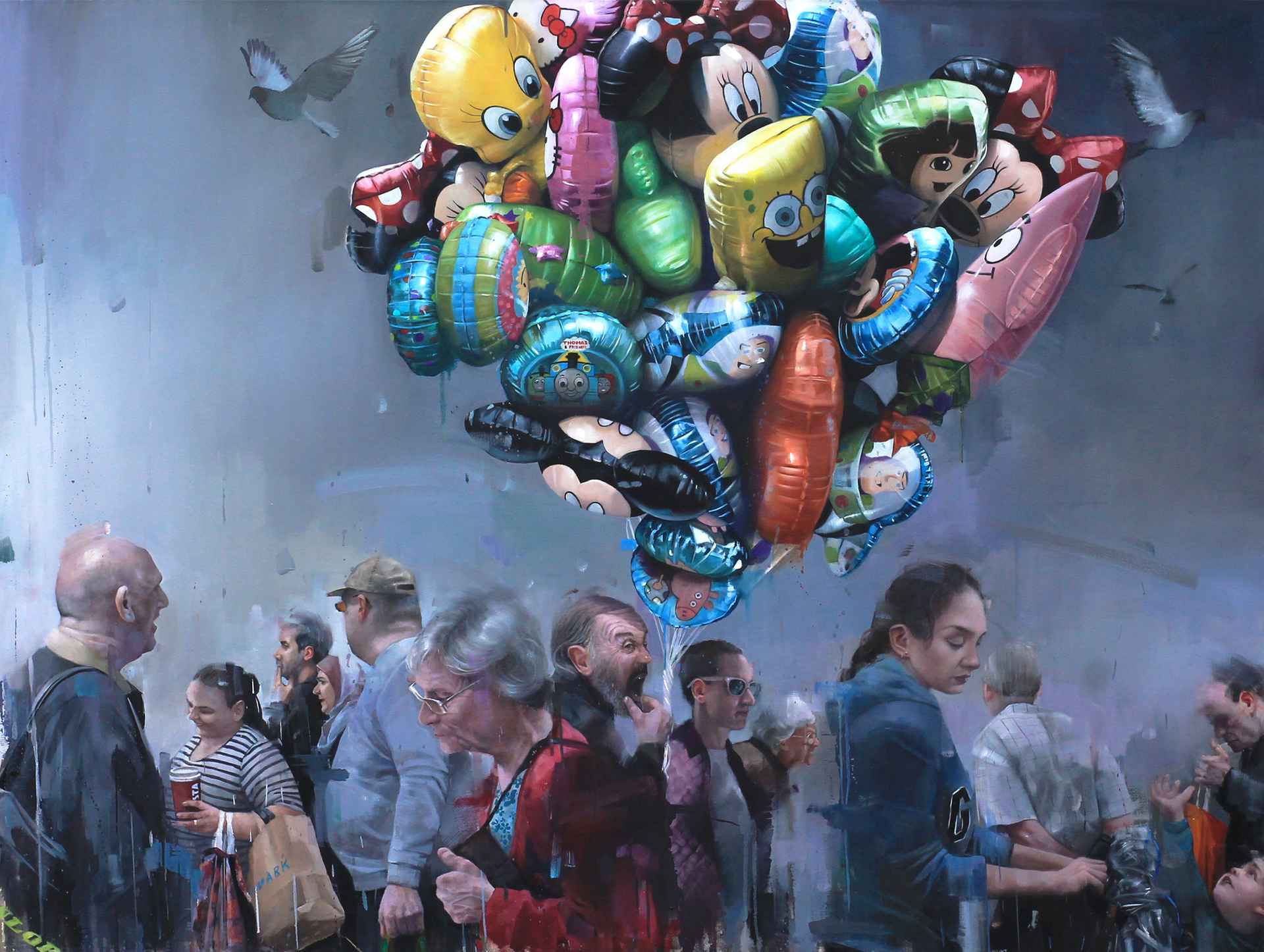 A chaotic glimpse into the typical British high street, with a kitsch nod to Pixar's Toy Story, Andrew Hunt's 'To Infinity and Beyond' is a painting which full of vigour. Each figure in this piece is autonomous, and has their own story to tell – reflecting Hunt's unique ability to build a narrative through painting. A piece that could be analysed for hours on end, Hunt blends both hyperreal and abstract styles of painting to create a composition that truly comes to life.
Media:

oil on canvas

Dimensions:

160

x

120

cm
Price: SOLD
This multifaceted oil painting by Sheffield-based artist Andrew Hunt gives a chaotic glimpse into the typical British high street. As a catalyst for this composition, Hunt captured over 100 images whilst standing on the side of a busy market street in Sheffield, observing passers-by with his camera. Each figure in this piece has been formed from a combination of photo references and his imagination, resulting in a sense of nostalgia and familiarity that we can just about comprehend. 'To Infinity and Beyond' depicts snapshots of passers-by armed with shopping bags and takeaway coffee, captured mid thought and mid conversation. A balloon seller with his bouquet flying high dominates the centre of the piece, with each familiar face of the balloon painted with incredible accuracy and detail. The balloons float beyond the canvas, suggesting an existence and a story beyond the painting, and we are reminded of the fragility of time and memory as the balloons drift like human souls floating up to heaven, or perhaps particles flying through space. The title – 'To Infinity and Beyond', is a nod to the much-loved Pixar Toy Story films, immediately fostering a sense of nostalgia. A child can be seen reaching up to a Buzz Lightyear balloon in the bottom right of the piece, his face deep in concentration. This is a piece which could be analysed for days on end – each glance reveals a new character and a new story. Hunt's pieces are known for their heavy focus on narrative – this piece is no exception. "I have endeavoured to celebrate the human condition with warmth and affection, transforming the everyday quirks of life into figurative and landscape art" Hunt's works appear almost animated, creating a real sense of life and movement. This reflects his background in illustration, particularly his experience with illustrating children's books - Hunt is a natural-born storyteller. Although hyperreal in style, this piece has an abstract flare which is prominent in many of Hunt's works, rather than existing as a copy of an image. The dripping paint and whirlwind composition gives the piece its own character and autonomy, and the juxtaposition of hyperreal faces to the blurry background makes us feel as though we're experiencing a passing memory. The vivid, bright balloons in the foreground stand strikingly against the looming gloomy skies, which are unquestionably British, generating a dark tone within this piece. 'To Infinity and Beyond' is about where we're going as people - it represents a sense of ongoingness, told through a lens of a busy high street on a Saturday afternoon.
Andrew Hunt is a realist figurative artist based in Sheffield, in the North of England. After graduating with a BA in Illustration from Bath Academy of Art, Hunt began a career in children's book illustration, before discovering that painting was his calling. With now over 25 years' experience as a painter, Hunt boasts an impressive portfolio including his involvement with the BP National Portrait Award and a commission for the BBC's much-loved Peaky Blinders. Hunt is a highly skilled and versatile artist whose works are imbued with narrative, and seek to celebrate the 'Kitchen Sink', mundane themes of the every day. He paints his subjects with the utmost care and honesty – any piece by Andrew Hunt would be a valuable addition to any home, gallery or contemporary art collection.
Other images of To Infinity and Beyond by Andrew Hunt

To Infinity and Beyond by Andrew Hunt

To Infinity and Beyond by Andrew Hunt

To Infinity and Beyond by Andrew Hunt

To Infinity and Beyond by Andrew Hunt