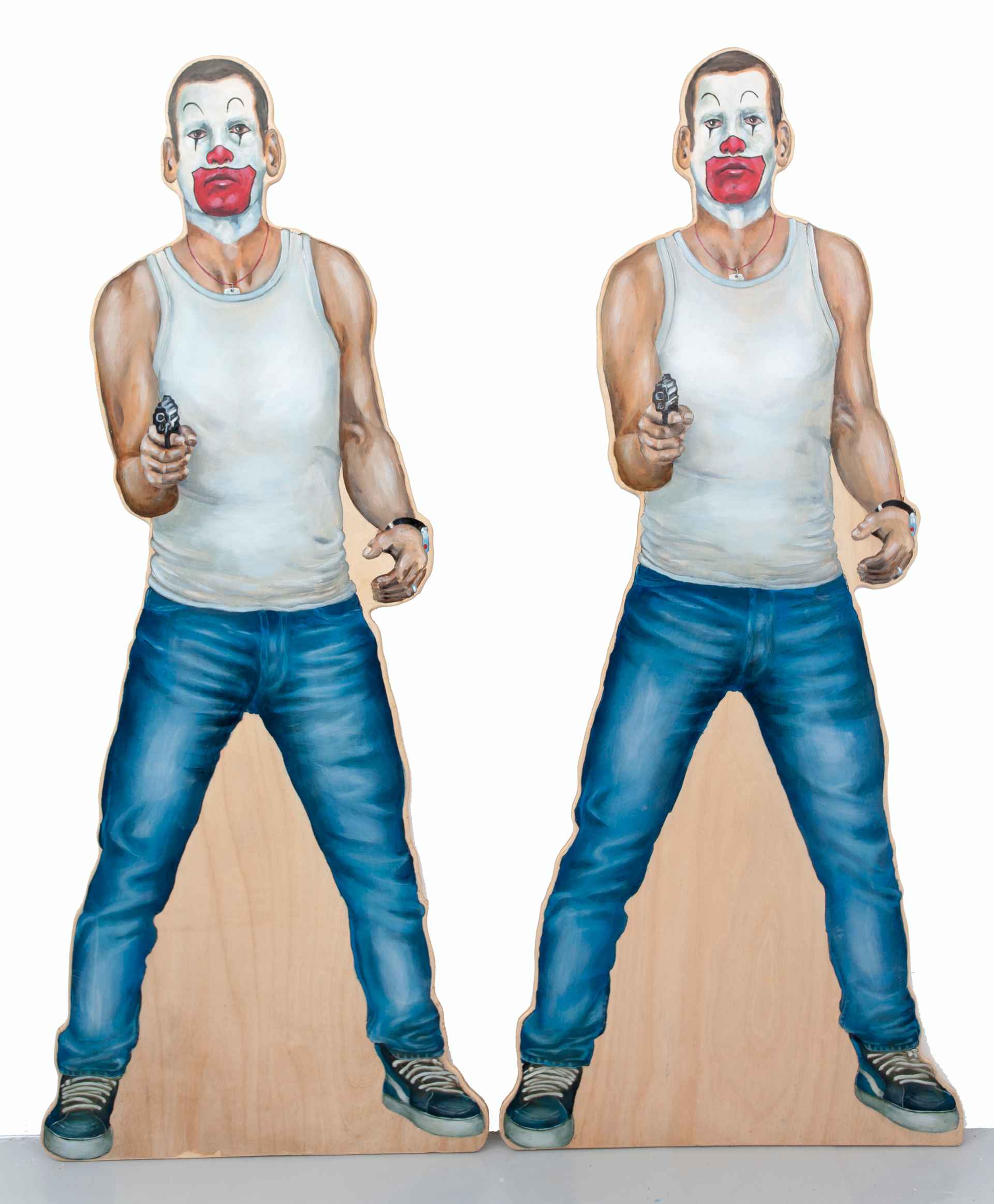 In this free-standing diptych, Axel Bottenberg's iconic clown persona is inserted into life-size facsimiles of Andy Warhol's 1960's "Elvis" screen prints, twice painted on plywood, and cut out. Although both parts of the diptych look identical, there are subtle contrasts between the two Elvis', and ironically, the laborious painting and cutting out process is contradictory to the speedy silkscreen process used by Warhol's team of artists.
Media:

acrylic on marine plywood

Tags:

figurative

contemporary art

Painting

Dimensions:

83

x

182

x

1

cm
Price: £

8700.00
'Axel-Elvis-Warhol' by German artist Axel Bottenberg is a free-standing diptych and pastiche of Andy Warhol's 1960s 'Elvis' prints, brought to life as wooden sculptures. Bottenberg is renowned for his kitsch pop culture and art historical references, which are communicated through painting, sculpture, drawing and more. Graduating from the Royal College of Art in 1989 during Thatcher's Britain and alongside the YBAs (Young British Artists), Bottenberg's practice is inevitably imbued with social commentary and irony. Bottenberg is heavily inspired by the 1960s Pop Art movement and its resurgence in the 1990s by artists such as Jeff Koons, and uses a range of 'low-art' iconography and domestic imagery to establish a kitsch, unsettling tone within his work. His works often provoke or even disturb his audience, which is evident in the featured appearance of the Ronald McDonald clown face in this piece, which is an icon that appears in many of Bottenberg's other works as a form of irony and social commentary. Like many others in his collection, in this instance Bottenberg has inserted himself into the image in clown makeup, reflecting his humorous and brazen attitude towards art and himself as an artist. "I decided to study art really early on, it was never an option not to" In an ironic comparison to the speedy silkscreen printing of Warhol's works, this piece was laboriously painted onto plywood and twice cut out to make a free-standing diptych. Due to the provocative and humorous nature of Bottenberg's works, it can be easy to look past the immense detail and skill that goes into his figurative painting. His works have an almost photorealistic quality, which contributes to their startling effect when paired with kitsch, low art iconography. Effort has been made in this piece to paint two identical figures, but there are slight differences, contradicting the exact repetition within Warhol's silkscreen prints. Bottenberg's serious approach to research and art history is evident in these pastiche works - effort has even been made to imitate this historic pose - if we were to overlap the two images, they'd almost match up. 'Axel-Elvis-Warhol' is a perfect example of how Bottenberg's artworks can provoke a response and create a shock factor, whilst the pop culture references maintain a familiarity, making them accessible and entertaining to a wide audience. This is a provocative, unapologetic piece that is full of vigour, perfect for any contemporary art collection.
Axel Bottenberg is a mixed media artist who works to create bright, compelling compositions which blur the boundaries of painting and sculpture. Born in 1961 in Darmstadt, Germany, Bottenberg studied Fine Art and Printmaking at the Canterbury College of Fine Art, and later Printmaking at the Royal College of Art (RCA) in London. Bottenberg is now based at Bankley Studios in Levenshulme, Manchester, and is renowned for challenging the sphere of contemporary art through his practice. Bottenberg's oeuvre is imbued with entertaining pop culture and art historical references, and his works often reject art tradition through juxtaposing high and low art iconographies. Bottenberg is heavily inspired by 1960s Pop Art and its resurgence in the 1990s, which he portrays through his own eclectic lens and bold colour palette. Bottenberg's researched approach gives scope for sardonic appraisals within a varied, eccentric body of work. Any piece from Axel Bottenberg's oeuvre would be a valuable and compelling asset to any contemporary art collection, business space or home.
Other images of Axel-Elvis-Warhol by Axel Bottenberg

Axel-Elvis-Warhol by Axel Bottenberg

Axel-Elvis-Warhol by Axel Bottenberg

Axel-Elvis-Warhol by Axel Bottenberg

Axel-Elvis-Warhol by Axel Bottenberg

Axel-Elvis-Warhol by Axel Bottenberg