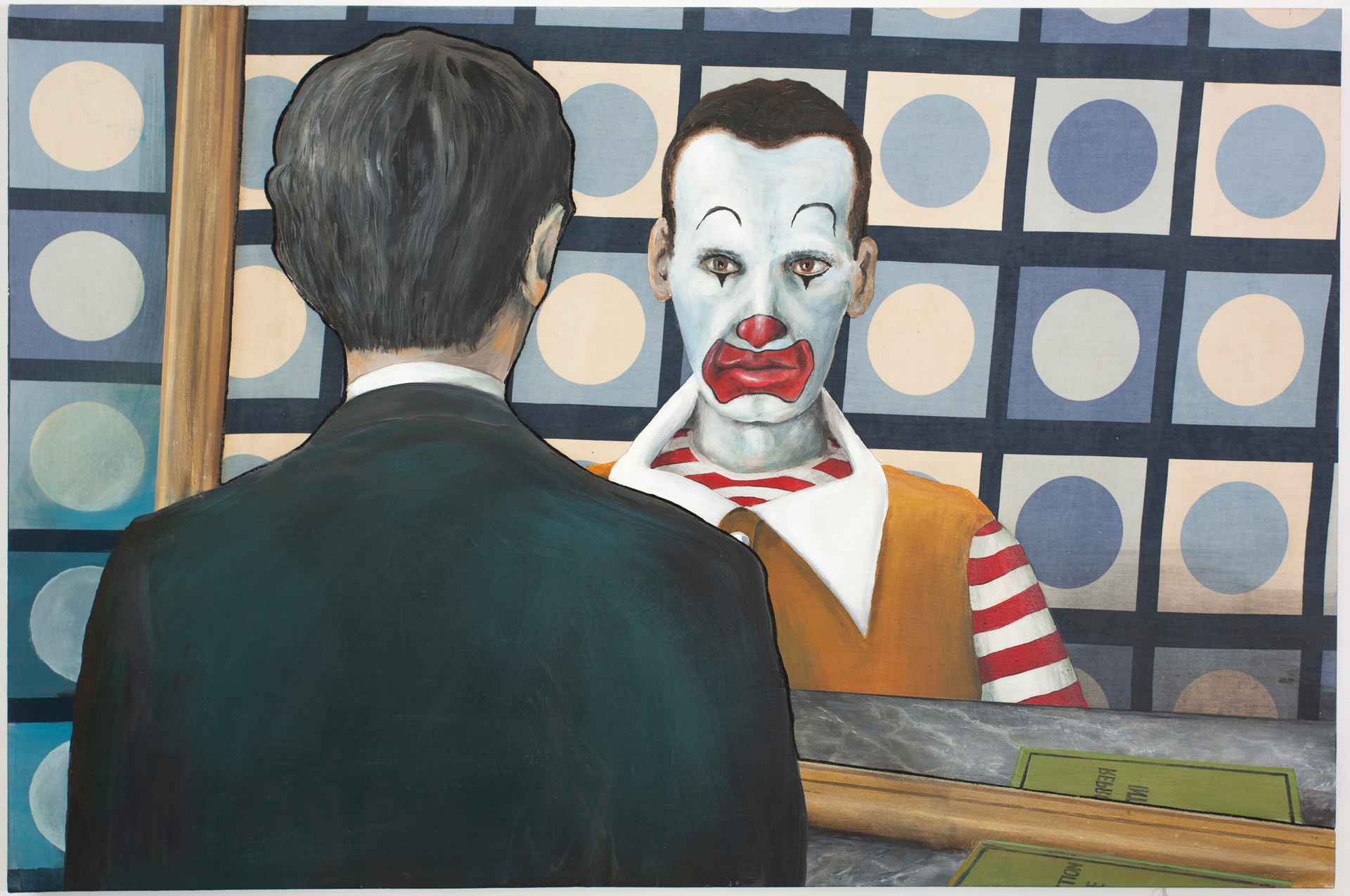 Here Axel Bottenberg appears in disturbing clown makeup in a pastiche of René Magritte's "La Reproduction Interdite". Parallel with many of Bottenberg's other works, this painting references low art iconographies and art history, combining the two to create an unsettling yet entertaining composition. As in many of the artist's pieces, this painting includes sculptural elements, made up of found fabrics and areas of acrylic paint on canvas.
Dimensions:

80

x

122

x

5

cm
Price: £

4100.00
'Illegal Reproduction' is another example of German artist Axel Bottenberg's use of pastiche and irony to create unsettling yet exciting art compositions. Bottenberg is renowned for his kitsch art historical references, communicated through painting, sculpture, drawing and more. Here Bottenberg has inserted himself into the narrative of an iconic artwork by surrealist artist René Magritte, "La Reproduction Interdite". The title translates to "Not to Be Reproduced", an instruction which Bottenberg has totally rejected. The visual reference to Magritte reflects the artist's time spent in Brussels - Magritte was regarded as 'the' famous Belgian artist, and became an important visual part of Bottenberg's upbringing. There are still strong elements of Magritte's original work here, but we are left unsettled with the inclusion of the sinister Ronald McDonald clown face, an icon inserted into many of Bottenberg's works. This imagery is a product of the artist's fascination with McDonald's as a cultural phenomenon; Bottenberg is interested in its role in the rise of global capitalism and mass consumerism since the 1980s, the time in which he studied alongside the YBAs (Young British Artists) at the Royal College of Art. Studying in this environment inevitably had an impact on Bottenberg's oeuvre, which is charged with irony and social commentary. Graduating in 1989 with a degree in printmaking, Bottenberg's practice has blossomed into an unusual yet exciting body of work since then, tackling a variety of subject matter. ""My art in itself is all about being opinionated" This piece is multidimensional, both in terms of material and optical illusion. The startling reflection in the mirror provokes a double take - Bottenberg has turned the original Magritte piece on its head, turning the figure to face the viewer. Adopting Magritte's style of painting and pairing it with various sculptural elements and familiar fabrics and wallpapers, 'Illegal Reproduction' contrasts high and low art iconography and experiments with various visual illusions, taking inspiration from Victor Vasarely's Op Art. This piece is unsettling yet unapologetically kitsch – a prominent aspect of many of Bottenberg's works. His artworks provoke a response and shock factor, whilst the pop culture references maintain a familiarity, ensuring they are accessible and endlessly entertaining to a wide audience.
Axel Bottenberg is a mixed media artist who works to create bright, compelling compositions which blur the boundaries of painting and sculpture. Born in 1961 in Darmstadt, Germany, Bottenberg studied Fine Art and Printmaking at the Canterbury College of Fine Art, and later Printmaking at the Royal College of Art (RCA) in London. Bottenberg is now based at Bankley Studios in Levenshulme, Manchester, and is renowned for challenging the sphere of contemporary art through his practice. Bottenberg's oeuvre is imbued with entertaining pop culture and art historical references, and his works often reject art tradition through juxtaposing high and low art iconographies. Bottenberg is heavily inspired by 1960s Pop Art and its resurgence in the 1990s, which he portrays through his own eclectic lens and bold colour palette. Bottenberg's researched approach gives scope for sardonic appraisals within a varied, eccentric body of work. Any piece from Axel Bottenberg's oeuvre would be a valuable and compelling asset to any contemporary art collection, business space or home.
Other images of Illegal Reproduction by Axel Bottenberg

Illegal Reproduction by Axel Bottenberg

Illegal Reproduction by Axel Bottenberg

Illegal Reproduction by Axel Bottenberg