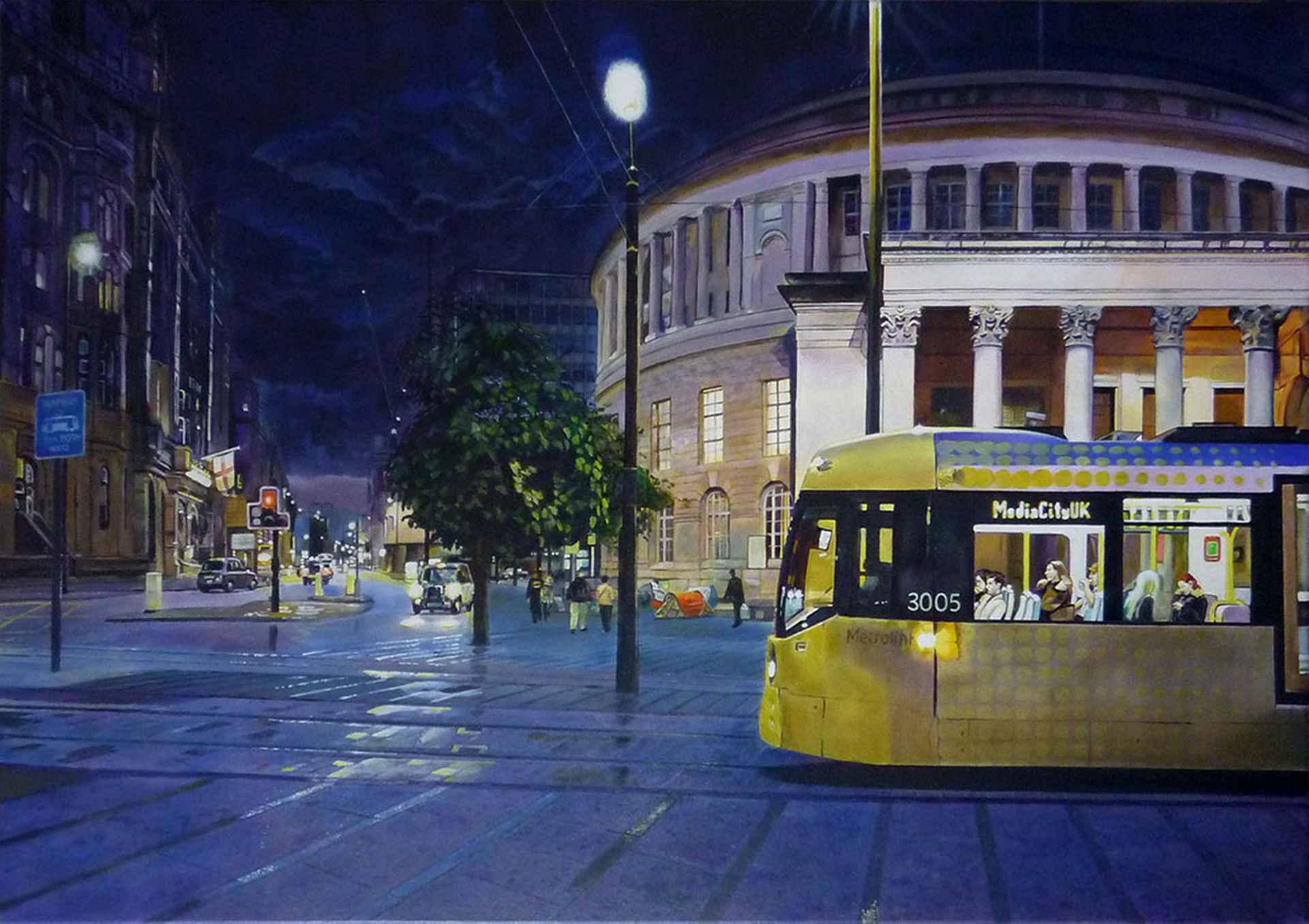 A snapshot into Manchester's iconic St Peter's Square, a luminous tram meets the velvety night skies in this impressive urban painting referencing Edward Hopper's famous masterpiece.
Media:

oil on canvas

Dimensions:

100

x

70

cm
Price: £

4900.00
'Nighthawks' is a typically quieter composition within Chris Acheson's oeuvre, but is nonetheless captivating. Here we are presented with Manchester's St Peter's Square, which is a bustling region within the city centre. An iconic yellow tram enters the scene from the right, travelling through to Salford's Media City, generating movement within the piece. The tram is painted with such precision that it almost has a photorealistic quality – Acheson has even carefully painted each passenger, with great precision and detail. Those local to Manchester will be familiar with the iconic yellow trams, and the way they seamlessly glide across the city. The fluorescent lighting of the tram glows against the velvety night sky, painted in a palette of teal and violet. The Central Library peeks behind the moving tram, the interior lights glowing as the night falls, and its iconic circular walls curve away from us, guiding the eye to the centre of the piece. "I am inspired by everyday life, I am constantly on the lookout for interesting compositions, from the mundane caf to the gaudy splendour of Piccadilly Circus" Taxis and passers-by loom on the horizon – perhaps it is a Friday night? Imbued with narrative, amongst this urban setting we can see there are tents pitched by the library, presumably belonging to those less fortunate. This reminds us of the disparities within the city – whilst some are out enjoying the city's nightlife, others are concerned with just making it through the night. The city lights and vivid pops of colour juxtapose to the backdrop of the night sky, and the glimmers of light reflecting on the pavement guide our eye to the smaller details of the composition. Upon first glance, it is a simple snapshot of Manchester City Centre, but when analysed, a narrative unfolds, and we can see Acheson's extraordinary attention to detail. Acheson is renowned for his ability to capture the subtleties of light and shadow - 'Nighthawks' undoubtedly demonstrates this; his sheer talent as a painter and storyteller is evident. Any piece from Acheson's collection of works would make a worthwhile investment, whilst bringing a splash of colour to any space - whether it be a contemporary art gallery, business space, or home.
Chris Acheson is a Manchester based artist who takes his main inspiration from pop culture such as music and cinema, which affect his mood and inspire ideas for visual references and locations to work from. Acheson often depicts his subjects in a vivid realist style, taking heavy influence from the Pre-Raphaelites, which Acheson became well acquainted with from his countless visits to galleries around Manchester. After working many years in advertising and pursuing a more design-based practice, Acheson's path took a turn, and he went on to graduate with a degree in BA Fine Art from Manchester Metropolitan University. He then spent some time in London exhibiting his work, before moving back and establishing a successful career in the North West. Tackling a myriad of subjects in his work, whether that's a cityscape, a pop culture reference, or a cinematic film still, Acheson's works are vivid and exciting, often leaving us with more questions than answers.