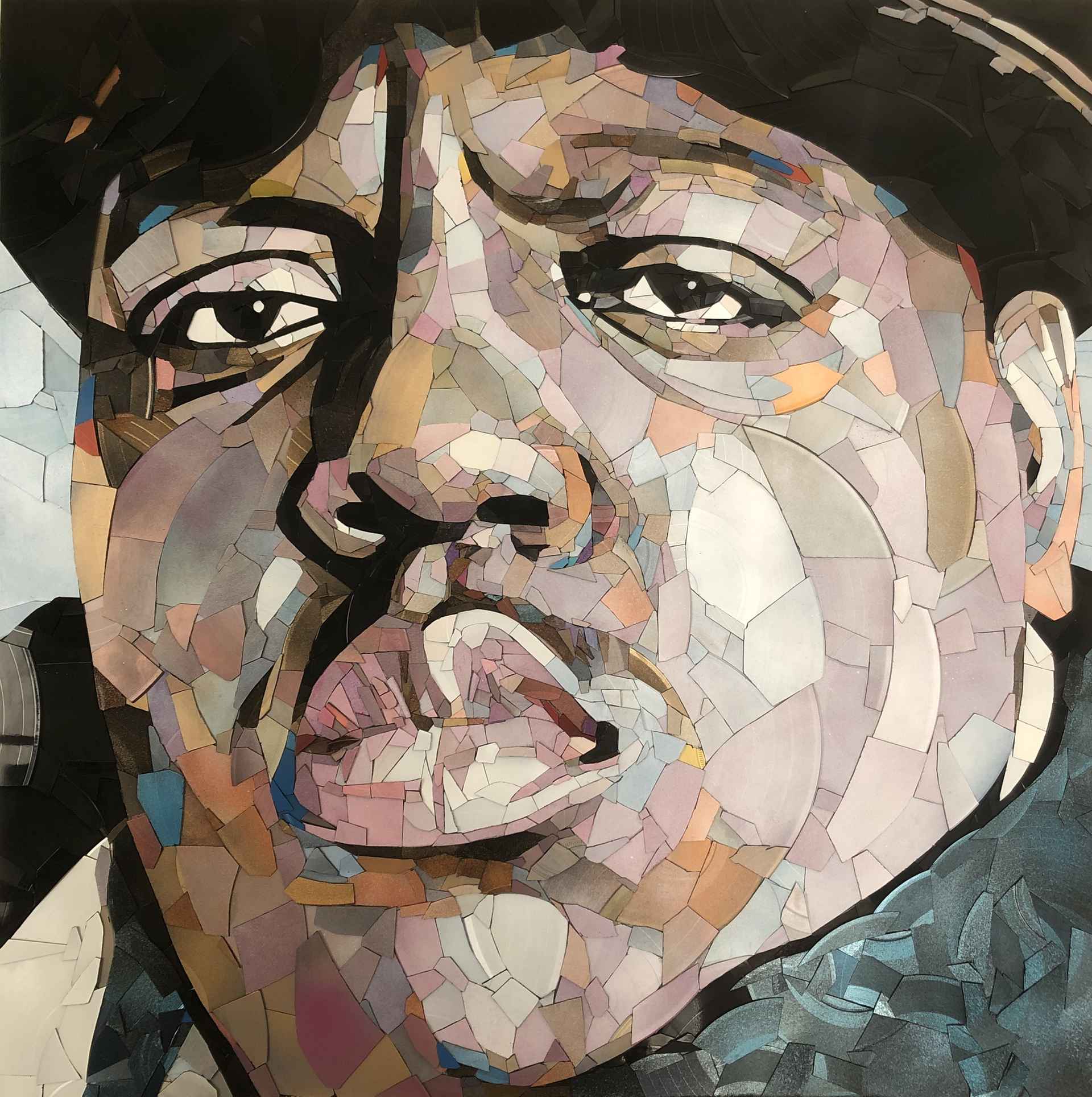 One of the pre-eminent pioneers of East Coast R n B, the late, great Biggie Smalls is here made entirely from hand-cut vinyl records and the result is a unique creation of the man formerly known as Christopher Wallace, captured by Ed Chapman in beautiful and unusual tones, with yellows and even blues beautifully employed in his strong facial features. Commissions are available on request.
Media:

vinyl mosaic on board

Dimensions:

85

x

85

cm
Price: SOLD
The late and great Biggie Smalls, formerly known as Christopher Wallace, has been captured here by Ed Chapman in a myriad of mosaics. Chapman has employed a muted colour palette of unusual yellows and blues, which highlight the legend's distinctive facial features. A totally unique composition, Chapman has truly captured the life and character of this pioneer of East Coast RnB. A fragmented face - we are left questioning the fragility of the person in the portrait, and humanity as a whole. Chapman is an innovative contemporary mosaic artist, and was one of the first in his field to create large scale mosaic compositions using unconventional materials. It would not be unreasonable to assume his works are paintings or digital images at first glance - Chapman's works are precise and impressively truthful to their subjects. Made tediously from hand-cut vinyl records, Chapman works in fragments to portray an array of iconic figures from history, pop culture, and even politics. His attention to detail is astounding - his works demand a double take, and to be witnessed in the flesh for their full impact. A body of work which boasts a wide range of through provoking compositions; Ed Chapman's mosaic works are statement pieces which would stand out in any contemporary art collection, business space, or home. Commissions available on request.
Other images of Biggie (vinyl) by Ed Chapman

Biggie (vinyl) by Ed Chapman