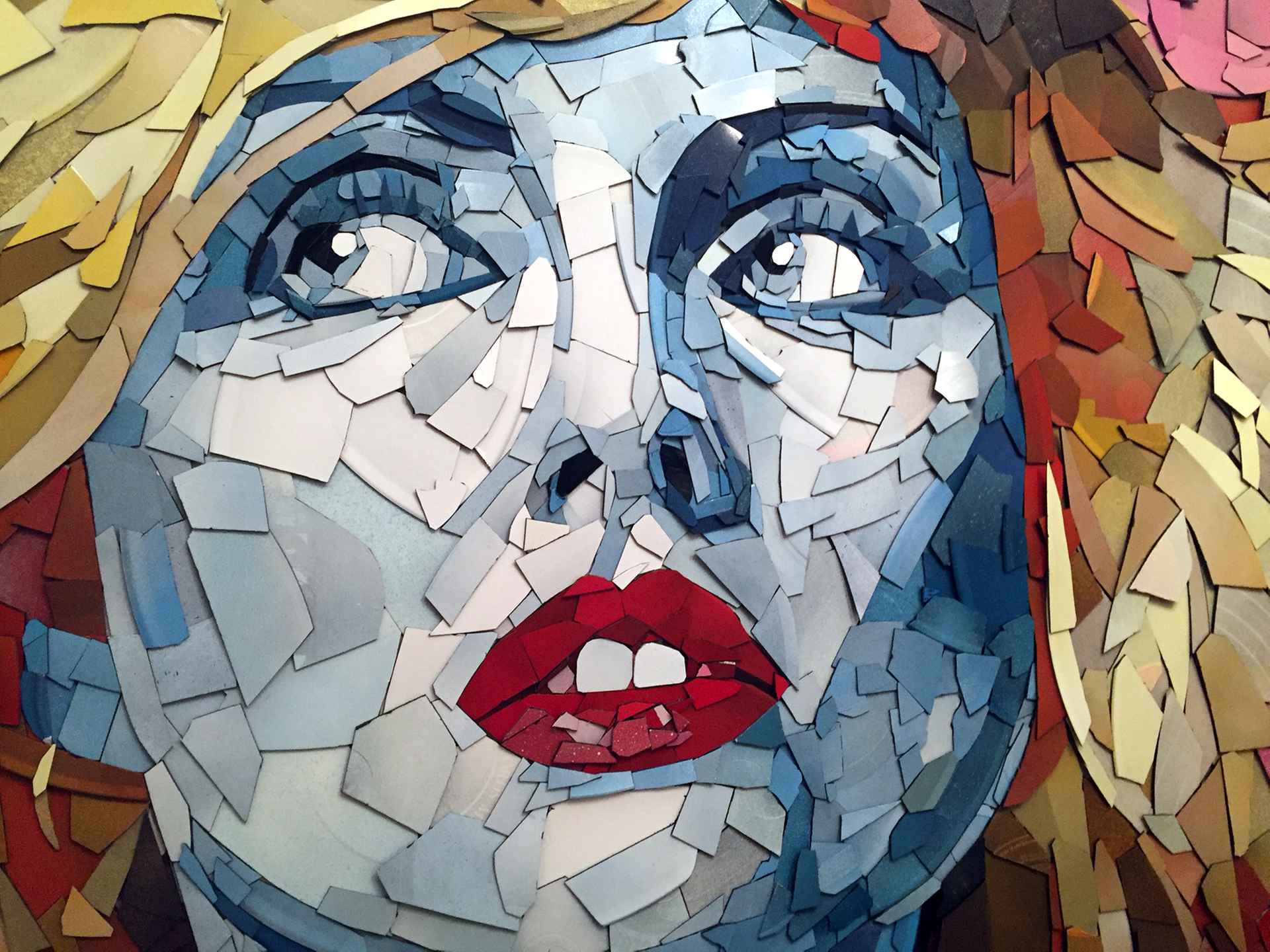 Ed Chapman is one of the world's leading artists working in mosaic.
He has undertaken commissions for the Sony Corporation, Fender Music, Hard Rock Cafe, UNICEF, Starbucks and The Gordon Ramsey Foundation, to name just a few. His Richard Burton mosaic, commissioned by Sally Burton, was created using 500 million-year-old Welsh slate and is on permanent display at Swansea University.
Ed Chapman's mosaics are now taught on the art syllabus in several schools in the UK. A book about his mosaics is due to be published with Manchester University Press raising Ed's global profile further.
In 2018, his 10 mosaics portraits of the UK's best-loved East Midlanders made using 3,000 rail tickets to emphasise the number of tickets used in a single hour – received widespread press and broadcasting coverage.
In May 2016 a David Bowie mosaic in vinyl records sold for £40,000 at auction in London with a Bowie signed album and a vinyl portrait of HM The Queen Rock & Rule sold for £26,000 in September 2016.
In 2011 Ed's unique Fender plectrums portrait of Jimi Hendrix sold for £23,000 in London. In March 2016 his coins portrait of David Beckham, co-signed by the ex-England captain, sold for more than £8,000 at auction in Mayfair.
He was the only contemporary artist to have work at Cancer Research's Abbey Road auction in 2009 with a mosaic of John Lennon. In July 2016 Ed was invited to a dinner at the House of Lords for these services to charity
Two of his large coin portraits Mandela and Obama went on an educational tour of the US and Canada in 2019.
His mosaics have a number of high-profile collectors including foreign royalty, Arnold Schwarzenegger, Annie Lennox, Darts legend Phil 'The Power' Taylor, England footballers.
In addition to selling mosaics worldwide, Ed has exhibited several times in London as well as in the USA and Europe.