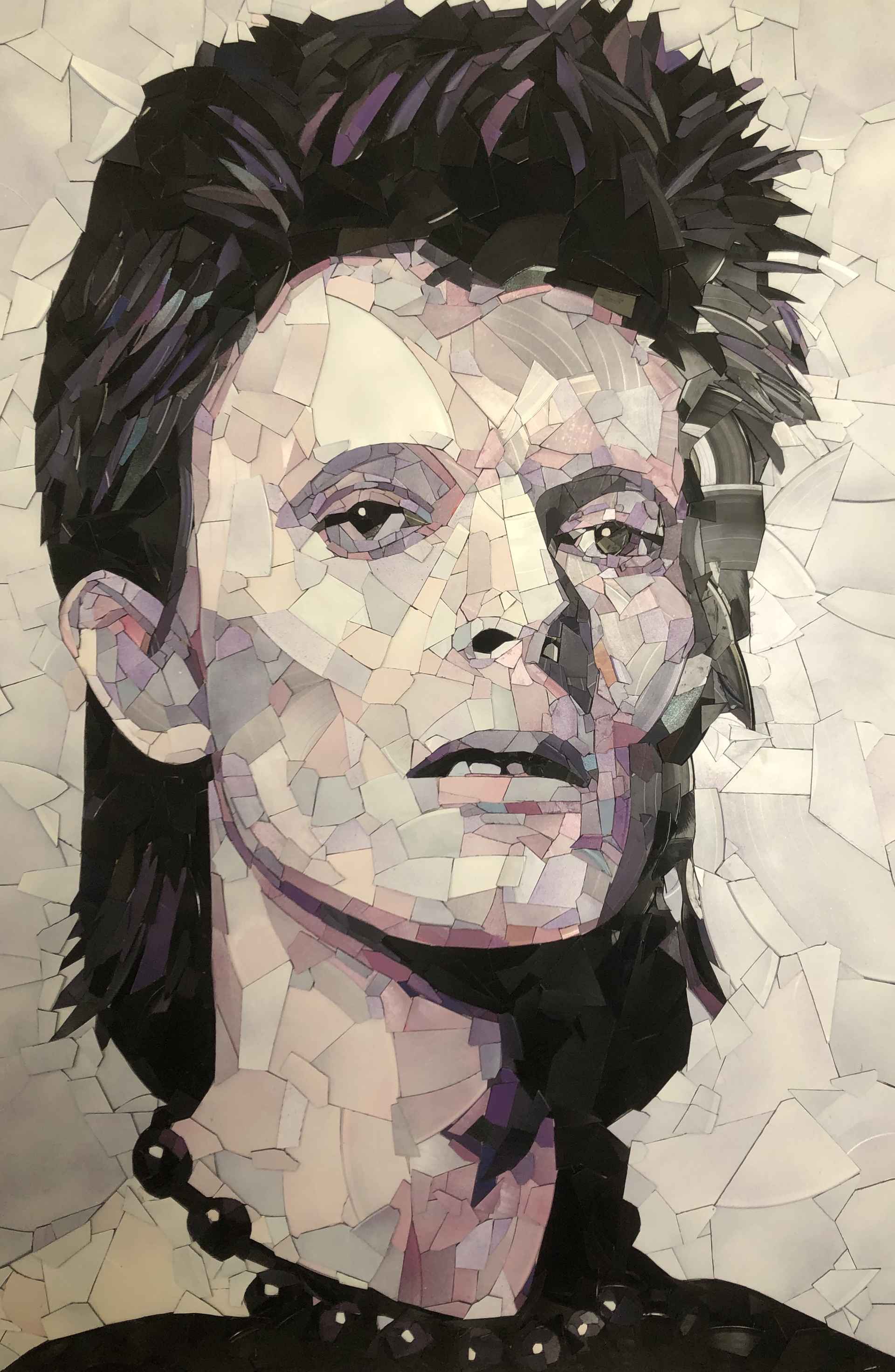 The young Thin White Duke's likeness made using hand-cut records from the 1970s, 80s and 90s, wherein Chapman has employed unusual purple and mauve tones to create a cool, subtle style and finish befitting the iconic singer as he looks to begin his stellar rise as Ziggy with his Spiders from Mars. Made entirely from hand-cut vinyl pop records. Commissions are available on request.
Media:

vinyl mosaic on board

Dimensions:

70

x

105

cm
Price: SOLD
Boasting an uncanny likeness to the Thin White Duke, this mosaic portrait by Ed Chapman is made up hundreds of hand cut vinyl records from the 1970s, 80s and 90s. Capturing pop icon David Bowie before his stellar rise into his Ziggy Stardust character, this piece portrays a delicate image of Bowie with a playful glint in his eye. With a kitschy, Pop Art edge, this is a statement piece which is impressively crafted, making us do an instant double take. A fragmented portrait, this composition has a cool-toned, mauve and purple colour palette comparable to Picasso's 'Blue Period', which leaves us questioning the fragility of the person in the portrait. Chapman is an innovative contemporary mosaic artist, and was one of the first in his field to create large scale mosaic compositions using unconventional materials. Chapman works in fragments of unconventional materials to portray an array of iconic figures from history, pop culture, and even politics. His attention to detail is astounding - his works demand a double take, and to be seen in the flesh for their full impac. Chapman works large scale to create works that are bold and dynamic, and they brighten the spaces in which they reside. Any piece by Chapman would make a timeless statement and investment, that would compliment any contemporary art collection, business space, or home. Commissions available on request.
Other images of David Bowie (vinyl) by Ed Chapman

David Bowie (vinyl) by Ed Chapman

David Bowie (vinyl) by Ed Chapman