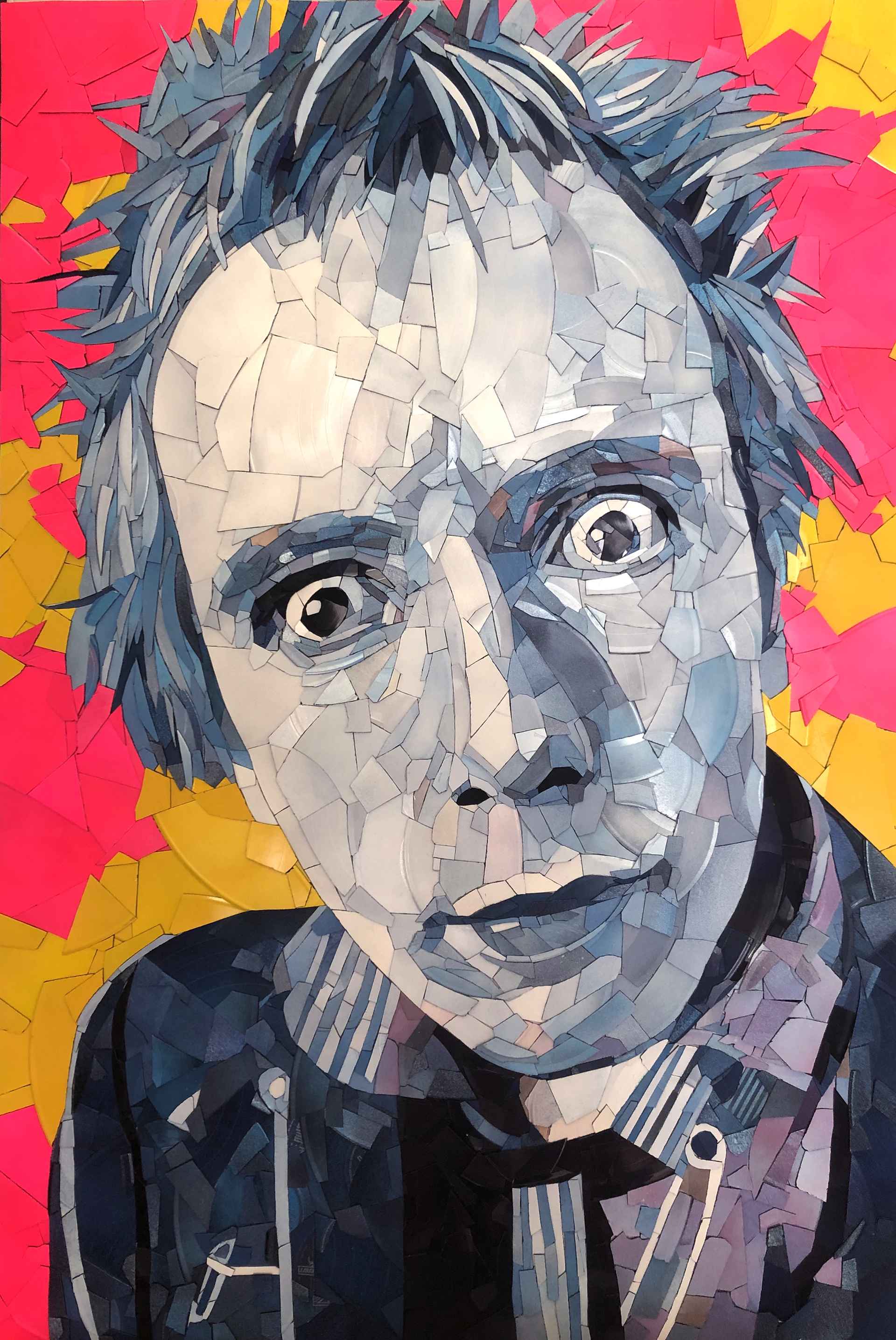 The iconic, vitriolic frontman for the Sex Pistols has been created in blue tones with a background using the famous colours of the band's classic Never Mind The Bollocks album. Rotten's legendary stare follows the viewer in this classic rendition of a Punk Rock legend. Made entirely from hand-cut vinyl pop records. Commissions are available on request.
Media:

vinyl mosaic on board

Dimensions:

70

x

105

cm
Price: SOLD
Ed Chapman's bolshie portrait of punk icon John Lydon, or better known as Johnny Rotten, is made up from thousands of pieces of hand cut vinyl. With Lydon's face portrayed in hues of muted blue, the punk legend is rendered against a backdrop of crimson and yellow, taken from the classic 'Never Mind the Bollocks' album. A punchy and loud composition, it's as though we can hear Sid Vicious' roaring guitar, as Johnny Rotten's legendary stare pierces through us. A fragmented face - we are left questioning the fragility of the person in the portrait, and humanity as a whole. Chapman's works are renowned for their astounding likeness to their subjects - this piece is no exception. It would not be unreasonable to believe this piece could be a painting or even a digital image at first glance. Chapman is undoubtedly an expert in his field - the quality and success of his works reflect this. Chapman is an innovative contemporary mosaic artist, and was one of the first in his field to create large scale mosaic compositions using unconventional materials. Often a nod to pop culture, Chapman works large scale to create dynamic, bold portraits that truly bring their subjects to life. Chapman works in fragments of unconventional materials to portray an array of iconic figures from history, pop culture, and even politics. His attention to detail is totally captivating - his works demand a double take, and to be experienced in the flesh for their full impact. Ed Chapman's works are timeless statement pieces which would stand out in any contemporary art collection, business space, or home. Commissions available on request.
Other images of Johnny Rotten (vinyl) by Ed Chapman

Johnny Rotten (vinyl) by Ed Chapman

Johnny Rotten (vinyl) by Ed Chapman