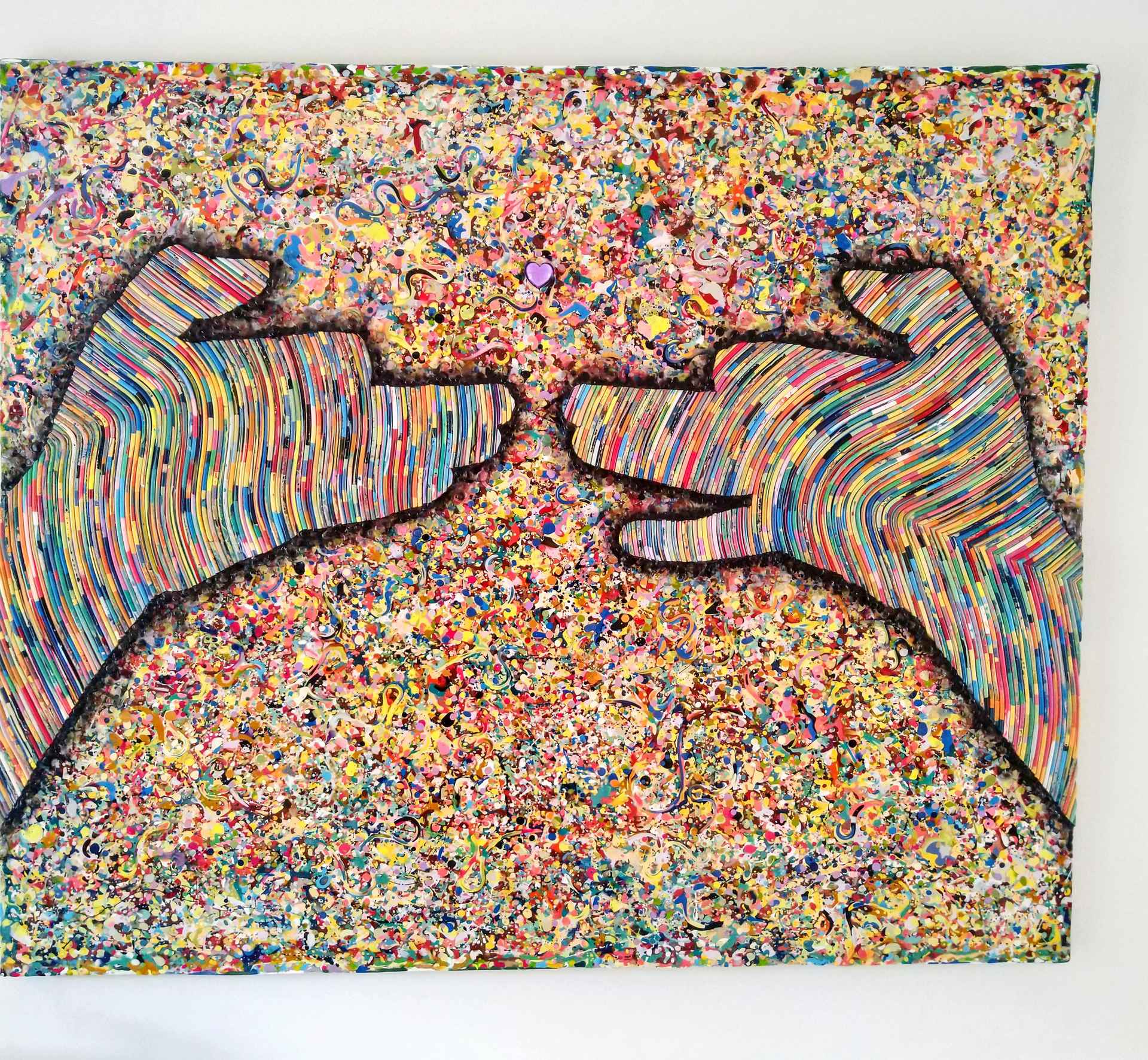 In this abstract composition by Birmingham-based artist Stephen Farley, the boundaries of physical and digital art have been crossed, resulting in a hectic composition which challenges the eye. Made using resin, this piece is an ode to Farley's late dog - it is a melancholy piece which is imbued with personal meaning, with a subtle nod to pop culture.
Media:

framed

resin on board

Dimensions:

122

x

101

cm
Price: £

5900.00
This framed resin piece by Stephen Farley crosses the boundaries of physical and digital art. Although totally hand-made, this piece appears digital upon first glance, and challenges the eye through a myriad of textures. The Pollock-esque resin background competes with the tubular forms within the outlines in the foreground, which look as though they are moving on the surface. The hand shadows are the focal element of this composition, which are positioned to imitate two canines, as a tribute to the artist's late dog. This is a personal piece which is scattered with references of Farley's childhood, the colour palette deriving from what the artist describes "toxic 1950s lino floors". This mix of imagery and childhood references establishes an innocent tone within the composition, and the title 'Hands of Love' is a great example of how Farley often uses the titles of his artwork to generate irony. A play on words of the iconic 'Hounds of Love' by 1980s singer Kate Bush, this aspect also reflects Farley's heavy musical interest: "Music is probably the biggest influence on what comes out of me visually, because it's probably my first interaction with an art form" With pop culture references and tongue-in-cheek titles of artwork, Farley's works are always exciting and even sometimes challenging – making his work a perfect addition to any art collection. Although pieces like this could be visually viewed as spontaneous and abstract, there is irony in Farley's approach – resin is one of the least spontaneous materials, requiring a controlled environment and rigorous planning to ensure successful results. Farley's pieces have a tactility to them, with the textures and light refractions drawing us in – they're almost impossible not to touch. These resin pieces can even appear like glass at times, giving them a certain fragility, when in actuality they are very durable, which is another contradiction that keeps Farley's works engaging. Farley's works are known to push the boundaries of the artificial and the organic as well as the physical and the digital – his oeuvre is full of contradictions. A totally unique piece - this is a work of art which would stand out in contemporary art collection.
Working and living in Birmingham, Stephen Farley is a 3D artist who works with a range of materials, most notably resin. Farley's oeuvre is multifaceted and tactile - whether a wall piece or a stand-alone sculpture - they're almost impossible not to touch, and demand to be seen in the flesh. This physical aspect of Farley's work offers new ways of experiencing art through touch, leading to many collaborations with BlindArt, a charity that supports those with sight restrictions. Stephen Farley is a versatile, exciting, and innovative artist and any artwork from his collection would make a worthwhile investment, and a valuable asset to any contemporary art collection, gallery space, or home.
Other images of Hands of Love by Stephen Farley ARBSA

Hands of Love by Stephen Farley

Hands of Love by Stephen Farley

Hands of Love by Stephen Farley

Hands of Love by Stephen Farley