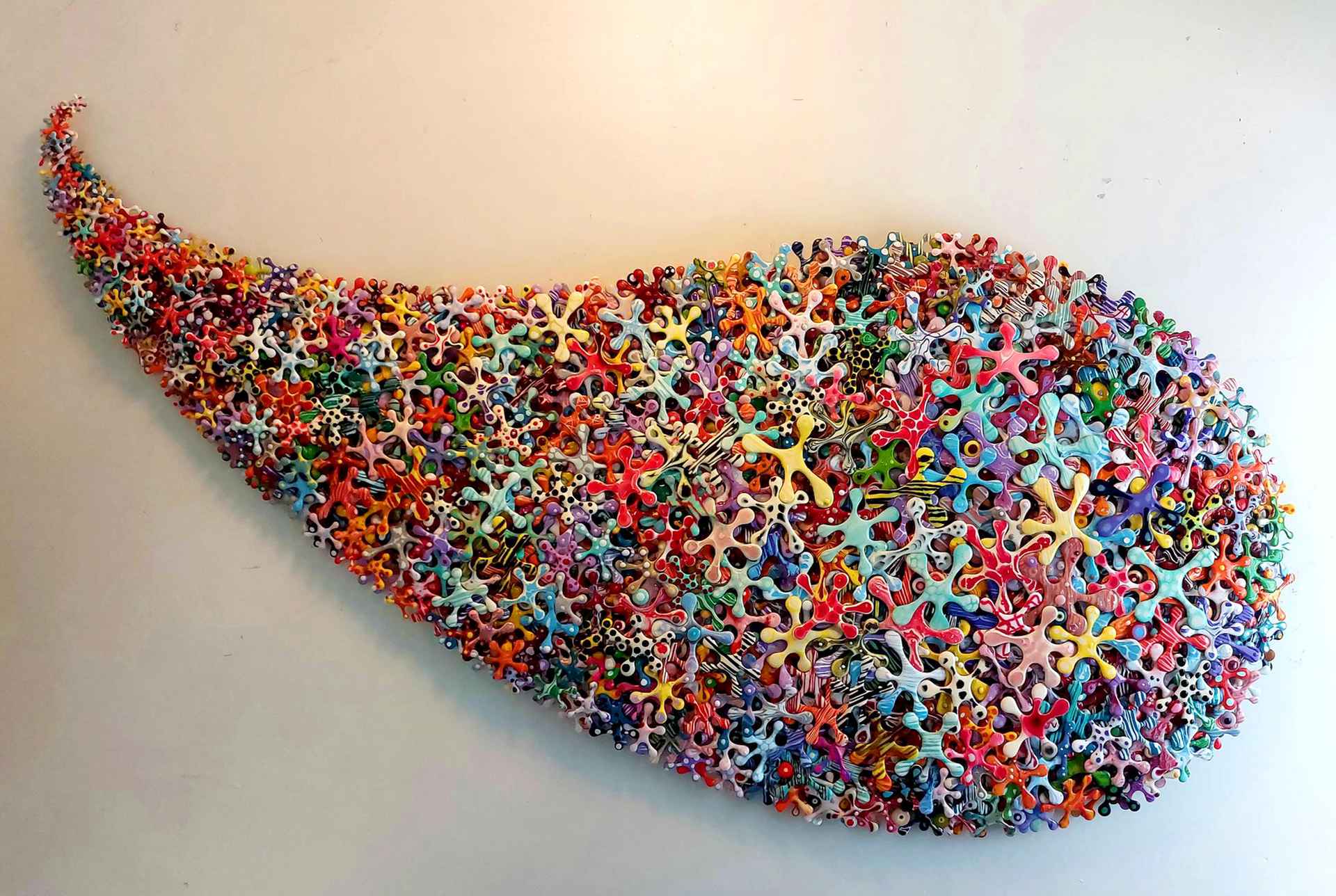 This intriguing resin sculpture by Stephen Farley is an instant conversation starter. What is this strange form? A comet from outer space? As insightful as ever, 'The Cure and the Cause' is one of Farley's many innovative tactile compositions.
Media:

resin

Dimensions:

125

x

90

x

9

cm
Price: £

6500.00
"Humanity's boast that technical progression cures all, mysteriously ignores the toxicity bequeathed as part of the process. The cost of profit is ultimately a net loss of all species under a dominant corporate thirst for diminishing resources." (Stephen Farley) An instinctive artist, Farley's fluid forms are often intuitively made, but they are nonetheless imbued with meaning, whether it's a pop culture reference, a memory, or a form of social commentary. 'The Cure and The Cause' parallels many of Farley's other sculptures which commemorate the Great Barrier Reef, and the ecological disaster which is unfolding within it. Inspired by his travels to Australia and coming face to face with the dying reef, Farley communicates this concern into his practice, creating tactile sculptures which depict the urgency of climate change. This time presented with a defined profile of a comet shooting through the sky, Farley teleports us to a solace in the depths of space - perhaps it is our only escape from the complicated, dissipating earth below? "We can seek solace in the depths of space, where a meteor seeks to deliver unto us the ultimate hostile takeover bid. Our existence pulverised into a curious geological seam shall be glimpsed within a future that is truly sustainably four-legged." (Stephen Farley) The title takes its name from the eponymous club classic 'The Cure and The Cause' by Fish Go Deep, which was a track in heavy rotation in Farley's studio playlist. Music plays a huge role in Farley's practice - he is constantly surrounded by music in his studio, and has an inevitable impact on his work - this piece is no exception. Farley is an insightful and innovative artist; the tactility of his works offers new way of experiencing art through touch; turning the rules of art on its head, which is often considered as something that must be kept at arm's length from its viewer. This has led him to projects with charities such as Blind Art, who have worked with Farley over the years to open up the sphere of art to those with sight restrictions. Whether stand-alone sculptures or statement wall pieces, Farley's works adopt the shapes of a multitude of synthetic and organic forms. Through his attention to detail, his intuitive approach and a wide range of materials, Farley has developed his own unique visual language, which is imbued with a multitude of narratives. Informed by years of experimentation and development, Farley's artworks would be a valuable asset for any contemporary art collection, business space, or home.
Working and living in Birmingham, Stephen Farley is a 3D artist who works with a range of materials, most notably resin. Farley's oeuvre is multifaceted and tactile - whether a wall piece or a stand-alone sculpture - they're almost impossible not to touch, and demand to be seen in the flesh. This physical aspect of Farley's work offers new ways of experiencing art through touch, leading to many collaborations with BlindArt, a charity that supports those with sight restrictions. Stephen Farley is a versatile, exciting, and innovative artist and any artwork from his collection would make a worthwhile investment, and a valuable asset to any contemporary art collection, gallery space, or home.
Other images of The Cure and the Cause by Stephen Farley ARBSA

The Cure and the Cause by Stephen Farley

The Cure and the Cause by Stephen Farley