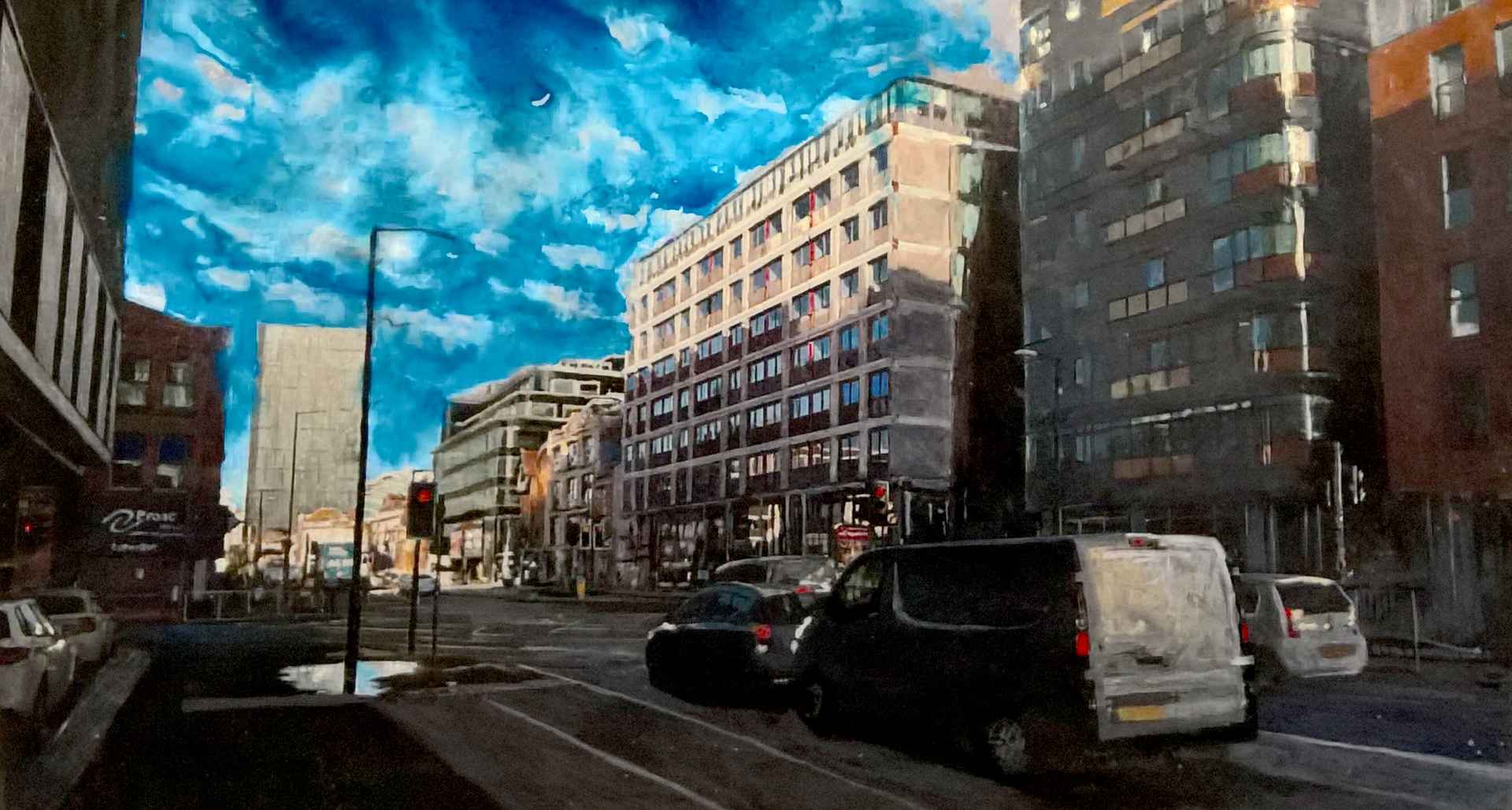 'Ancoats After Rain' is another iconic Mancunian cityscape by Tim Garner, which tells us a story of an ever-changing city. Positioned on ground level on the popular Great Ancoats Street, its as though we've landed amidst the chaos of the city centre. A glossy puddle to the bottom left nods both to the title and the ever-prominent Mancunian rain, which will be undoubtedly familiar to locals and tourists alike.
Media:

mixed media

oil on board

framed

Dimensions:

102

x

57

cm
Price: SOLD
Parallel with many other Mancunian cityscapes in Tim Garner's collection, 'Ancoats After Rain' tells us a story of an ever-changing city. Positioned on ground level on the popular Great Ancoats Street, we are amidst the shadows of towering early and mid-victorian cotton mills, now converted to trendy Northern Quarter apartments and offices. In the Northern region of Manchester, Ancoats is an urbanised area, predominantly made up of sleek and somewhat clinical new builds, as well as repurposed mills. It is renowned for its shiny new architecture, which is inhabited by yuppies and saturated with trendy bars and eateries alike. It is an area which amalgamates the old and new Manchester - the result is a harmonious fusion of urban and industrial. To the far right of this piece we can see the iconic Daily Express Building peeking outward, and a glossy puddle reflects Garner's swirling blue skies. Traffic relentlessly rolls past into the rhythm of the day - we feel as though we are moving with them. The sun peers over timidly, a sigh of relief after a bout of Mancunian drizzle. "I like the factual nature of photography, the immediacy, but it's not enough. Paint is more emotional." Garner's paintings are known for capturing a specific Northern grittiness, made using a mix of cement and metals, which are often embedded into his paintings. In contrast to many of Garner's other works, this piece is less concerned with concrete and tactility - it feels more painterly. Combining elements of the old and new industrialism of Manchester's cityscape, Garner works with a palette of metallics and iridescent shades to create a myriad of textures and illusions. Working in rigorously thin layers of mixed ground paints and iridescent pigments, this process can take anywhere from 10 days to 3 weeks to complete - resulting in compositions which are full of light and depth. There is a certain honesty within Garner's oeuvre – works such as this convey a snapshot of a moment in time, a visual commentary on the mundane, everyday moments. His works remind us of the ever-changing structures of the cityscape, as well as those that have been lost.
Based in his home studio in Stockport, Tim Garner is an artist who captures cityscapes through his own avant-garde lens. Inspired from his time living between Manchester and Paris, Garner works from photography and photo collage as his primary references, taking advantage of their visual immediacy and accuracy. Paint and cement are then used as a way of injecting emotive layers of meaning, forming Garner's distinctive style and flair. Through this process Garner has established his own visual language, which is imbued with character. His works are comfortingly familiar to a Northern audience, whilst enlightening and educating wider audiences. A piece of Mancunian history, this artwork would be a valuable asset for any contemporary art space, collection or home.