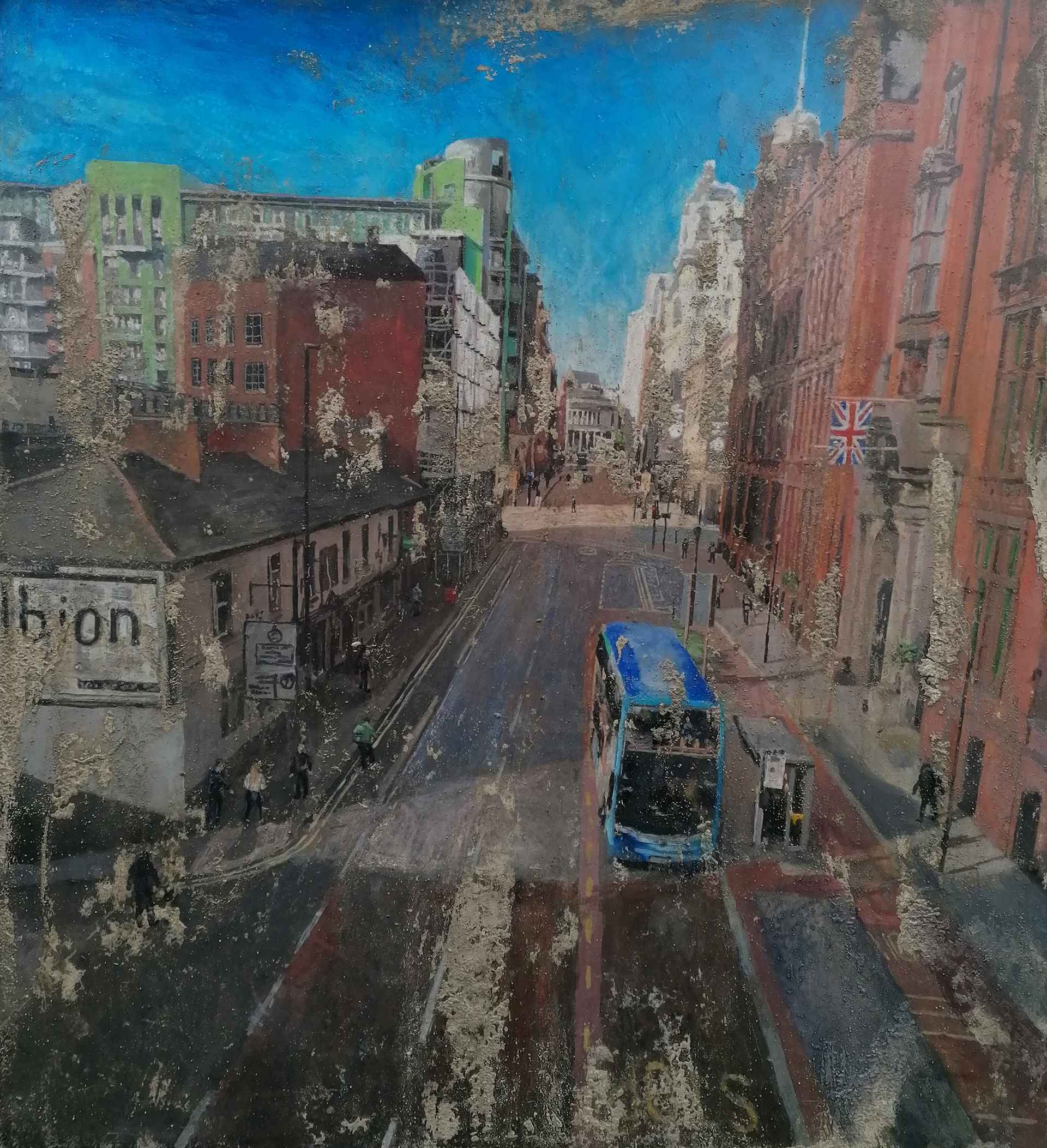 Tim Garner (b.1964) is a Manchester based artist who takes inspiration from his time spent between Manchester and Paris to create dynamic, avant-garde cityscapes. Working from his home studio in Stockport, Garner combines realism and gritty textures to reflect his time spent in these two exciting cities. Garner finds ways to appreciate the everyday, mundane settings and 'anti-landmarks' that most would take for granted day-to-day. Expanding these settings into large scale compositions, Garner uses a formula of cement, ash, metallics and iridescent paints to create texture and depth, instilling a sense of Northern identity, soul, and spirit into the surfaces he works on. This combination of tactile materials, as well as scraping and manipulating the surfaces he works on allows Garner to appropriate the dirt and grit of the city streets onto canvas, as though it would leave a residue if we were to touch it.
"The very act of being creative is hopeful"
Garner spent more than 20 years away from his native North West and describes rediscovering its beauty as a "constant joy". His works certainly have an air of rekindled romance between lovers; there's an awareness of both their blemishes and their beauty. Garner's buildings have a ghostly, ethereal appearance which is fitting because many are probably soon to be knocked down, while others already have been. These pieces are often hazy, awoken by vivid pops of colour created through rigorous layering of cement and hand-blended paints, often building up to 30-60 layers in each piece. Each layer is embedded with metals and iridescent colours, capturing the light and creating mesmerising reflections and illusions. This process is a product of Garner's art education, which took place during a time of drastic change for art in the 20th century; focus shifted onto material and process, and artists were encouraged to explore different materials. These material contrasts in Garner's works convey the old and the new elements of the city – fostering a melancholy tone across many of his paintings. It would therefore be easy to read the images as a chronicle of urban decay, and there is certainly a hint of that, but there's also a childlike optimism about them; one of renewal and hope.
"An organised chaos"
As Manchester-based art consultants, we are proud to represent Garner and his growing oeuvre which have become their own artefacts of Mancunian history. Those local to Manchester will be aware of the constant growth of the city - Garner's paintings bring Manchester's busyness to a standstill, providing documentation of the cityscape at various moments in time. Garner's family have lived in Manchester and Salford for generations - it's no surprise that there is such an honesty within Garner's oeuvre, comparable to the works of Lowry and Valette. Garner's paintings are about community and identity, and provide a platform for the mundane settings that often go unseen. They are a visual commentary of Manchester's architectural changes, simultaneously embracing the old and the new. Garner works from photographs and photo collage as his structural references, whilst painting is used as a way to inject grit and emotion. Neither photography or painting alone is enough on its own for Garner - by combining the two, he has formed a harmonious and distinctive body of work.
"I like the factual nature of photography, the immediacy, but it's not enough. Paint is more emotional."
Through this unique process, Garner has established his own visual language which is an extension of the world around him, and a tool for storytelling. Garner's works are imbued with character and familiarity, particularly recognisable to Northern viewers, and enlightening to a wider audience. Any piece by Tim Garner would be an esteemed addition to any contemporary art collection, commercial space, or home.