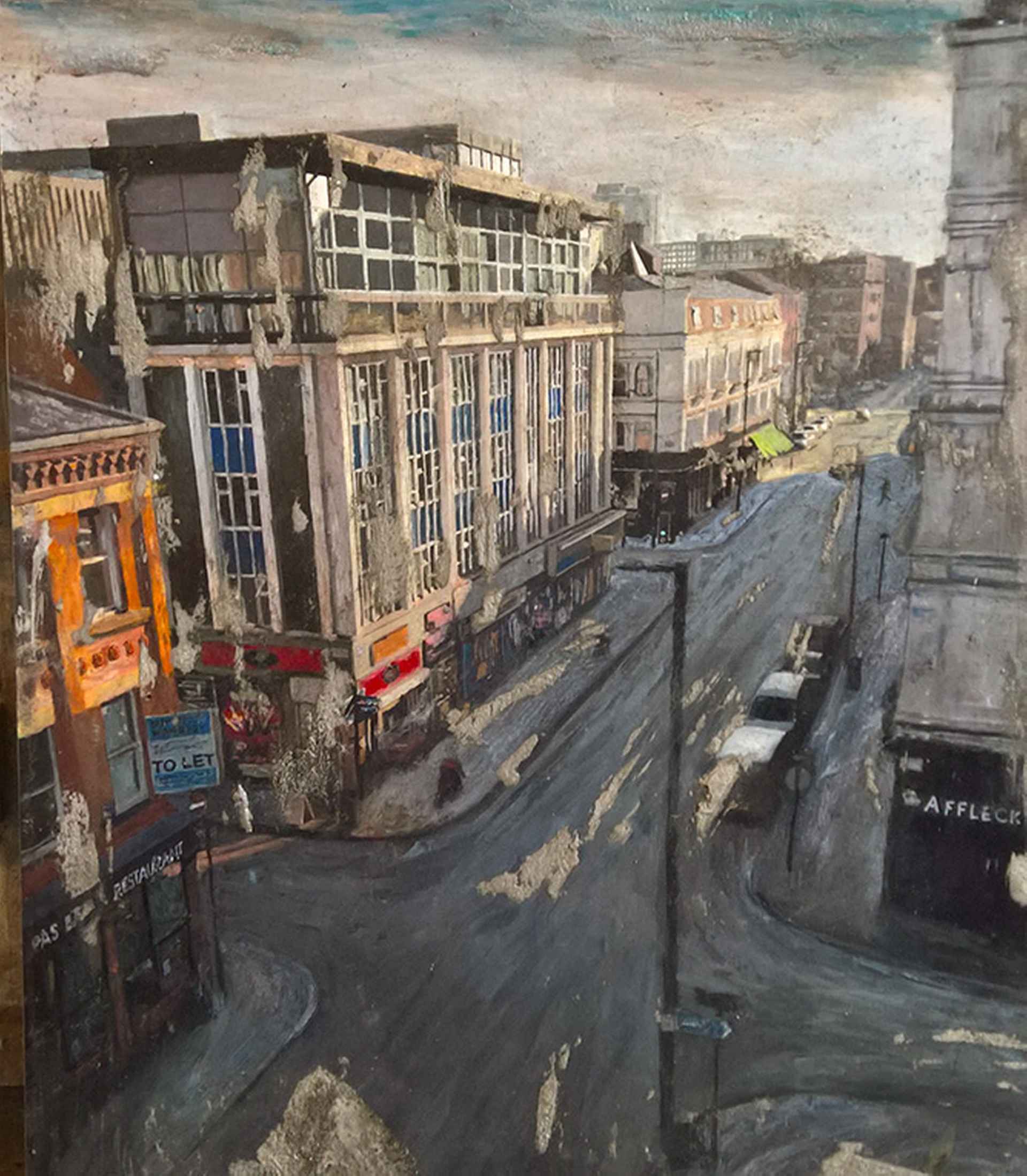 Yet another Northern Quarter eulogised landmark, 'Corner of Affleck's' by Tim Garner gives us a bird's eye view of the iconic Affleck's building on Dale Street. Once the department store Affleck & Brown's, it has now been transformed into a zany emporium of eclecticism and a totem of indie commerce. It is iconic to the Mancunian cityscape – it is no wonder Garner has made it the cornerstone of this gritty composition.
Media:

mixed media on board

Dimensions:

71

x

88

cm
Price: SOLD
'Corner of Affleck's' is another painting from Tim Garner's series of works that portray various parts of Manchester's much-loved Northern Quarter. This area of the city maintains and embraces both the old and new Manchester – it is a fusion of past and present, with its trendy new bars and eateries located within the historical architecture. This high vantage point is common in many of Garner's works, offering a fresh and unconventional perspective, as though we are floating above the city. The cornerstone of this painting is the eulogised landmark, Affleck's, formerly the Affleck & Brown's department store. It is now an emporium filled with independent stalls of eclectic clothing, jewellery, records and even tattoo parlours. A totem of indie commerce, this building is an iconic part of Manchester's cityscape, and is much loved by locals and tourists alike. Garner's pastel skies loom over the Northern Quarter in this piece, the afternoon sun peeking through and illuminating the red brick architecture. A blue 'To Let' sign and bursts of crimson red provide pops of colour amongst the concrete palette, whilst also nodding to the ever-changing architecture in Manchester. What's next for the 'To Let' building? Perhaps a new skyscraper? Those familiar with Manchester will be aware of how quickly the city can change – Garner's paintings bring this to a standstill, showing the city at a specific moment in time. Since this piece was painted, this street will inevitably have already changed and transformed. "You're bringing the city in under your eyes, as though you're floating in it" Industrial materials such as metals and cement are often used by Garner to appropriate the dirt and grit of the Northern city streets. Working with a toolkit of metallics and iridescent paints, Garner's works are full of texture, light and depth, made using a rigorous process of applying layer upon layer of thin mixed ground onto the surface, taking any time from ten days to three weeks to complete. Here, Garner has captured a still moment in time, a snapshot of the mundane, anti-landmarks, expanded to a work of fine art. This is a prominent theme throughout Garner's oeuvre, establishing a certain honesty within his works. Though Garner's combination of materials is tactile and visceral, through use of light and colour there is also a melancholic tone and softness to this piece. These juxtapositions are what make Tim Garner's works so distinctive.
Based in his home studio in Stockport, Tim Garner is an artist who captures cityscapes through his own avant-garde lens. Inspired from his time living between Manchester and Paris, Garner works from photography and photo collage as his primary references, taking advantage of their visual immediacy and accuracy. Paint and cement are then used as a way of injecting emotive layers of meaning, forming Garner's distinctive style and flair. Through this process Garner has established his own visual language, which is imbued with character. His works are comfortingly familiar to a Northern audience, whilst enlightening and educating wider audiences. A piece of Mancunian history, this artwork would be a valuable asset for any contemporary art space, collection or home.