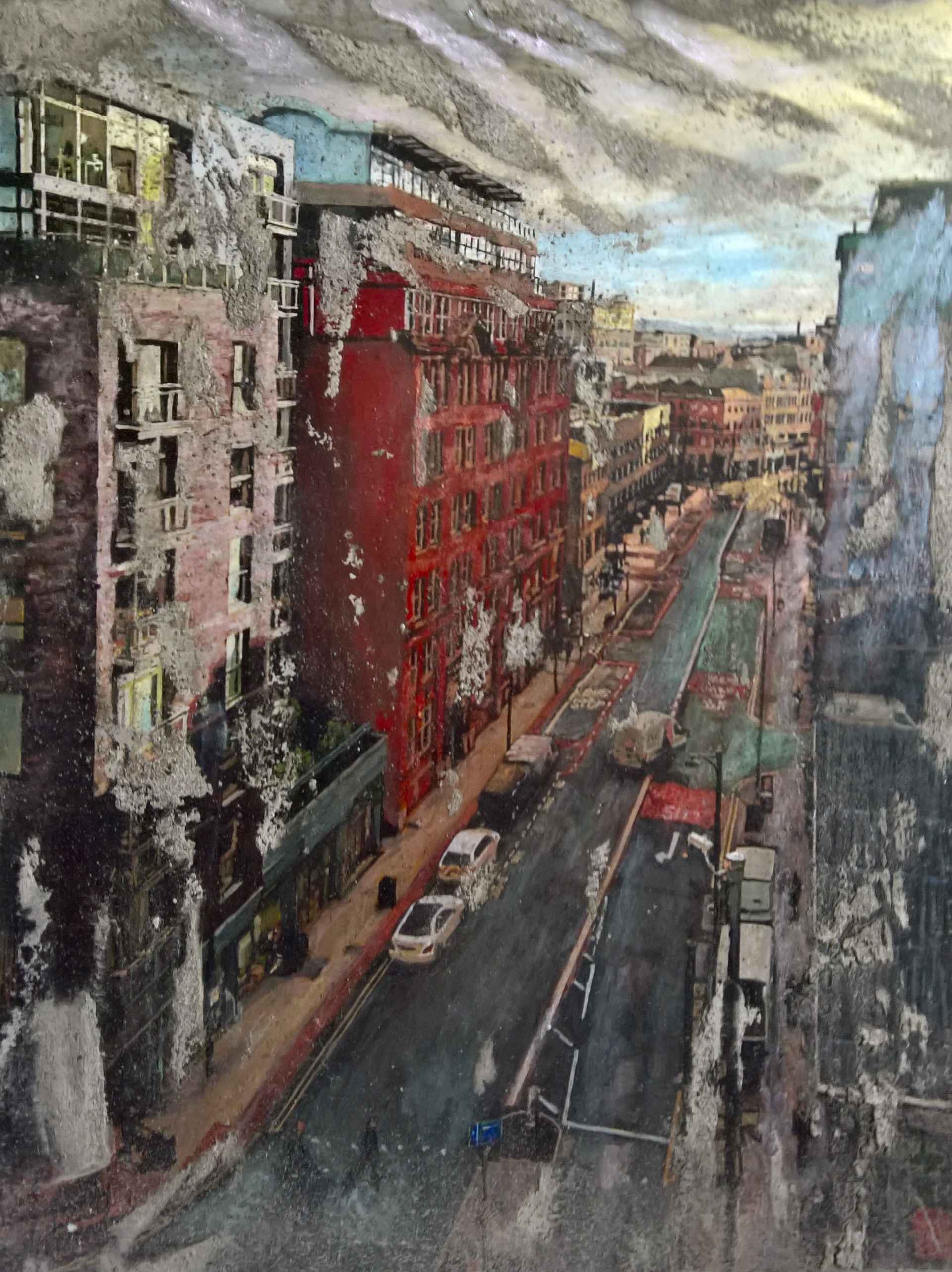 Another painting in Tim Garner's 'Northern Quarter' series, 'Dale Street' portrays one of the focal areas of Manchester's much loved Northern Quarter. In this series, Garner captures both the old and new Manchester, evolving side by side. This is yet another piece by Garner which provides a narrative of an ever-changing city through a gritty formula of paint and cement.
Media:

oil, acrylic & iridescent metal pigment on board

framed

Dimensions:

70

x

92

cm
Price: SOLD
Yet another familiar setting as part of Tim Garner's 'Northern Quarter' series, 'Dale Street' portrays one of the main arteries within this trendy area of Manchester city centre. From Garner's signature high vantage point, we are given a bird's eye view of Dale Street, with the towering red-brick builds dominating over the street below. This area of the city maintains and embraces both the old and new Manchester – it is a fusion of past and present, with its trendy new bars and eateries located within the historical architecture. Here Garner captures both the old and new Manchester, portraying a city in dynamic motion, embracing the changes whilst also remembering its rich history. The road is a central aspect of this piece, guiding our eye towards the hazy distance, like a steel grey river stretching out, contrasting to the flecks of colour that are dotted throughout the architecture. Flecks of gritty cement are embedded into the clouds in Garner's signature skies, whilst a hint of blue optimistically seeps through, reflecting on the new glass-fronted builds which stand parallel to the historic red brick architecture. "Within my paintings – I try to construct narratives while also jumping away from them" Industrial materials such as metals and cement are often used by Garner to emulate the visceral city streets and a specific Northern spirit. Working with a toolkit of metallics and iridescent paints, Garner's works are full of texture, light and depth, made using a tedious process of layering mixed ground onto the surface, taking any time from ten days to three weeks to complete. Through this process, Garner has captured a still moment in time, a snapshot of the everyday within the heart of Manchester city centre, expanded into a work of fine art. This is a prominent theme throughout Garner's works, and his interest in identity and community within the city generates a certain honesty to his oeuvre. This unique combination of materials and juxtapositions of the old and new are what makes Tim Garner's works so distinctive, and a perfect addition to any contemporary art collection.
Based in his home studio in Stockport, Tim Garner is an artist who captures cityscapes through his own avant-garde lens. Inspired from his time living between Manchester and Paris, Garner works from photography and photo collage as his primary references, taking advantage of their visual immediacy and accuracy. Paint and cement are then used as a way of injecting emotive layers of meaning, forming Garner's distinctive style and flair. Through this process Garner has established his own visual language, which is imbued with character. His works are comfortingly familiar to a Northern audience, whilst enlightening and educating wider audiences. A piece of Mancunian history, this artwork would be a valuable asset for any contemporary art space, collection or home.