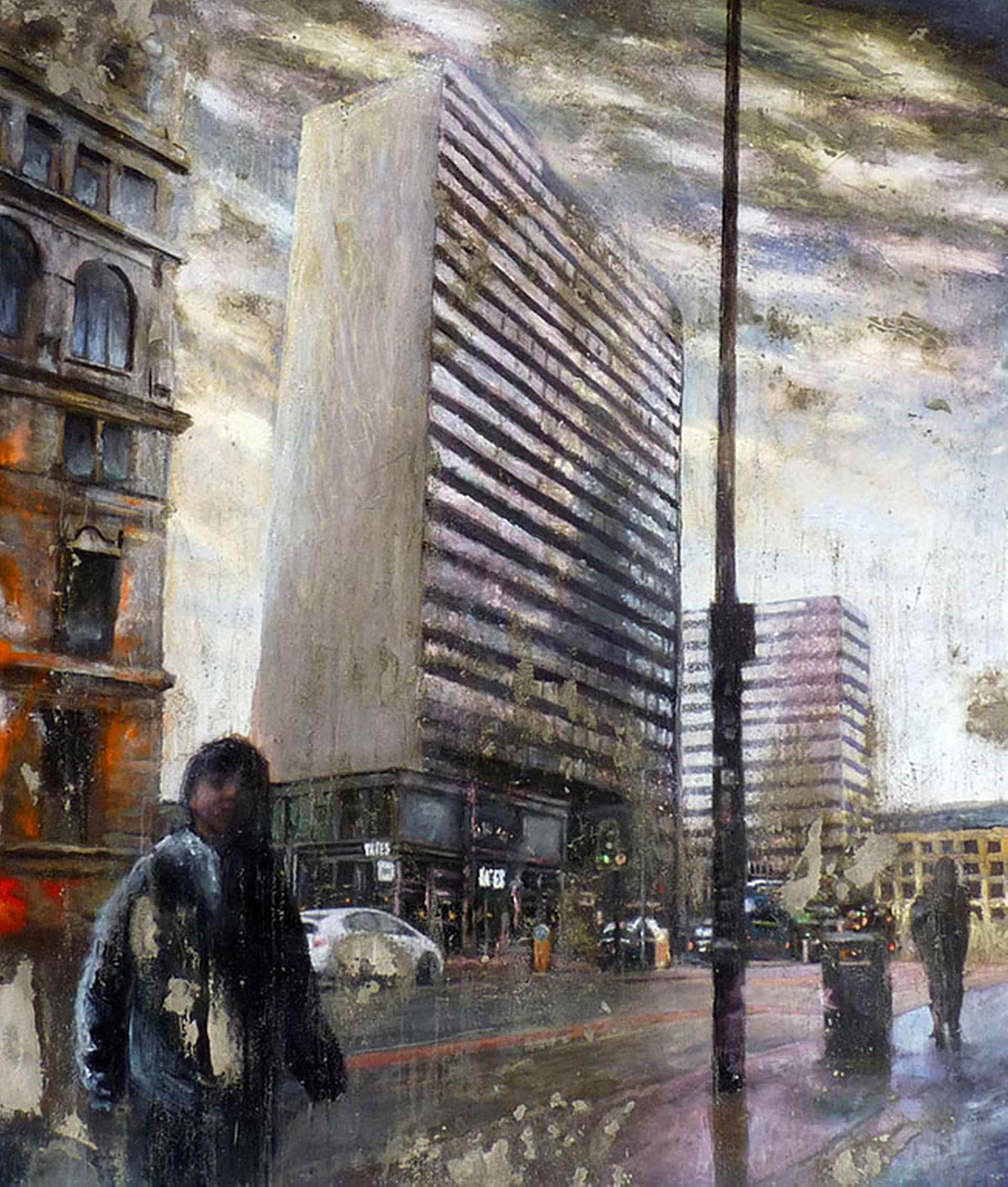 Made using a combination of ground paints and cement on board, this painting is a snapshot of Manchester City centre, where stormy skies meet mauve and red brick. Part of Tim Garner's 'Kids' series, it is familiar and undoubtedly Northern – themes which are prominent in much of Garner's oeuvre.
Media:

mixed media on board

framed

Dimensions:

115

x

120

cm
Price: £

3800.00
Tim Garner's 'Hide & Seek' provides a moment of stillness amongst the hustle and bustle of Manchester City centre. Unlike the candid titles of many other of Garner's works, the title 'Hide & Seek' provides a sense of mystery – who is hiding and who is seeking? Does the figure in the foreground have a part to play? Dull grey towers stand amongst the drizzle, and passers-by are reduced to blurred faces, the focus more architectural than figurative. In this piece lies an undeniable Mancunian familiarity which is prominent in many other of Garner's works. With the unmissable Britannia Hotel peeking in the far left, shades of mauve and red brick bring this piece to life, along with Garner's trademark vivid skies dominating over the cityscape. The stark vertical lamppost guides the eye upwards to intense, dramatic skies, which compete with the textures of cement and grit that are embedded within the composition. These visceral materials are used to emulate the concrete of the city streets - it's a way of capturing that specific dirt and grit, as though it would leave a residue if we were to touch it. "I can see possibilities in everything" Combining the old and new elements of industrialism in Manchester's constantly changing cityscape, Garner is known for employing unconventional materials to imbue a true Northern grit within his works. Garner works rigorously in layer upon layes of thinly mixed ground paints, working with metallics and iridescent pigments to create a myriad of visceral textures and illusions. This layering can take any time from 10 days to 3 weeks to complete, generating a light-capturing effect which demands a closer look, encouraging us to peer through the layers. Garner's works are about community and identity, fostering a certain honesty within his oeuvre. Works such as this convey a passing moment in time, a visual commentary on the mundane, everyday moments, turning them into works of fine art to be appreciated by a wide audience.
Based in his home studio in Stockport, Tim Garner is an artist who captures cityscapes through his own avant-garde lens. Inspired from his time living between Manchester and Paris, Garner works from photography and photo collage as his primary references, taking advantage of their visual immediacy and accuracy. Paint and cement are then used as a way of injecting emotive layers of meaning, forming Garner's distinctive style and flair. Through this process Garner has established his own visual language, which is imbued with character. His works are comfortingly familiar to a Northern audience, whilst enlightening and educating wider audiences. A piece of Mancunian history, this artwork would be a valuable asset for any contemporary art space, collection or home.