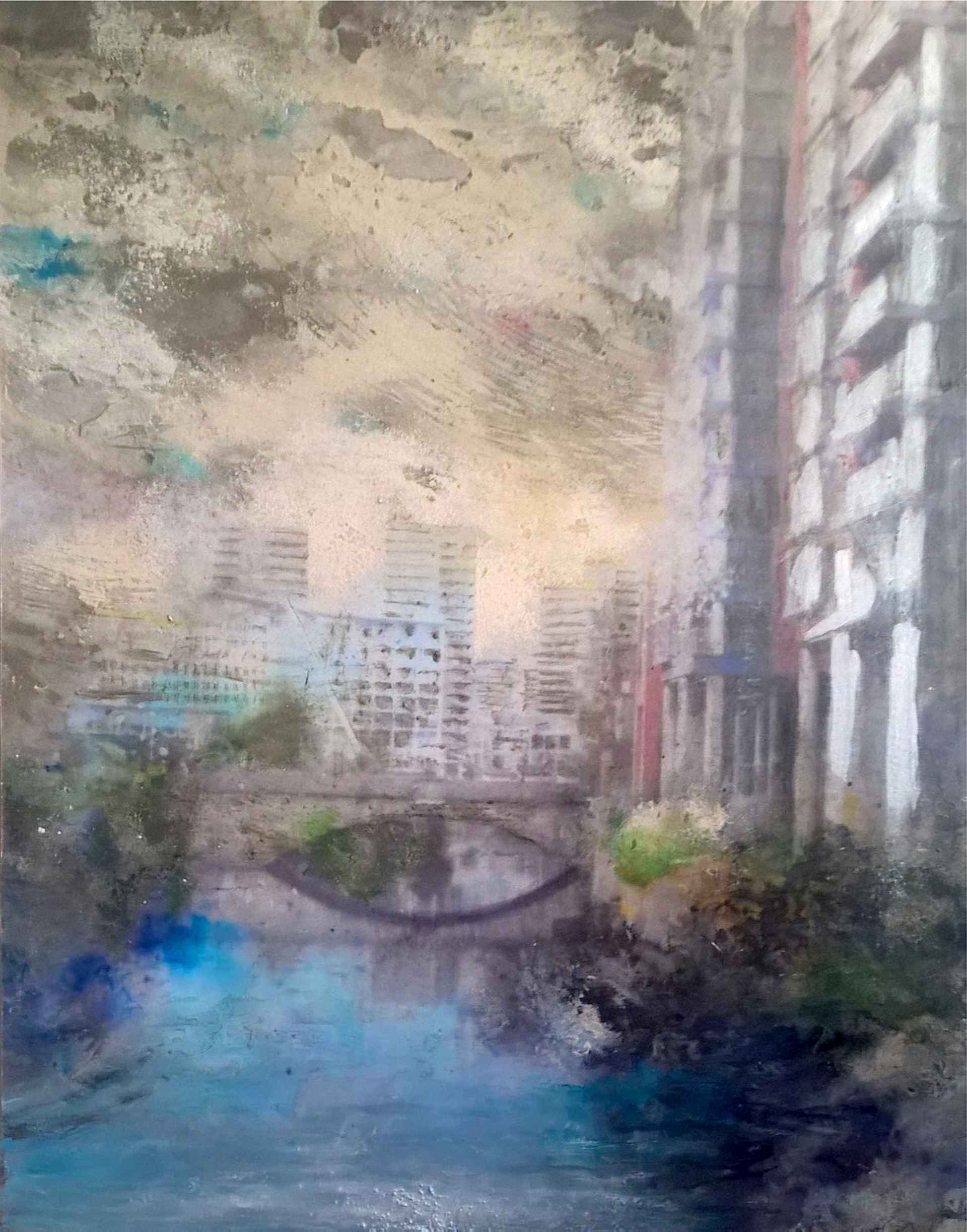 With undeniable visual parallels to French impressionist painter Adolphe Valette, this ghostly painting reveals a bridge over the River Irwell in Manchester. This piece shows us the modern industrial haze of Manchester and reminds us of the ever-changing structures of the cityscape, as well as those that have been lost.
Media:

mixed media on board

framed

Dimensions:

95

x

115

cm
Price: £

2800.00
This painting by Tim Garner portrays the iconic River Irwell painted with an impressionist touch. There are undeniable visual parallels here to the iconic Adolphe Valette; it is a modern depiction of the ever-persistent Mancunian haze and drizzle. Painted amongst the backdrop of Spinningfields, the bustling financial centre of Manchester, the buildings appear ghostly and hazy, a possible reminder of the structures which were destroyed to make space for a new cityscape. The addition of the bridge over the river gives a Parisian flair, reminiscent of Garner's time living and working in Paris. Working with a mix of hand-blended painting grounds and cement, the layers of this piece and the reflections on the water create further depth and dimension, guiding the eye through the image and towards the hazy towers in the background. These soft layers of paint juxtapose effectively with the pops of blue, green, and white, giving balance to the piece and ensuring the image doesn't get lost amongst the gritty textures. "Fixed with adhesive and layers of varnish, the result is a hazy detachment from reality that's at once both familiar and surreal" Vicky Smith, Manchester Confidentials This is a peaceful snapshot of an otherwise hectic city, which locals would agree has undoubtedly changed even since this piece was painted. Garner's tactile compositions are a slice of Mancunian history – they are snapshots of moments in time which will undoubtedly continue to change, made using materials such as cement and metals. Garner rigorously layers these materials with thinly mixed ground paints, working with metallics and iridescent shades to create a myriad of textures and light-reflecting illusions that demand a second look. Garner's works are about community and identity, fostering a certain honesty within his oeuvre - his works convey those passing moments in time, a visual commentary on the mundane, everyday scenes that often go unnoticed.