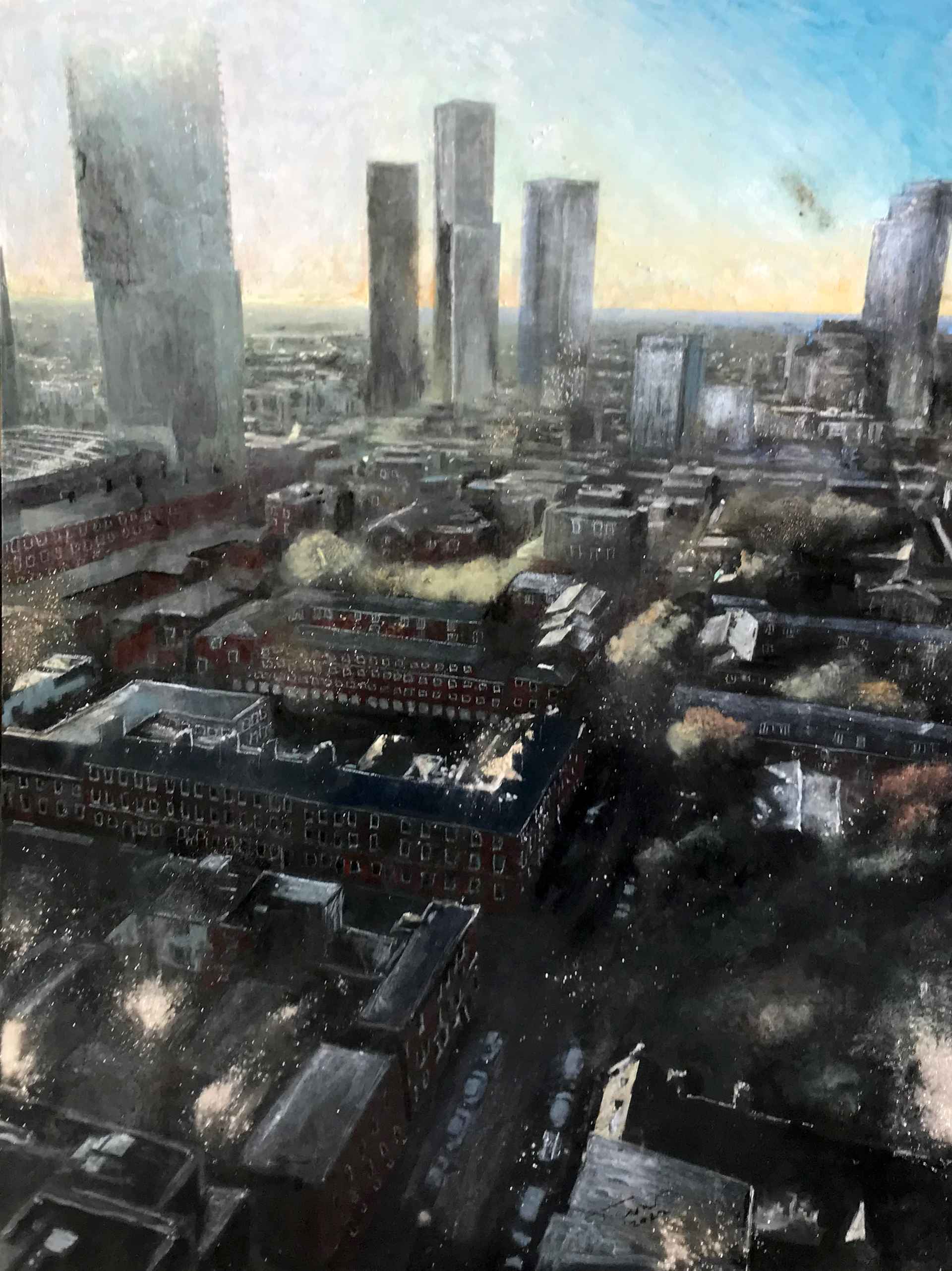 Inspired by recent commissions by international law firm Fieldfisher, who in 2021 opened a practice on the 17th floor of the prestigious new building, "No.1 Spinningfields". Capturing the Mancunian cityscape from an aerial perspective, we are presented with the heart of the city centre below us, with Garner's signature skies dominating above.
Media:

oil, acrylic & iridescent metal pigment on board

framed

Dimensions:

67

x

90

cm
Price: SOLD
The Mancunian cityscape from the 17th floor building in Spinningfields, Manchester's financial centre, we are presented with presented with the heart of the city centre below us. The iconic Deansgate towers stand like pillars, holding up Garner's signature copper skies. We are presented with the old and new Manchester side by side, the Beetham Tower standing tall amidst a myriad of red brick. Terracotta mills remind us of Manchester's rich history, whilst the juxtaposing glass urban landscape glistens in the Mancunian drizzle. Those familiar with Manchester will be aware of these contrasts in the cityscape, and how often the city changes – Garner's works have a distinctive way of capturing these changes – both embracing the new whilst honouring the past. "The social construct of a city is the same wherever you go, but our experiences of it is completely different" Garner works with a unique formula of ground paints, metals, and cement to create layered, visceral compositions which captivatingly catch and reflect light. Made by building around 30-60 layers in each piece, Garner works with thin layers of acrylic pigment, embedding metals and iridescent tones, with each layer capturing light in a unique way. Garner will often work at multiple pieces at once, building conversations between his pieces and working into them until they come to life. For Garner, it's all about getting to them to a point where they could breathe – as though you can see and hear the hustle and bustle and feel the grit of the city life within his works. Cement is used to imbue his works with grittiness, bringing the physicality of the concrete streets to the surface, fostering a tactility to his works which makes them so distinctive.