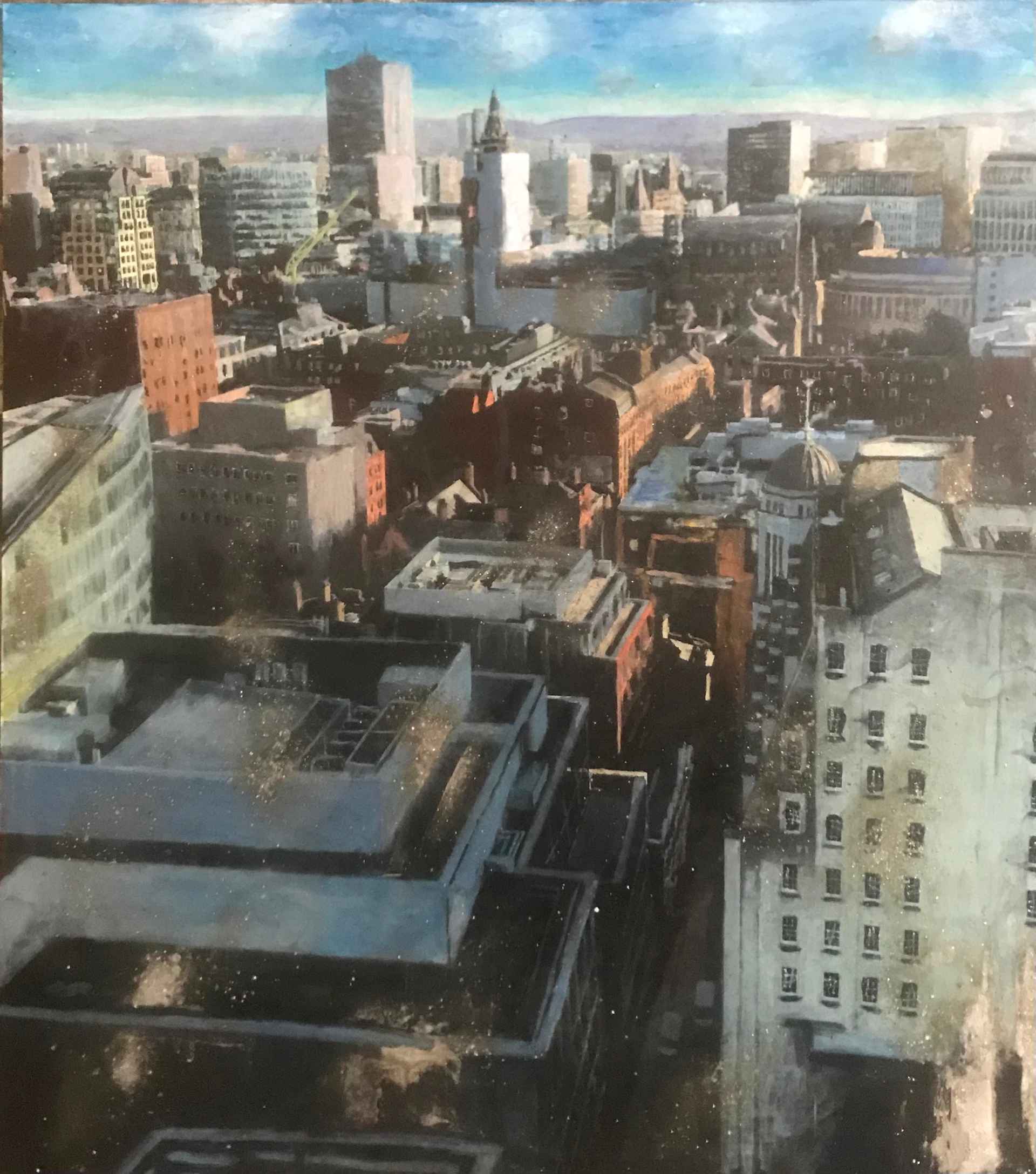 Inspired by recent commissions by international law firm Fieldfisher, who in 2021 opened a practice on the 17th floor of the prestigious new building, "No.1 Spinningfields". Capturing the Mancunian cityscape from an aerial perspective, we are presented with the heart of the city centre below us, with Garner's signature skies dominating above.
Media:

oil, acrylic & iridescent metal pigment on board

framed

Dimensions:

79

x

90

cm
Price: £

3200.00
Capturing the Mancunian cityscape from the 17th floor, we are presented with an optimistic, bright view of Manchester's bustling city centre. The morning light bounces off the rooftops luminously – it's a though they're glowing. Garner's signature skies loom over the horizon, where muted blues meet soft beige hues. Though this cityscape is mostly concrete, old meets new Manchester with pops of red brick of the historic Mancunian mills. The street at the bottom of the painting guides our eye through the street, with flecks of Garner's signature cement appropriating the physicality of the gritty city streets – it's as though it would leave a residue if we were to touch it. "You're bringing the city in under your eyes, as though you're floating in it" Our view here is from Spinningfields, the bustling financial centre of Manchester – where new corporate builds meet historic red brick – reflecting the ever-changing and juxtaposing nature of Manchester as a city. Those familiar with Manchester will be aware of how often the skyline changes and grows – it will undoubtedly have transformed since this painting was made. Garner has a way of capturing these changes in a way that documents and honours their history, whilst simultaneously embracing the new. His works brings time to a standstill, told through a story of metals, hand-mixed paint grounds and cement. Made using a rigorous layering process, Garner has established a formula which allows his paintings to capture and reflect light in a distinctive way. Working up 30-60 layers, this process can take any time from 10 days to 3 weeks, and Garner often works on multiple works at once – this ensures his oeuvre is fluid and coherent. This process continues until he feels his works come to life – his works truly live and breathe through these materials, transporting us to the chaos of the city just from looking at this piece.