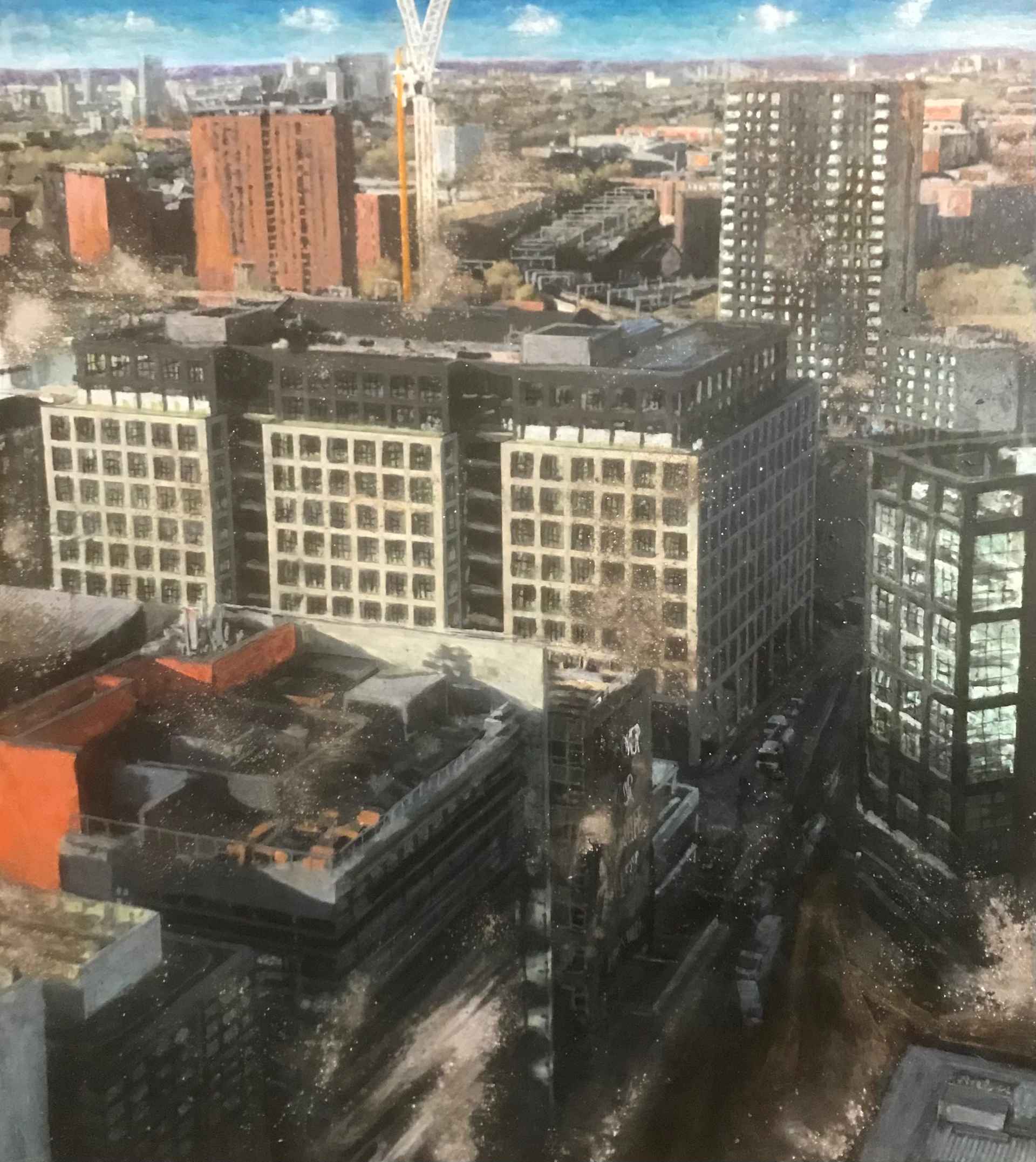 Inspired by recent commissions by international law firm Fieldfisher, who in 2021 opened a practice on the 17th floor of the prestigious new building, "No.1 Spinningfields". Capturing the Mancunian cityscape from an aerial perspective, we are presented with the heart of the city centre below us, with Garner's signature skies dominating above.
Media:

oil, acrylic & iridescent metal pigment on board

framed

Dimensions:

80

x

90

cm
Price: £

3200.00
Part of Tim Garner's brand-new commission for esteemed law firm Fielfdfisher, showing us the Mancunian cityscape from a 17th floor in Spinningfields, the bustling financial centre of Manchester. It's as though we're floating above the cityscape – with the chaotic city moving beneath us. A darker palette in comparison to Garner's other works, the focal point is the slick new black building in the centre. Standing unapologetically in the centre, we are reminded of the ever-changing nature of Manchester's cityscape. Those familiar with Manchester will be aware of how rapidly the skyline changes – Garner's works have a way of showing these architectural contrasts, recognising the city's rich history through hints of red brick, as well as its new builds. To Garner, red bricks represent a unique Englishness as they are a key feature of the landscape – particularly the Mancunian landscape. "You can't deal with a city like Manchester without dealing with the working-class street reality of the environment." Symmetrical pillars and the sleek black box in the heart of this piece tower over the looping city streets, which establish a movement within the piece as they curve around these new builds. It's as though we can hear the traffic below – where are these cars going? We are reminded of Garner's astounding ability to capture light and shadow in this piece, made by building up 30-60 layers of thin, hand-mixed paint grounds, embedded with metals to create light-capturing, iridescent effects. Working on multiple pieces at once, his oeuvre is fluid, creating conversations between each of his pieces. Cement, ash, and surface scratches are also applied to appropriate the dirt and grit the city streets below, producing further texture and depth. Compared to Garner's other works, this piece is less concerned with his signature concrete textures; it feels more vivid and refined – but we can still see subtle specks of cement which imbue a grittiness. There is a subtle tactility which is prominent throughout Garner's oeuvre – his impressive use of texture, light and depth are what makes his work so distinctive.