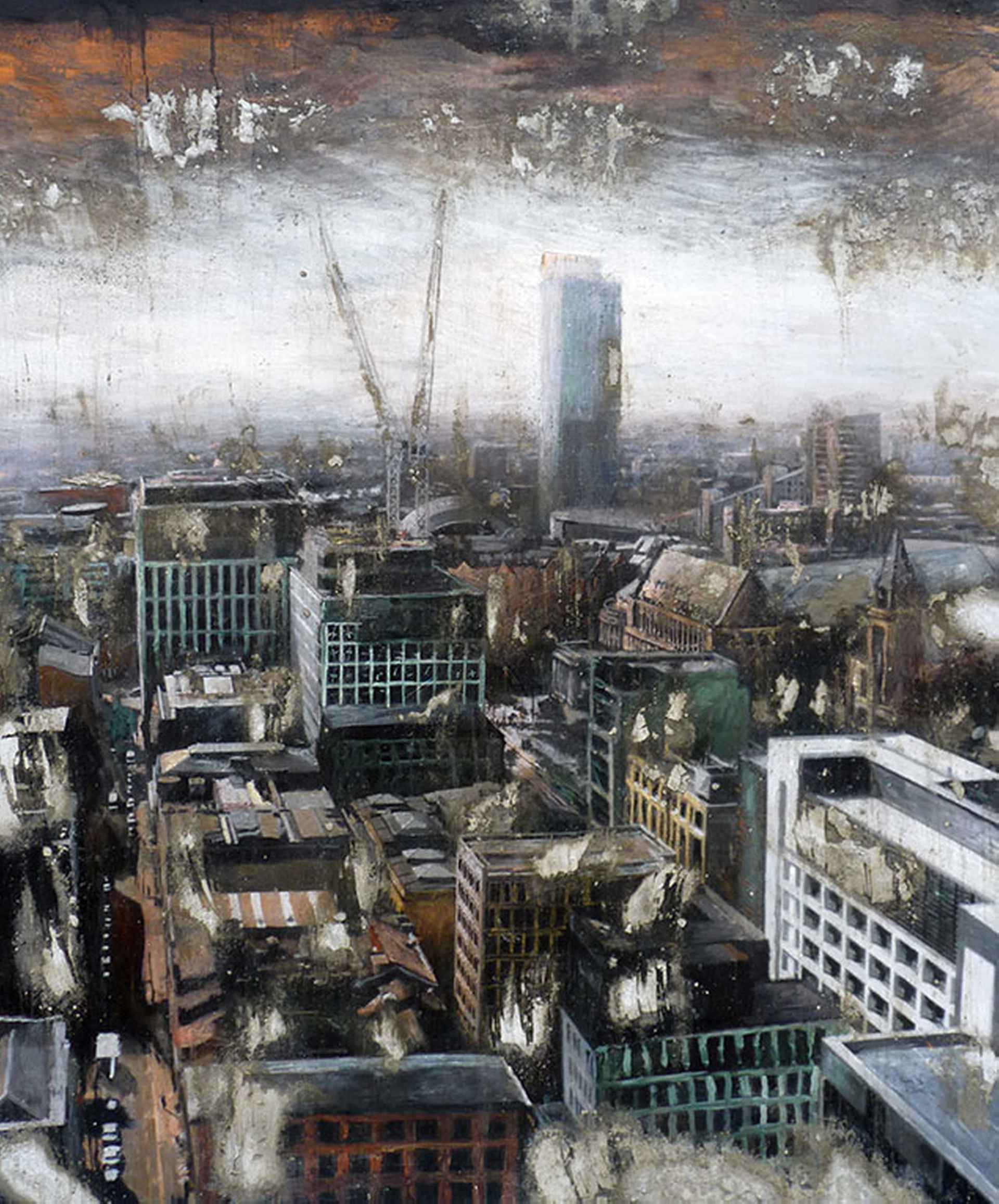 Placed at a bird's eye view, Tim Garner presents to us a 'Mantle' of Manchester city centre beneath a daunting sky. The iconic Beetham Tower looms in the distance, as we step over an array of juxtaposing historic and new builds.
Dimensions:

120

x

145

cm
Price: SOLD
One of Tim Garner's first panoramic artworks, 'Mantle' presents to us a bird's eye view of Manchester city centre. The Beetham Tower looms on the horizon, past a sea of historic and new builds, which juxtapose in shades of terracotta and shiny blues. This is a large, dramatic composition - each building is in conversation with one another, and contributes equally to the overall impact of the cityscape. We have been placed at a withdrawn perspective, soaring over, as the coppery, looming skies coordinate with the palette of the cityscape below. There is a tension within this piece, both within the pull between the skies and the cityscape, and in the looming rainfall, which could thunder down at any moment. Garner is renowned for using visual languages and devices in his work without being too formulaic - this piece has been composed in a way that automatically pleases the eye and draws us in. There's endless room for interpretation, and we are left to apply our own narratives and meaning. "A picture should be a mystery that you discover, on your own journey, over a lifetime" The power of Garner's works is their longevity and infinite mystery - there is always something to discover with every glance - this is an artwork which will live way beyond its construction, and will keep its owner endlessly engaged. This mystique is created through a rigorous layering process of iridescent pigment, acrylic ground, metals, cement, and ash. Each layer has its own function and light reflection, resulting in a final composition that is full of depth and movement. Each piece has its own life and autonomy, and his works have a distinctive way of appropriating the physicality of a city. To Garner, painting is an extension of what's around him, both physical and metaphysical; it is vital that his works reflect this. With this extensive toolkit of materials, Garner is able to appropriate the spirit and physicality of a city, paired with a palette of metallics and iridescent paints to imbue texture, light and depth. Through this process, Garner is able to capture a still snapshot of a city which never stops moving - expanded to large scale compositions which demand our time and attention. His works have their own agency in their ability to guide the eye and tell a story of a dynamic, exciting city in motion.
Based in his home studio in Stockport, Tim Garner is an artist who captures cityscapes through his own avant-garde lens. Inspired from his time living between Manchester and Paris, Garner works from photography and photo collage as his primary references, taking advantage of their visual immediacy and accuracy. Paint and cement are then used as a way of injecting emotive layers of meaning, forming Garner's distinctive style and flair. Through this process Garner has established his own visual language, which is imbued with character. His works are comfortingly familiar to a Northern audience, whilst enlightening and educating wider audiences. A piece of Mancunian history, this artwork would be a valuable asset for any contemporary art space, collection or home.