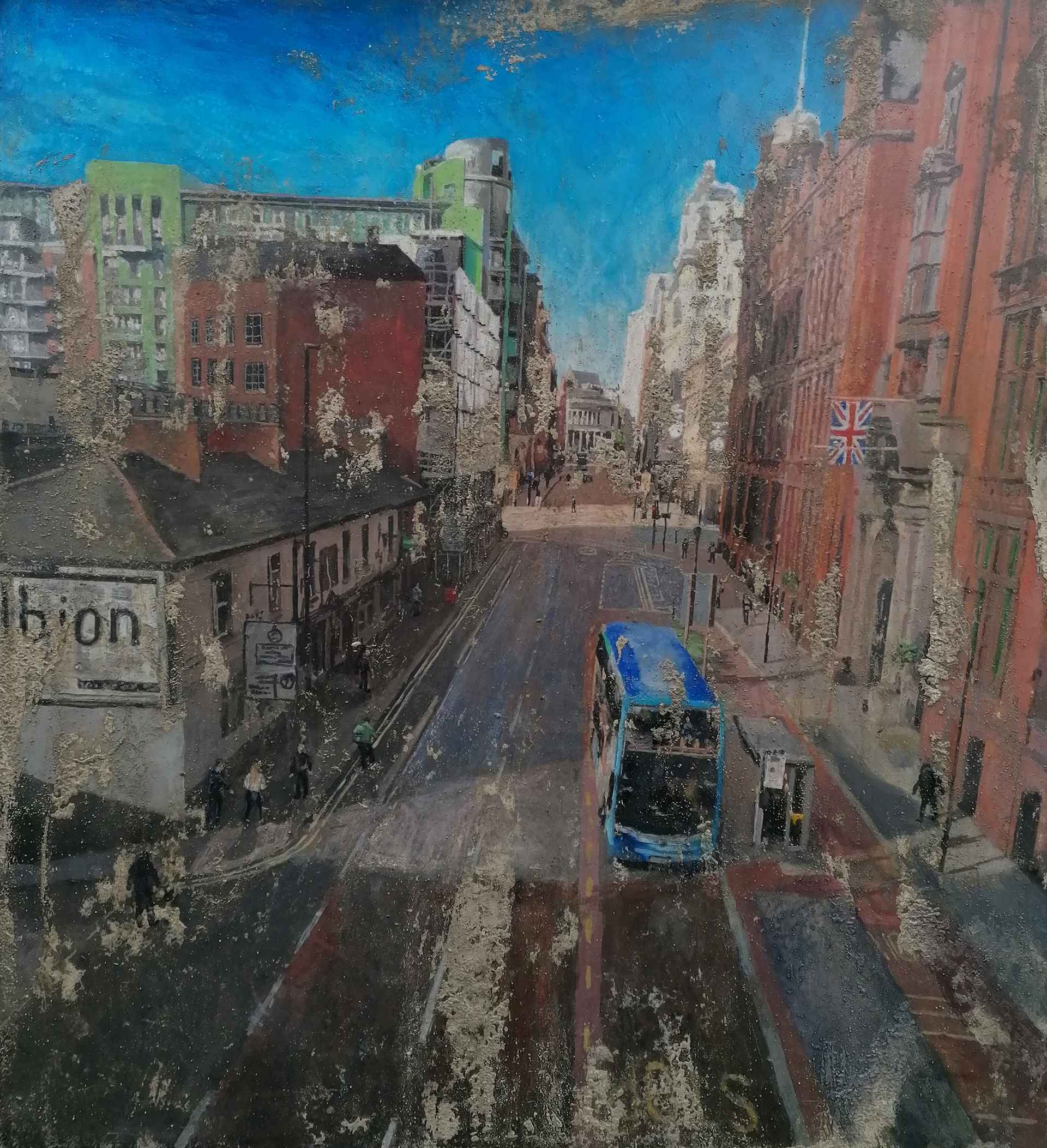 One of Tim Garner's many gritty, visceral artworks, 'Oxford Road' is a painting which offers a bird's eye view into one of the main arteries in and out of Manchester City Centre. With pops of blue and green amongst the iconic red brick, this is a painting which shows us the rich history of Manchester's cityscape and captures a moment of stillness of a city which is constantly moving and changing.
Media:

oil, acrylic & iridescent metal pigment on board

framed

Dimensions:

83

x

91

cm
Price: £

3800.00
From a bird's eye view in the heart of Manchester, this cityscape by Tim Garner shows one of the main arteries in and out of Manchester City Centre. On the horizon is the iconic Central Library and St. Peter's Square, viewed from a high vantage point of a train carriage crossing over Oxford Road. To the right is a blue bus stopped outside the iconic Refuge building – where could it be going? This pop of cobalt co-ordinates with the vivid blue skies, complimenting the legendary Mancunian red brick of the surrounding architecture. The afternoon sun seeps through the side streets, imbuing a sense of hope and light into the towering, dark city centre streets. This snapshot of everyday life captures a moment in history, bringing the ever-changing nature of Manchester's cityscape to a halt. Those who are familiar with the city will be aware of its rapid changes and progression over time – Garner's works are a piece of Mancunian history, a glimpse into everyday life in a city that never stops growing. "(His work is) Optimistic yet decaying in parts – much like Manchester itself" Vicky Smith, Manchester Confidentials Garner's interest in the everyday, mundane settings establishes a certain honesty within his oeuvre. His works are about community and identity - they're visceral and familiar, and capture a true Northern grit and spirit. This is emphasised by the use of metal debris and cement which are embedded into his paintings, appropriating the dirt and grit of the city streets, whilst imbuing a tactility into his works. Working with a formula of metallics and iridescent paints, Garner's works are full of texture, light and depth, made using a tedious process of thinly layering materials onto the surface, taking any time from 10 days to 3 weeks to complete. This mix of materials gives a hazy and decaying appearance to his works; a reminder of the architecture that has been displaced to make way for the new cityscape. 'Oxford Road' is a breathtaking composition which depicts an iconic location; it would make a valuable addition to any art collection or space; whether it be a contemporary art gallery, a commercial space, or home.
Based in his home studio in Stockport, Tim Garner is an artist who captures cityscapes through his own avant-garde lens. Inspired from his time living between Manchester and Paris, Garner works from photography and photo collage as his primary references, taking advantage of their visual immediacy and accuracy. Paint and cement are then used as a way of injecting emotive layers of meaning, forming Garner's distinctive style and flair. Through this process Garner has established his own visual language, which is imbued with character. His works are comfortingly familiar to a Northern audience, whilst enlightening and educating wider audiences. A piece of Mancunian history, this artwork would be a valuable asset for any contemporary art space, collection or home.
Other images of Oxford Road by Tim Garner

Oxford Road by Tim Garner

Oxford Road by Tim Garner

Oxford Road by Tim Garner