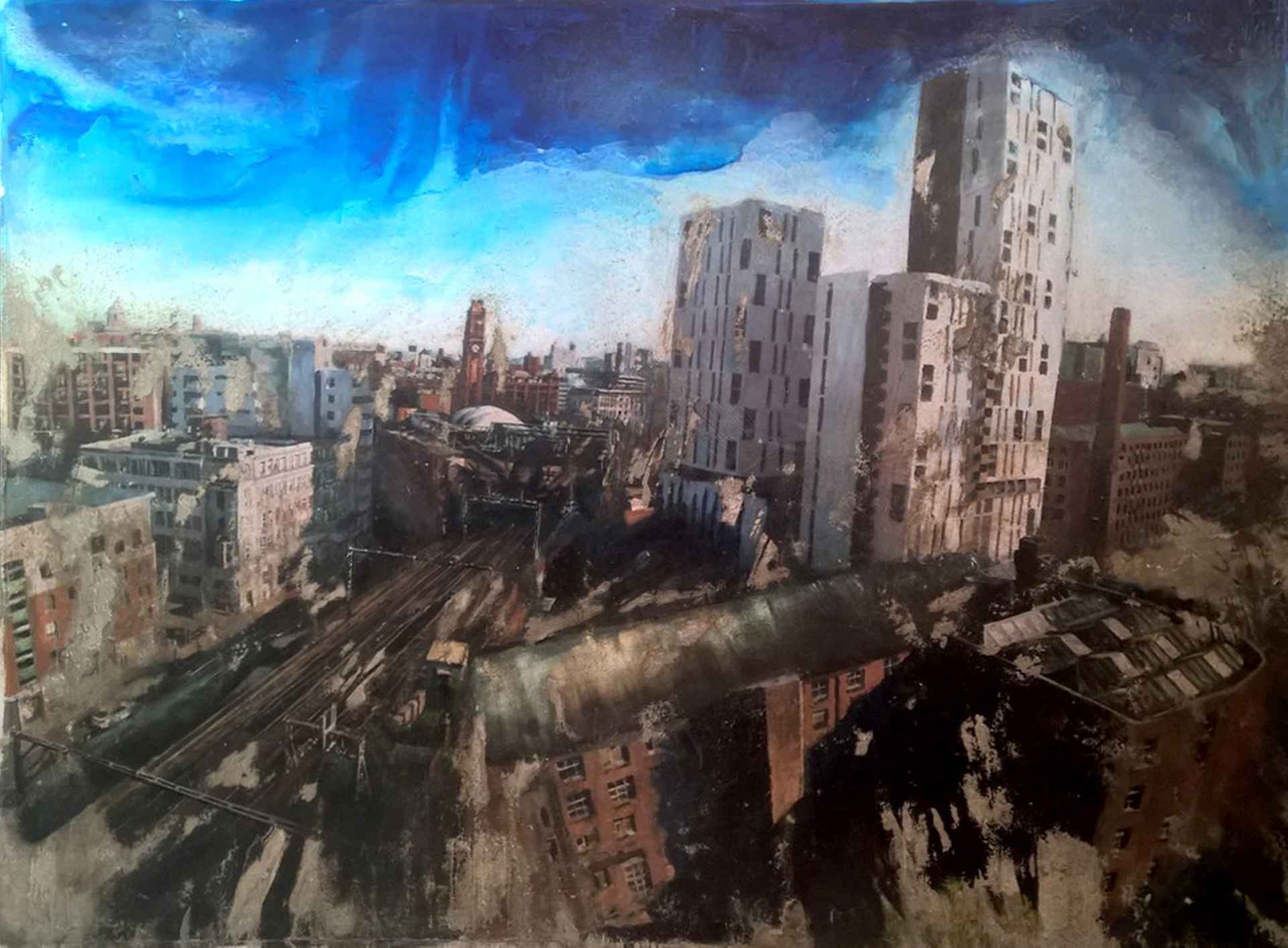 In this aerial composition, Tim Garner takes us through a journey of the Mancunian cityscape from an exclusive bird's eye perspective. Juxtaposing the old and new Manchester cityscape, this painting reminds us of the ongoing changes within the city, a story told through tactile layers of paint and cement.
Media:

oil, acrylic & iridescent metal pigment on board

framed

Dimensions:

130

x

120

cm
Price: £

4200.00
Do you recognise this iconic cityscape? From an exclusive bird's eye view, Tim Garner's 'Oxford Road Station' presents to us the old and new Manchester side by side, contrasting and intertwining with one another. Here the vertical, towering white cubes of Cambridge Street juxtapose with patchy terracotta mills, reminding us both of Manchester's rich history, as well as its rapid progression today. Garner's paintings are visceral and familiar, capturing the true Northern spirit and grit of Manchester, which is emphasised by the use of tactile cement and metals. These gritty materials are notoriously embedded into his compositions, combined with a palette of ground acrylic paint and iridescent pigments, which imbue texture, light and depth into his works. Garner layers these materials rigorously to create tactile compositions which capture light within each layer which truly bring his compositions to life, even years beyond their creation. Specks of cement are used to frame his works and create a somewhat hazy, unfinished effect, perhaps a nod to the constant change and growth of the Manchester skyline. "A painting is an accentuation of the possible" Although visually accurate, the almost warped birds-eye viewpoint of this piece creates a whirlwind impact. Our eyes are guided rapidly through the painting, led by the railway to the bottom left, up towards the iconic Kimpton clock tower, and further upwards to Garner's signature vivid, dramatic skies. Like many of Garner's other works, this painting is an ode to the everyday, to the settings that are often taken for granted. It brings the hectic city centre of Manchester to a standstill – a pause in time and history as the city continues to rapidly grow around it. There is a certain honesty within Garner's oeuvre – works such as this convey those passing moments in time - a visual commentary on the identity of the city. 'Oxford Road Station' would make a valuable addition to any contemporary art collection, and would bring depth and light to any space; whether it be a business space, art gallery, or home.
Based in his home studio in Stockport, Tim Garner is an artist who captures cityscapes through his own avant-garde lens. Inspired from his time living between Manchester and Paris, Garner works from photography and photo collage as his primary references, taking advantage of their visual immediacy and accuracy. Paint and cement are then used as a way of injecting emotive layers of meaning, forming Garner's distinctive style and flair. Through this process Garner has established his own visual language, which is imbued with character. His works are comfortingly familiar to a Northern audience, whilst enlightening and educating wider audiences. A piece of Mancunian history, this artwork would be a valuable asset for any contemporary art space, collection or home.