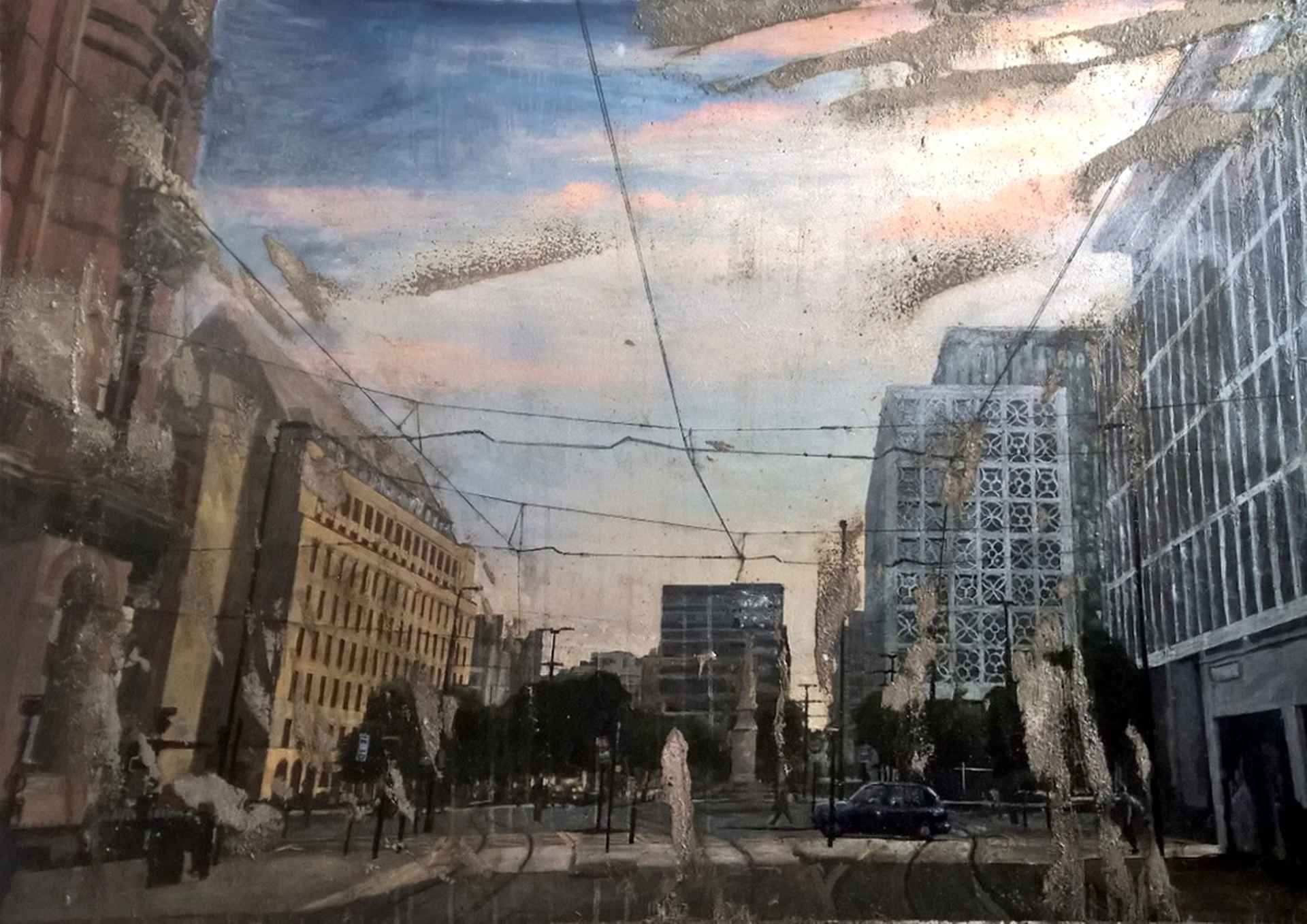 Where some of Manchester's most iconic buildings meet harmoniously within one vicinity, Tim Garner has captured St Peter's Square under the cool evening light, which boasts a pastel palette reminiscent of Claude Monet's Waterlilies.
Dimensions:

132

x

99

cm
Price: SOLD
This piece by Tim Garner is a serene glimpse into an often-chaotic area of Manchester city centre. With wisps of soothing pink, blues, and grey, St. Peter's Square stands in the glow of the evening light, painted with a pastel palette comparable to Claude Monet's Waterlilies. Streams of light and the tramlines below guide us through this image of the square, which are signifiers of Manchester's iconic "Met" tram network that transports locals and tourists alike across Greater Manchester. This piece is framed by Garner's iconic flecks of cement speckled around the edges, making it appear aged and hazy, whilst also capturing the physicality of Manchester's city streets. Differently to many of Garner's other works, in this piece we are placed on ground level, submerging us within the city's rhythm. It's as though we can feel the coolness of the air ourselves, as the day comes to a close and the night creeps in. "It's at that period where the light is leaving, and the dark is coming" Combining elements of the old and new industrialism of Manchester's cityscape, Garner works with a palette of metallics and iridescent shades to create light and texture, working with very thin layers of mixed ground paints, which can take any time from 10 days to three weeks to complete. The specks of cement around the outer edges of this piece also give somewhat of a hazy, unfinished effect, perhaps a nod to the constant change and growth of the Manchester's cityscape. Like many of Garner's other works, this painting is an ode to the snippets of the everyday, to the settings that are often overlooked. It brings the hectic city centre of Manchester to a standstill – a pause in time and history as the city continues to rapidly grow around it. There is a certain honesty within Garner's oeuvre – his works are about community and identity, and they provide a visual commentary on the mundane that encourages us to appreciate the everyday. A moment of tranquillity within a city that never stops, this piece is full of ambience, perfect for any contemporary art collection.
Based in his home studio in Stockport, Tim Garner is an artist who captures cityscapes through his own avant-garde lens. Inspired from his time living between Manchester and Paris, Garner works from photography and photo collage as his primary references, taking advantage of their visual immediacy and accuracy. Paint and cement are then used as a way of injecting emotive layers of meaning, forming Garner's distinctive style and flair. Through this process Garner has established his own visual language, which is imbued with character. His works are comfortingly familiar to a Northern audience, whilst enlightening and educating wider audiences. A piece of Mancunian history, this artwork would be a valuable asset for any contemporary art space, collection or home.