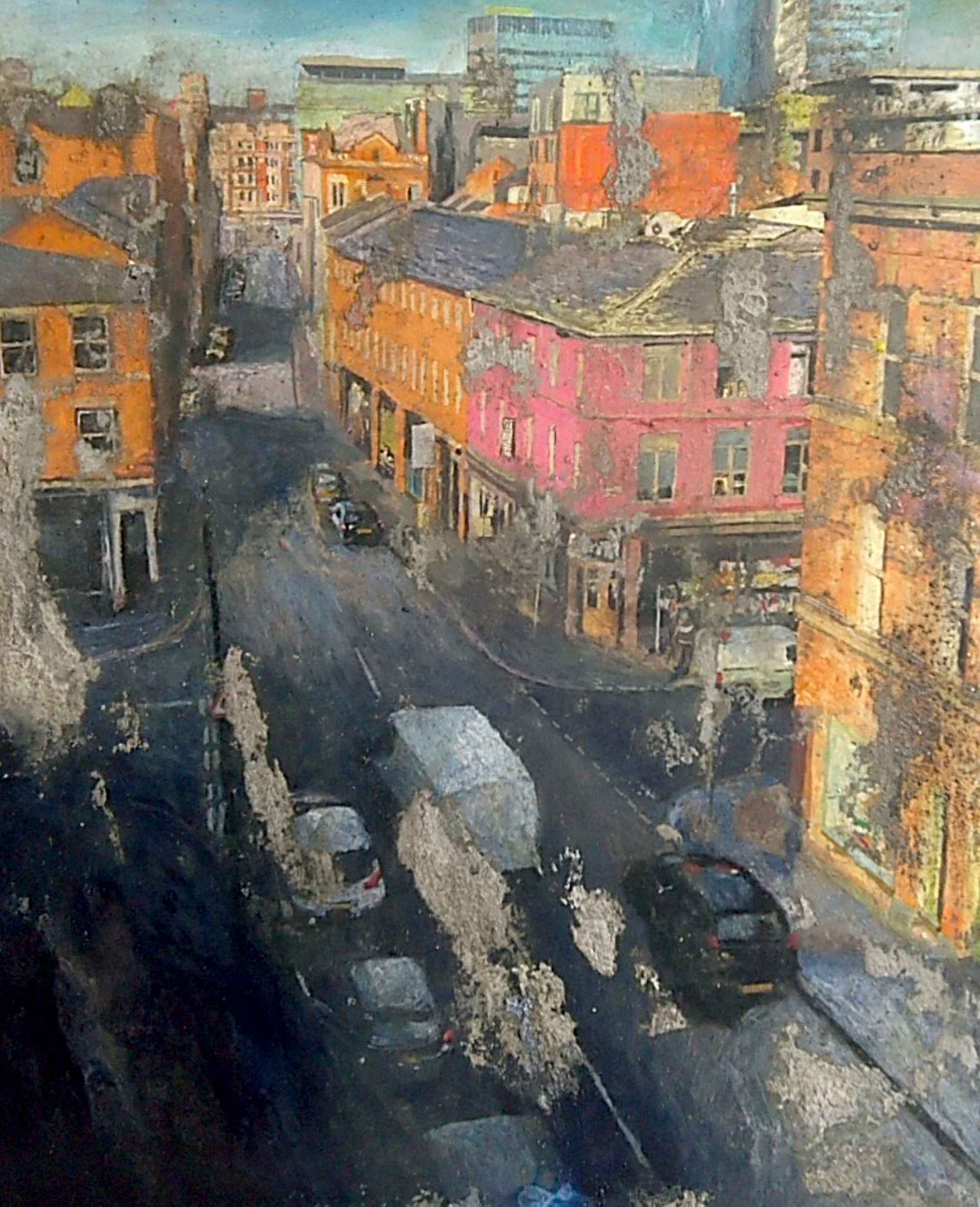 In this gritty composition by Tim Garner, the morning light beams across Manchester's iconic Northern Quarter. Juxtapositions of modern cool blues with traditional rusty red brick create a perfect colour balance, inviting us to look closer and take a moment to absorb this serene snapshot of Manchester city centre. A moment of stillness in a city that never stops growing, Garner's works are a piece of Mancunian history that are imbued with Northern grit and spirit.
Media:

oil, acrylic & iridescent metal pigment on board

framed

Dimensions:

67

x

82

cm
Price: £

2800.00
In this mixed media composition by Tim Garner, we are given an exclusive bird's eye view of Thomas Street, which is located in Manchester's much-loved Northern Quarter. Garner often takes his references from high vantage points such as car parks and rooftops around the city, to give his viewer the illusion of floating above the cityscape; detached yet observant. This area of the city is known for embracing both the old and new Manchester – it is a fusion of past and present, with its trendy new bars and eateries located within the historical architecture. Morning sun beams over the red brick, creating an almost Mediterranean glow and romanticising the older, gritty architecture within the cityscape. Garner's works are renowned for reflecting the contrast of the old and new Manchester, whilst also embracing Manchester's ever-changing cityscape. In this piece, our focus is on the iconic red-brick architecture in the foreground, with the glass-box new builds looming seductively on the horizon. This piece is a snapshot in time, a piece of Mancunian history within a city that is always changing. Vehicles drive up and down the main street in the centre of the composition, guiding the eye and reminding us of the constant stream of movement throughout Manchester city centre. Where are they going? There is an element of peace in this painting however - the streets are almost vacant of pedestrians, which is a rare sight for Manchester. "I like showing that cityscapes can be avant-garde, radical, dynamic" Pops of warm pink and rust contrast to the flecks of cool cement that are embedded into this piece, generating a worn, hazy aesthetic. Industrial materials such as metals and cement are often used by Garner to emulate the dirt and grit of the city streets, as though it would leave a residue on our fingers if we were to reach out and touch it. Working with a toolkit of metallics and iridescent paints, Garner's works are full of texture, light and depth, made using a tedious process of layering mixed ground onto the surface, taking any time from 10 days to 3 weeks to complete. Here, Garner has captured a still moment in time, a snapshot of the mundane and expanding it to a work of fine art. This is a prominent theme throughout Garner's works, which establishes a certain honesty within his oeuvre. Though his use of materials is tactile and visceral, this piece still maintains a stillness and softness – these juxtapositions are what make Tim Garner's works so distinctive.
Based in his home studio in Stockport, Tim Garner is an artist who captures cityscapes through his own avant-garde lens. Inspired from his time living between Manchester and Paris, Garner works from photography and photo collage as his primary references, taking advantage of their visual immediacy and accuracy. Paint and cement are then used as a way of injecting emotive layers of meaning, forming Garner's distinctive style and flair. Through this process Garner has established his own visual language, which is imbued with character. His works are comfortingly familiar to a Northern audience, whilst enlightening and educating wider audiences. A piece of Mancunian history, this artwork would be a valuable asset for any contemporary art space, collection or home.