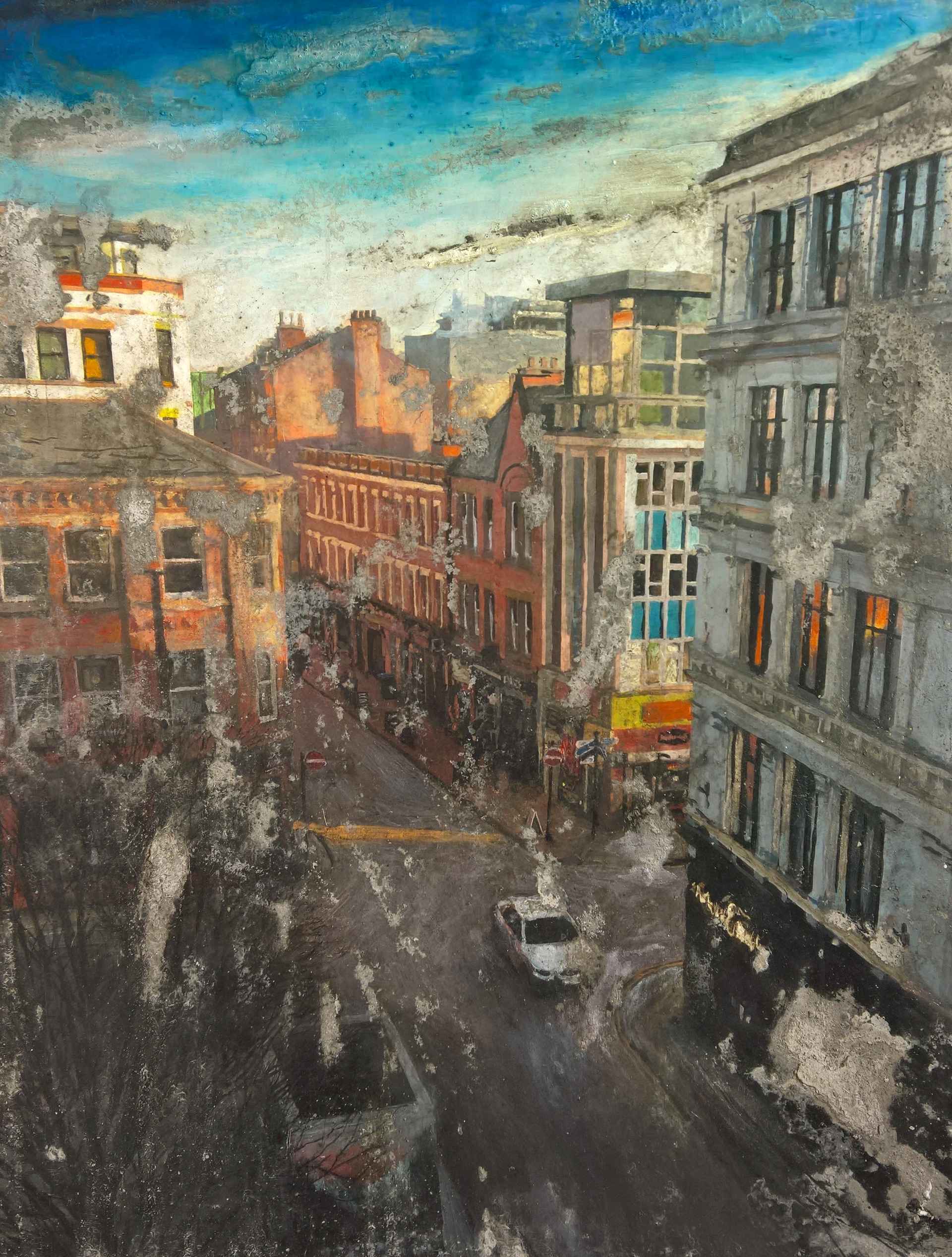 Amongst a haze of gritty cement, here we are presented with another painting from Tim Garner's 'Northern Quarter' series. Depicting the jigsaw of narrow streets and alleyways that make up the iconic Northern Quarter, this bird's eye view cityscape gives us a look into the much loved Tib Street.
Media:

mixed media on board

framed

Dimensions:

69

x

92

cm
Price: SOLD
Amongst a gritty haze of cement, 'Tib Street' by Tim Garner is a cityscape of the much-loved Tib Street in Manchester's Northern Quarter. Part of Garner's 'Northern Quarter' series, this painting gives us an exclusive bird's eye view into Tib Street, which is in abundance of popular bars, restaurants, and shops. Garner is renowned for this high vantage point in his works, offering new perspectives, as though we're floating above the city. This area of the city is renowned for embracing both the old and new Manchester - it is a fusion of past and present, with its trendy new bars and eateries located within historical architecture. Garner's works are known for highlighting and embracing the juxtapositions between the old and new Manchester; those local to Manchester will be aware of it's ever-growing cityscape, which is sadly at the expense of some of the city's most historical structures. Garner's works provide a still snapshot of a city that is constantly changing - they are their own pieces of Mancunian history. "Fixed with adhesive and layers of varnish, the result is a hazy detachment from reality that's at once both familiar and surreal" Vicky Smith, Manchester Confidentials Though the bottom half of this piece is dominated by a haze of shadows and concrete, there are optimistic streams of light seeping in from the right which guide the eye through the composition and up towards the glowing red brick. Harsh flecks of cement compete with these inklings of hope, emerging from the edges and imbuing this piece with a Northern grittiness. This is a prominent aspect in many of Garner's other artworks, where industrial materials such as metal debris and cement have been used by Garner to appropriate the haze and grit of the city streets below. In combination with a toolkit of metallics and iridescent paints, this formula generates a unique tactility within Garner's works. This visual grit in combination with Garner's fascination with the mundane, anti-landmarks ensures an integrity within his oeuvre. Garner's works tell a story - they are distinctive and imbued with character and urban identity - perfect for the contemporary art collection.
Based in his home studio in Stockport, Tim Garner is an artist who captures cityscapes through his own avant-garde lens. Inspired from his time living between Manchester and Paris, Garner works from photography and photo collage as his primary references, taking advantage of their visual immediacy and accuracy. Paint and cement are then used as a way of injecting emotive layers of meaning, forming Garner's distinctive style and flair. Through this process Garner has established his own visual language, which is imbued with character. His works are comfortingly familiar to a Northern audience, whilst enlightening and educating wider audiences. A piece of Mancunian history, this artwork would be a valuable asset for any contemporary art space, collection or home.