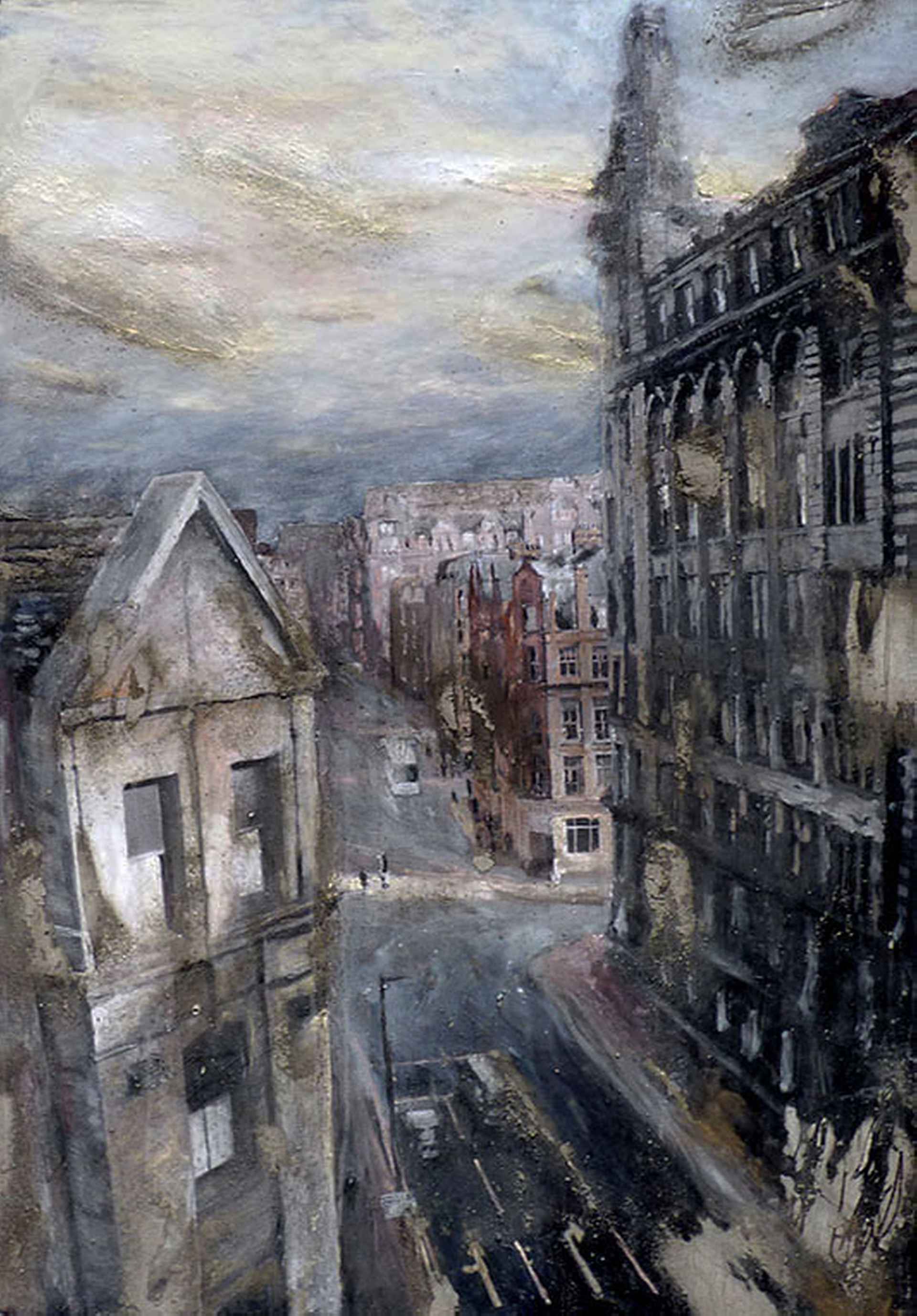 With immediate parallels to iconic French impressionist painter Adolphe Valette, also known as L.S Lowry's teacher, this composition by Tim Garner presents to us an iconic site within Manchester's cityscape. Portrayed in a haze of murky greys and pinks, Garner has placed us high above the cityscape, soaring over the bustling streets below.
Media:

mixed media on board

framed

Dimensions:

78

x

110

cm
Price: £

2800.00
Reminiscent of the works of French impressionist painter Adolphe Valette, this composition by Tim Garner presents to us an iconic site within Manchester's cityscape. 'Whitworth Street Crossing' is perhaps a turning point within Garner's oeuvre, as it is one of his first pieces which depicts the city from a high vantage point. Garner's dramatic signature skies loom over, imbued with tactile cement, mirroring the murky tones of the architecture beneath it. A very typically Mancunian street, those local to the city will know exactly where this piece is set, yet it is also nondescript. It could be a historic street in any city - perhaps London? Or Berlin? Like many of his other works, it is imbued with contradiction - both nondescript yet familiar, and displays both the old and new Manchester side by side. Those familiar with Manchester will be aware of how rapidly the city progresses - Garner's works embraces these changes, whilst also celebrating the historic architecture which makes Manchester what it is today. This piece has an ambiguity to it that allows the viewer to apply their own narrative and meaning - yet it is, undoubtedly, a portrait of Manchester. "It's a nondescript, yet specific urban landscape, it is a place, but it's also representative of many places" Garner has a distinctive way of appropriating the spirit and physicality of a city - his works are visceral and gritty, as though we would get a residue on our fingers if we were to touch the concrete pavement. Garner wants us to feel as though we're placed within the setting, as though we can feel the city around us, but simultaneously as external observers. Through a formula of industrial materials such as metals and cement, Garner is able to appropriate this physicality, paired with a colour palette of metallics and iridescent paints to imbue texture, light and depth. Through this process, Garner is able to capture still moments in time, snapshots of the mundane, anti-landmarks of a city, expanded to large scale compositions which demand our time and attention. With an oeuvre that is full of contradictions, Garner's works are distinctive, engaging, and have a way of interpreting a city in a way that's both physical and metaphysical. A work full of character, 'Whitworth Street Crossing' would make an undoubtedly valuable asset to any contemporary art collection.
Based in his home studio in Stockport, Tim Garner is an artist who captures cityscapes through his own avant-garde lens. Inspired from his time living between Manchester and Paris, Garner works from photography and photo collage as his primary references, taking advantage of their visual immediacy and accuracy. Paint and cement are then used as a way of injecting emotive layers of meaning, forming Garner's distinctive style and flair. Through this process Garner has established his own visual language, which is imbued with character. His works are comfortingly familiar to a Northern audience, whilst enlightening and educating wider audiences. A piece of Mancunian history, this artwork would be a valuable asset for any contemporary art space, collection or home.