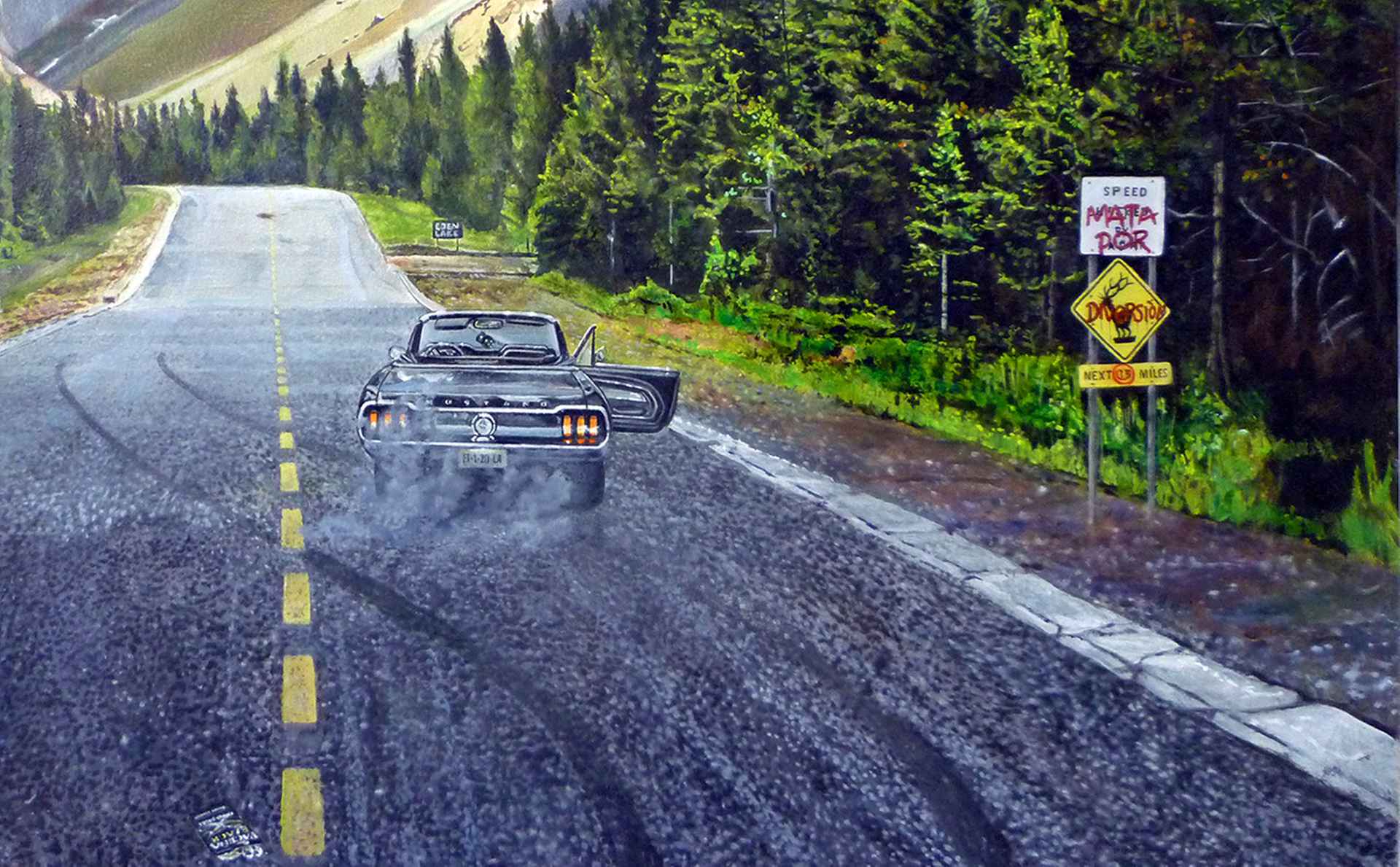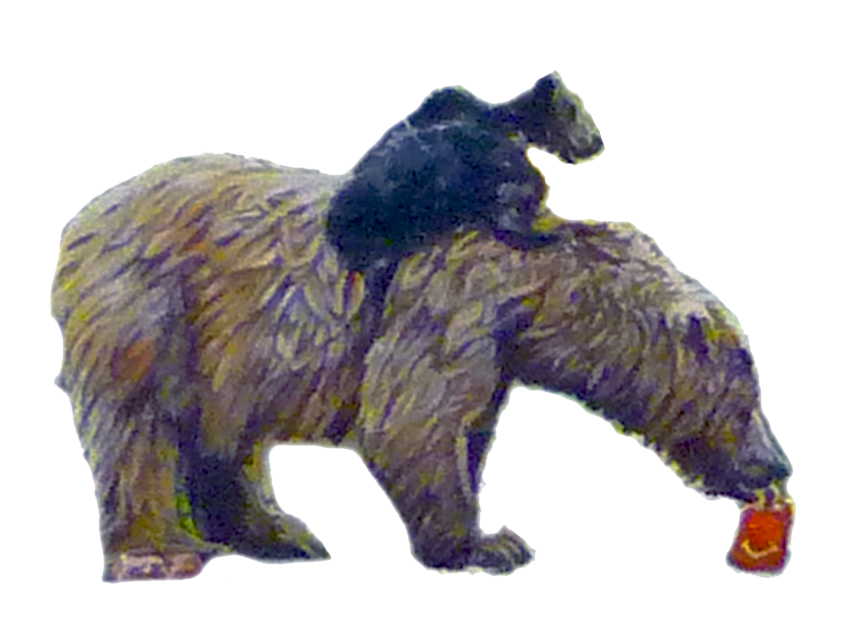 Americana: A Vivid Realism
The cultural phenomenon of 'Americana' and its amalgam of artefacts, narratives and iconographies is an aesthetic of international profundity. Although specific to North American cultures, these nostalgic histories of the perceived 'American national identity' carry across the Atlantic and beyond. It is an aesthetic exported en masse through the proliferation of popular media, such as Hollywood's cinematic factory which finds its affectation worldwide in a broad variety of artistic mediums.
One will find such influence throughout the work of Manchester-based artist Chris Acheson who finds aesthetical guidance in the works of 20th-century American artists, such as Cindy Sherman and Norman Rockwell, yet an arguable driving artistic direction comes from Acheson's particular love of American cinema.
Beginning by painting scenes of Manchester "as if it were in a Hollywood movie", Acheson developed a powerful style in his relationship with vibrant, evocative colours. His practice of "over-reading colour" in his compositions seeks to imbue homage to cinematic Technicolor and the bright visual presentation in the films of Hitchcock and David Lynch, carrying throughout his oeuvre a specific interest in Lynch's 1986 masterwork, Blue Velvet.
With Acheson's utilisation of the 'Americana' aesthetic comes inherent socio-political commentary, upon the United States' cultural legacy and the 'Americanisation' of global cultures. Told from a British, outsider's perspective, Acheson is able to access a unique voice from the mouthpiece of 'Americana'.
Artzu recently spoke with Acheson about his latest series of works, literally entitled 'Americana'. In a departure from previous compositional settings, Acheson seeks to directly interact with the conceptual invitations of the 'Americana' aesthetic in his construction of enigmatic, fictitious natural landscapes reminiscent of 20th Century American cinema.
Beginning work on this newest series in the first lockdown, Acheson was (as we all were) unable to access outdoor spaces in the same way as he had been able to when sourcing subject material for new works. Experimenting with Google Street View, Acheson was given the means to digitally explore new and exciting scenes quickly. He then began importing and fusing these imported digital 'photo spheres' and other such photographic assets in Photoshop, thereby inventing vaguely American landscapes within which he could construct visual narratives. In his paintings, we might find conversation in Acheson's astounding ability to entirely construct a natural scene with its own (absent) human narrative.
In 'Desaparesidos', we are offered only questions. We see a long road, confined by an enclosing copse, and on it, a car. Abandoned, with the engine running, exhaust fumes spilling. Someone left the car quickly. The car rests on the remnant tire marks of a dramatic swerve, and next to a trail of crimson: spilled blood. And then, there is the title. 'Desaparesido', a word with particular political significance in South America, translates to 'a person who has disappeared, presumably killed by government figures.'
Instantly, we are as observers prompted to read further into the piece and begin to construct our own narrative solutions. Who was this absent, anonymous protagonist? Where were they going? Why were they so violently removed? And by whom? It is a scene that appears quiet and oddly serene, yet the myriad dubious evocations laced throughout the composition present a bold, loud series of narrative questions.
Beyond Acheson's prolific establishment of tone, we might appreciate how his compositions invite us to enjoy explicit references to cinema. For instance, the winding road draws our eye upwards to the icy mountains, a direct nod to the logo of the universally acclaimed production studio Paramount Pictures; the towering trees are emblematic of the Pacific North-Western setting of David Lynch's iconic mystery serial drama series, Twin Peaks (1990-1991); and the keenly attuned historians of American visual arts may find subtle reference to Cindy Sherman's 'Untitled Film Still' series.
"Cinema is a massive influence on me and my work."
Another overtly ominous scene is found in 'Happy Meal'. When we first look at 'Happy Meal', we might initially enjoy the resonance of the scene's energetic colour scheme. The soft gradient hues of the sky flurry across cliff faces and upon a serene 'chocolate-box' lake. But, we are immediately struck by the inescapable, poisonous epicentre of this piece in the towering Ronald McDonald, positioned as some crude approximation of the Statue of Liberty. From here, we might further analyse the densely composed snapshot to uncover a morose, perhaps even apocalyptic, vision of America's natural environments.
"Our human imprint is all over these pieces, but there's no actual visible people or humans in them… although our detritus is obviously visible."
A dead tree draws our eye to the water surface, on which plastic packaging drifts recklessly, even into the mouth of a Mother bear and cub. All of which the obelisk of Ronald oversees with a sinister smile (with a conversely dismaying glare reflected in the lake, as a reference to Hitchcock's 1960 psychological horror classic, Psycho). As such, 'Happy Meal' brightly lit yet nightmarish snapshot of a natural environment to evoke a deftly sinister message of our 'human blots' left behind, and the dark realities of large-scale ecological detriment caused by major conglomerates.
An artist's ability to achieve a specific pre-existing aesthetic within their own work is impressive, yet the ability to re-contextualise an aesthetic, to imbue new themes and moral dialogues, displays a great level of sophistication in the approach to one's work.
Acheson's capacity to renovate the 'Americana' aesthetic in his paintings allows for a renewed commentary on the way we perceive our global cultures. Whether we find Acheson's 'Americana' in imagined landscapes as in his latest series, or in unconventional settings such as Manchester as seen in his previous works, Acheson delivers an extraordinary use of colour work and dynamic, enthralling compositions, with a vivid imagination and skilful eye for inspiring dramatic narrative action.
Any painting from Acheson's collection of works would make a worthwhile investment, whilst providing a window into a contemporary cultural dialogue.
Click here to see more of Acheson's paintings

artzuFocus | Issue 06