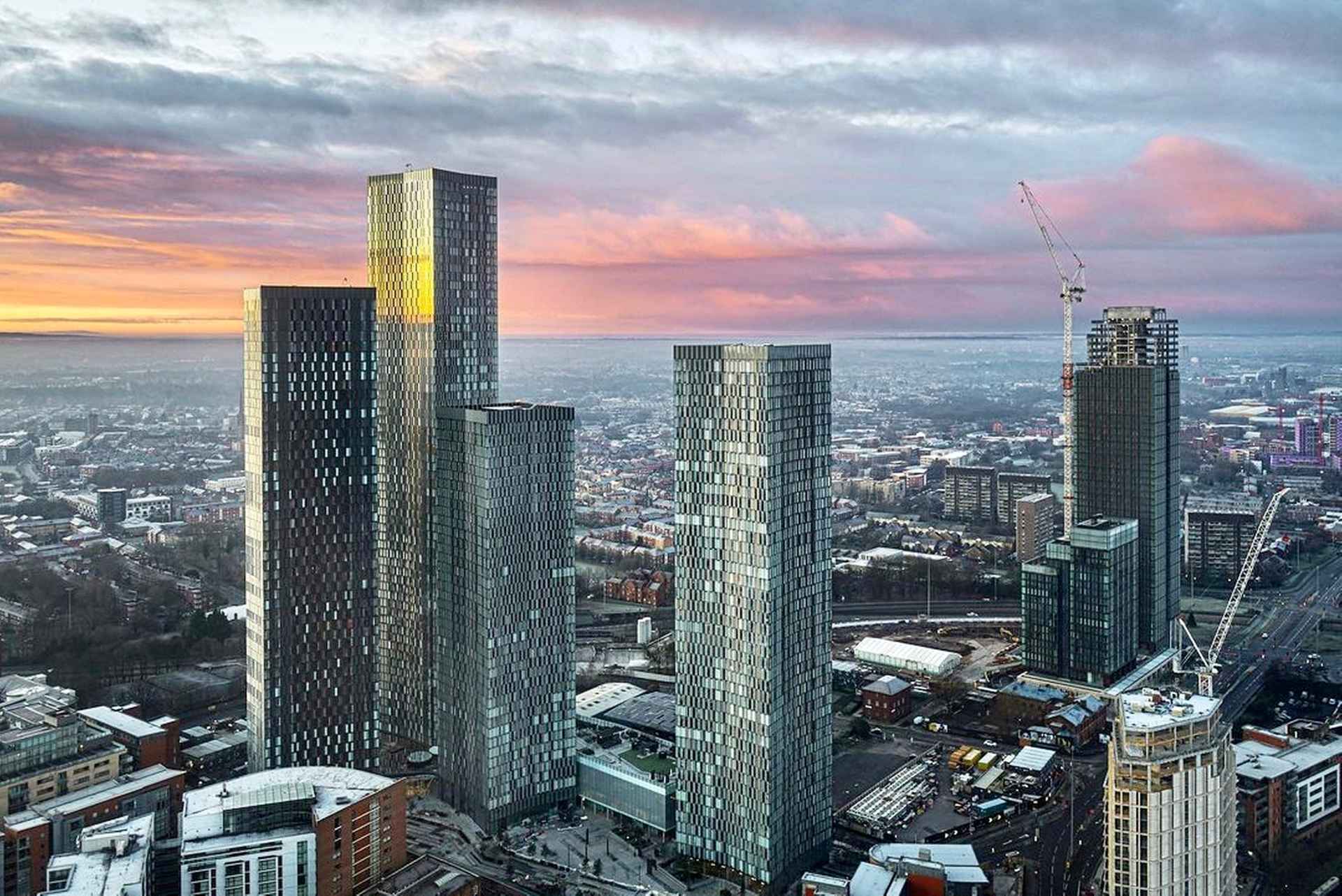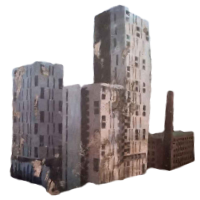 Imagined Futures: Cities in Development
The contemporary urban landscape is subject to an ongoing existential discourse: are instantaneous modes of communication and other rapidly developing forms of technology making cities redundant? Conversely, with the innovations of globalised, knowledge-led economies, there is a growing emphasis on the development of new 'smart-cities', as seen in places such as Dubai and Singapore.
So, how do cityscape artists respond to the great extent of change posited by new urbanism in the 21st century? With cynicism for an obsolete socio-economic structure? With fear of a new age? Or in celebration of the blossoming skyline and its evolutionary innovations? When looking at the artworks of the early 20th century, one will quickly discover how artists were implementing their individual perspectives into their work; communicating their thoughts, hopes and fears of the burgeoning development of cities across the globe in this intercultural dialectic. Following industrialisation, early Modernists were seeing the macroscopic acceleration of scientific and technological progress in a new cultural era of urban expansionism. George Grosz and Fernand Léger, two comparable European, Modernist landscape artists each offered polarised views of this new age in their respective stylisations and methodologies.
The 'de-Germanised' 'Georg Groß' was prominently disinclined to accept the movements of socio-political change within Germany. His works consistently look to capture the "horror, mutilation and annihilation" of war perpetuated by the militarist regime in Germany, and this is most aptly understood in his paintings of the modern urban scene, as seen in his Cubist nightmare, 'Metropolis'.
Grosz envisions in this artwork a cruel, disorienting municipal society, shaken by the brutality of World War, frenzied by the imposing culture of acceleration. The employed Cubist techniques heighten this sense of chaotic sensorial bombardment, with the jagged shaped citizens cutting into and across one another and into the landscape. These dagger sharp lines of slanted individuals provoke a brutal momentum about the space: the crowd towards the future, and thereby, death. Death appears throughout the painting, from myriad gaunt, skull-like faces to a figure appearing to shroud another with his broadsheet. Furthermore, the employed palette of deep blood reds and midnight blues permeate the sense that the city is a large, failing organism, inhabited by a carcinogenic populace. This appraisal of the violence of the city, in a sensorial capacity as well as in its allusions to the context of war, tells of Grosz's more fearful understanding of the Modern urban scene and its larger implications for humanity and cultural development.
But, must we fear the future when we might yet embrace change? This sentiment is posited by Fernand Léger in his own study of the city in 'The City'.
Having trained in architecture in Lower Normandy, Léger transposes an architect's perspective and enthusiasm for architecture into his cityscapes, trying to capture "the most astonishing spectacle in the world" in a city's "mixture of elegance and toughness". Employing a practice of embellished post-Cubist study of the city, in what he pioneered as 'Tubism', Léger simplifies city landscape into bevelling cylindrical shapes, bold lines and blocks of flat colour providing a great depth and creating a complex and disjointed, yet celebratory, vision of urban structures. The scene is diverse and all encompassing, from stair sets to pillars to scaffolds which tower over the street with authority and vibrance. In this way, one can see how Léger embraces urbanisation, engaging with the city as a site of prospect.
As the world economy developed, so did the world's cities, and thus there were new grounds to capture the city scene with contemporary methodologies. With the advent of modern technologies becoming more accessible emerged the innovations of artists such as David Hockney, who looked to borrow conventions established by the early Modernists while utilising the further developed medium of photography. This would culminate into a series of photographic collages: his 'Joiners'. Using composite Polaroids, Hockey experimented with presenting spaces in a new capacity with his three-dimensional, patently Cubist editing style.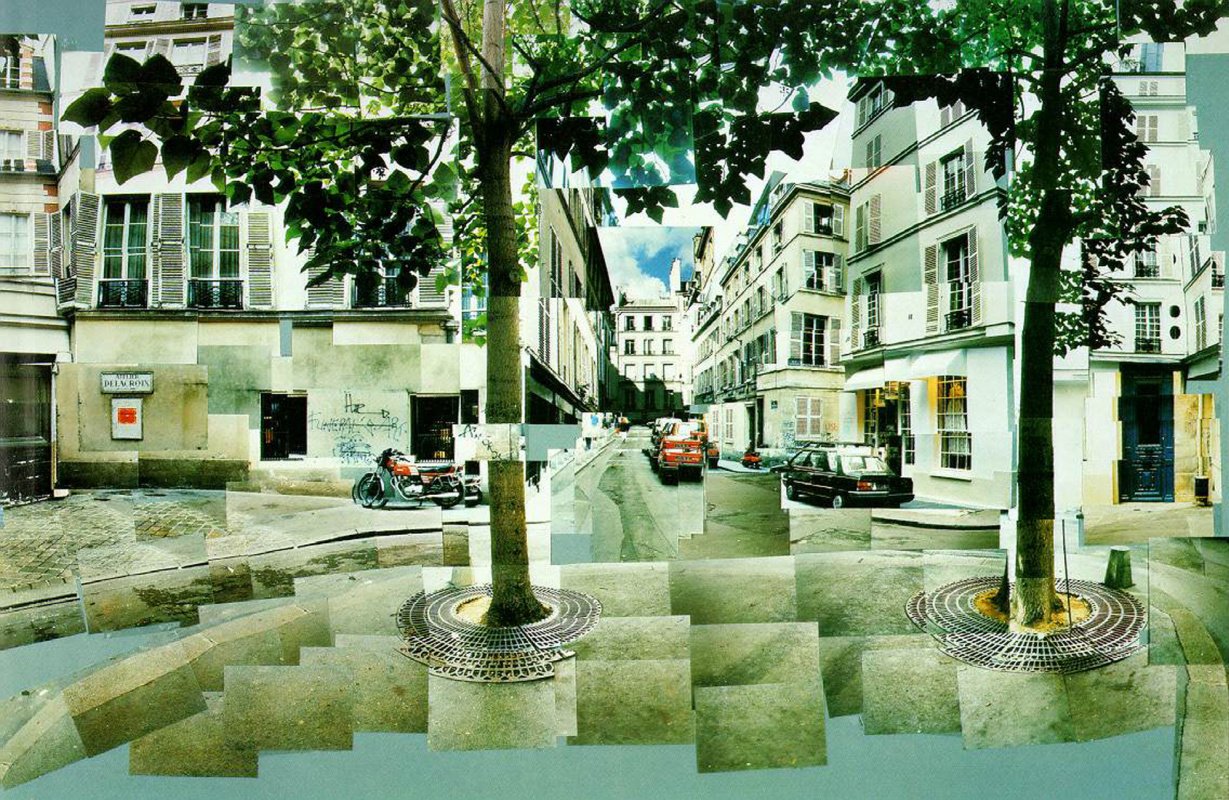 In his 'joiner' piece of 'Place Furstenburg, Paris [...]', Hockney takes photos sequentially and stitches them together to offer a 'Synthetic Cubism', providing a distorted yet simultaneously revealing more of the environment. Its subject matter reminds one of a simple photograph taken by some Paris tourist, with its parodical stylisation mimicking some idea that this is a composition that has been captured dozens of times before, and so we are invited to experience the same place from multiple perspectives in some unilateral, time-dilated observation of space. With this method of expressing depth, Hockney explores the old city as reinvented by new technologies. In revising linear modes of documentary photography, 'Place Furstenburg, Paris [...]' invites readings of a new time of world tourism and the constant rediscovery of the city by strangers.
Then, at our present moment in civic histories, we are asked again what do we see in our cities? How does this century of cityscape scepticism and celebration culminate? With focus on the clashing aesthetical modes of our past, present and future? Or binding congregation? Tim Garner looks closer at the reality of the city scene, and finds an approach to understanding the state of Manchester in an exploration of community, identity, textural tactility and light.
In 'Oxford Road Station', we are offered a disembodied view over one of the main arteries of Manchester's city centre. With its juxtaposed alignment of glowing red brick warehouses and soaring tower buildings which hold up the sky, we are granted a moment of stillness in a city that is ever moving. With no crowd or even solitary pedestrian to be seen, this snapshot of everyday life captures a moment in architectural history, bringing the ever-changing nature of Manchester's cityscape to a halt. Garner's open observation of this everyday setting allows us a chance of reflection, to see our surroundings for their richness of history and the simultaneous invigorating beacons of the future, and to enjoy the vibrancy of the consequent colour palette. We may take our time as viewers to linger in this moment of Mancunian history, finding solace in the honesty of Garner's work. By utilising the accuracy and immediacy of photography and photo collage as primary references, Garner is able to imbue emotive layers of meaning through the application of paint, cement and adhesive varnishes to establish a scene that is bright yet hazy, and "optimistic yet decaying in parts - much like Manchester itself" (Vicky Smith*). By allowing the scene to comfortably bask in its afternoon light, Tim Garner's work encourages an appreciation of the present moment, paying ample recognition to the city's history and continual development while not fixating on either aspect with anxious appraisal.
As we are further thrust into an age of information, with its smart-phones, smart-homes, smart-cities, we might once and again take the time to slow down, notice and remember, evaluating our world for what is tangible. Tim Garner's work offers a return to this tactual relationship with the city, where the reader is invited to go on a journey in a moment of stillness, searching for and finding greater truths that are laced through the fabric of our cities: the pervading sense of our collective civic identity.
You can see more of Tim Garner's collectable artwork here.
Background image: ChrisClarke88
*Quote: Vicky Smith, Manchester Confidentials